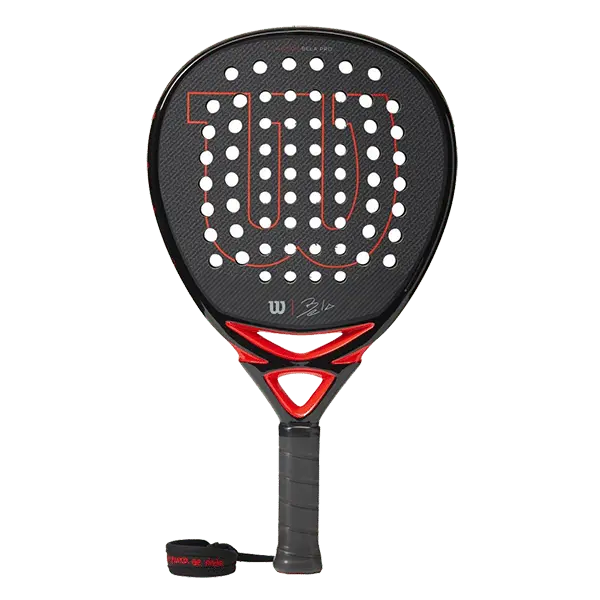 Wilson Bela Pro is a well-balanced racket that delivers good results in all parts of the game. It is responsive, and it excels in the overhead game. We recommend it only for experienced players with proper technique.
---
---
---
Year: 2021
Brand: Wilson
Weight: 370 g
Level: Intermediate/Advanced
Shape: Diamond
Balance: Medium
Hardness: Hard
Type: Balance
---
---
Introduction
Wilson Bela Pro 2021 was developed together with Fernando "Bela" Belasteguín, a top player on the WPT for over 15 years. He is considered the greatest padel player of all time. After many years at Head, he signed for Wilson and developed this padel racket as his first project.

It has a diamond shape and medium balance. Primero Carbon Face technology integrates carbon fiber in the framework of an optimal combination of power and responsiveness.

The core consists of Firm EVA for control and fast response in harder shots. The Arrow-Grip structure on the hitting surface improves the grip to create more effect.

The quote 'A Belasteguin never gives up' (translated from Spanish) written by his daughter can be found on the wrist strap.

This racket is suitable for players on intermediate level or better who are looking for a top quality racket.
---
First impression
Wilson Bela Pro is a nice-looking racket in black and red. The surface is matte with a carbon fiber pattern and a ribbed structure. In the lower part are the Wilson logo and Bela's signature. The remaining parts of the racket are glossy lacquered and have a good quality feel.

The racket is well balanced. Our test racket weighs about 362 grams and has a balance point of 260 mm. The length of the grip is 125 mm.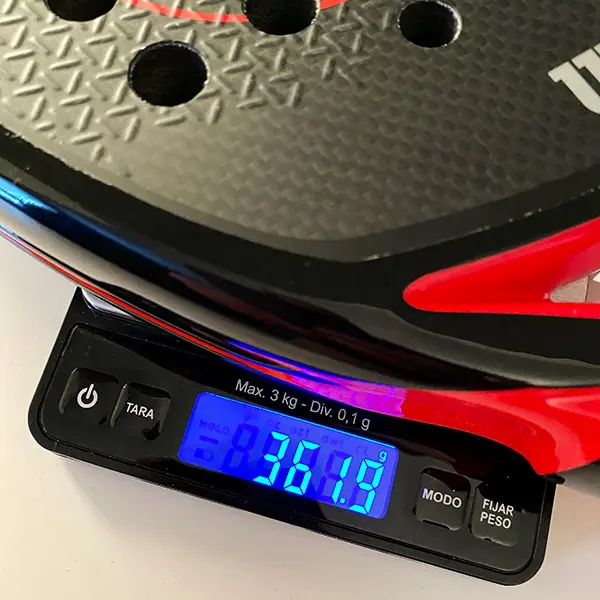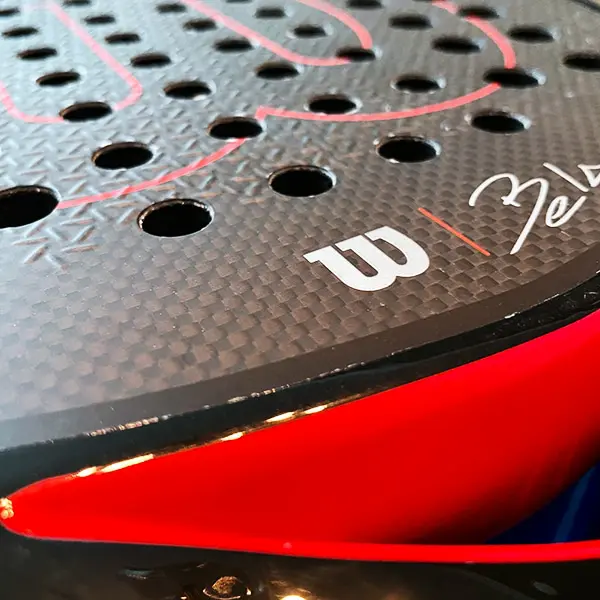 ---
Wilson Bela Pro in the defense
Fernando Belasteguín is an old-school backhand player who patiently builds up his game from the defense. Bela Pro is designed to work well in all parts of the game.

The racket is well-balanced and is easy to swing in defensive play, not at all top-heavy. The size of the impact surface is large, and the size of the sweet spot is decent.

Bela Pro has a firm core with low elasticity, which results in great response and control. The challenge is to create speed as the racket is not generating it for us. Bela Pro is primarily suitable for players who have a faster swing and good technique.
---
Wilson Bela Pro in the attack
We are moving closer to the net to test Bela Pro in volleys and overhead strokes. It has a distinct and stiff feel in volleys, helping us block and use the opponents' shots' speed.

Fernando Belasteguín's signature shot is the classic bandeja, and here Bela Pro excels. The racket moves nicely through the air; the medium balance makes it easy to swing with enough weight to pressure the balls. The ribbed pattern works excellent to add effect to both volleys and bandejas.

In the smash, Bela Pro delivers excellent recoil and power. It requires clean hits and fast swings as the trampoline effect is negligible.
---
Wilson Bela Pro playability & comfort
Playability and comfort are important factors when choosing a padel racket. Beginners and intermediate-level players generally benefit from a racket with good playability. A comfortable racket reduces the risk of injuries.

Playability: Medium
Comfort: Low-Medium
---
Overall impression
Bela Pro is an excellent racket with a quality feel. It is well balanced and works well in all parts of the game. The response is good, and it excels in the overhead game.

It is a technical racket with limited playability and comfort, only suitable for experienced players. If you are a player at an advanced level with the proper technique and prefer stiffer rackets, we recommend trying the Bela Pro.