Best Padel Rackets 2022 provides a buying guide, including rackets for players at all levels. Here are our picks for the top thirteen models on the market right now.
Best padel racket for beginners
Babolat Vertuo Air
The Babolat Vertuo Air is a lightweight racket weighing 345 grams, making it easy to maneuver. Drop-shaped, it has a soft fiberglass hitting surface and a soft core that effectively absorbs vibrations. The lightweight and soft material reduces the risk of injury on the padel court during extended hours. For beginners who want an easy-to-play racket to develop with, we recommend the Babolat Vertuo Air.
---
Find the best price for Babolat Vertuo Air 2022:
How to choose a beginner's racket
You often spend many hours on the padel court when you discover padel. You should consider buying a padel racket designed for beginners to benefit your development and avoid injuries. Pick a light and relatively soft racket with a large sweet spot. Ensure you have the correct grip thickness so you won't strain your forearms unnecessarily. If necessary, add more overgrips.
Best padel racket for intermediate level
Bullpadel Hack 03 Comfort
Bullpadel Hack 03 Comfort is a diamond-shaped padel racket designed for players who like to move the ball quickly. Power is generated with the help of a balance point high up in the racket. By using carbon fiber and fiberglass as a surface layer, the ball is hit comfortably, and the racket is not too hard to play. This racket is suited for intermediate players and above who want a racket that can elevate their game.
---
Find the best price for Bullpadel Hack Comfort 2022:
Tips when choosing an intermediate level racket
The game becomes more than just getting the ball over the net when you get past the beginner phase. Experiment with different rackets to see what effect they have on your game. When picking out a racket, do you prefer one that strengthens your favorite shots or minimizes your weaker shots' mistakes? Test out rackets until you find one that takes your game to the next level.
Best padel racket for competition level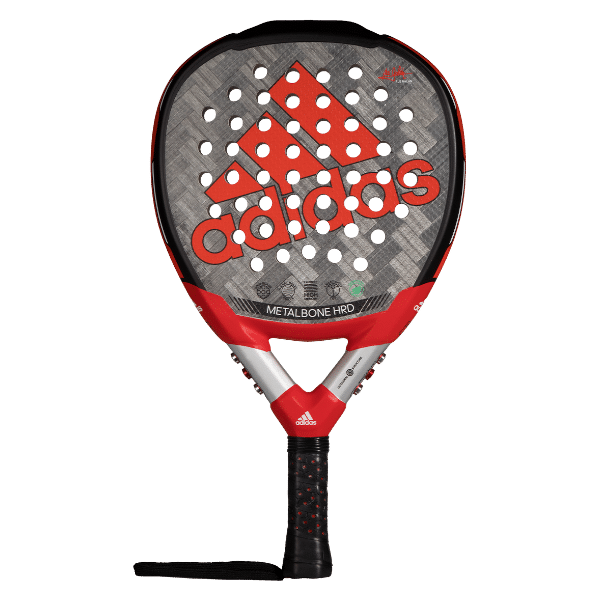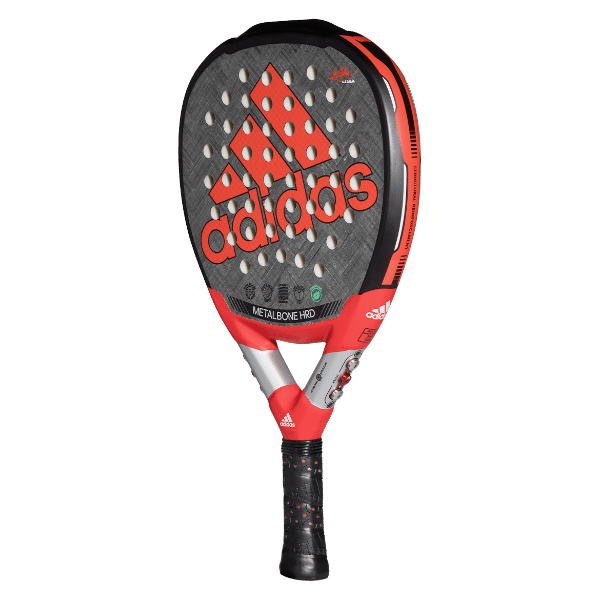 Adidas Metalbone HRD 3.1
One of Adidas padel's big news releases for 2022 is the Adidas Metalbone HRD 3.1. It has a harder core than its predecessor, and it's the racket Ale Galán will be using during the WPT in 2022. There is a sweet spot that sits high on the hitting surface of the racket to maximize power. You can adjust the weight using the included weights. If you have a good ball-striking ability and are looking for offensive characteristics, then the Metalbone HRD may be for you. For a softer feel, we recommend the Adidas Metalbone 3.1.
---
Find the best price for Adidas Metalbone HRD 3.1:
How to choose a competition racket
Competition is often a game of details. Pick a racket that can give you the finishing touch to win matches by analyzing your game. You may want to purchase a spare racket of the same model when you find a racket you like. Lastly, don't forget that feel is key. Even a racket with excellent playing characteristics is useless if it does not inspire confidence on the court.
Best padel racket budget choice
Head Evo Delta 2022
The Head Evo Delta is an easy-to-play padel racket for beginners and recreational players. It is a hybrid format that offers a good mix of control and speed. The hitting surface and the core of the racket are both softer to make it more comfortable to play with. Evo Delta is perfect for new padel players who want a versatile racket that's affordable.
---
Find the best price for Head Evo Delta 2022:
How to choose a cheap padel racket
Approximately how often do you plan to play padel? A cheap padel racket will do if you're only going to play occasionally. However, if you play regularly, it may be worthwhile to invest in a better racket. In addition to better materials, you'll also be able to keep the racket as you improve. Be sure to choose an affordable padel racket that has good playing characteristics so that you can have a positive experience on the court.
Best mid-priced padel racket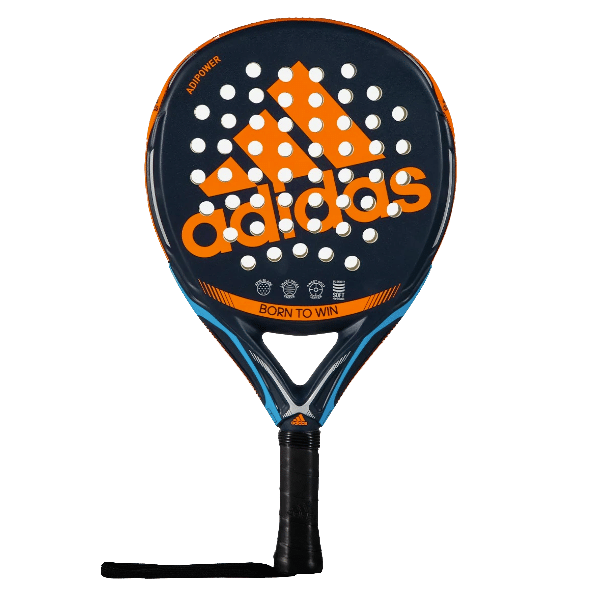 Adidas AdiPower CTRL Lite
Adidas AdiPower CTRL Lite 3.1 is a forgiving version of the best-selling AdiPower CTRL 3.1. It has a softer core and fiberglass on the hitting surface, making it more comfortable. Due to its round shape and neutral balance, it works well both defensively and offensively. It is suitable for a wide range of audiences, so no matter if you're a beginner or a pro. For those looking for rackets with excellent control and easy handling, we recommend the AdiPower CTRL Lite.
---
Find the best price for Adidas AdiPower CTRL Lite 3.1:
How to choose a mid-priced racket
There is a big difference between different padel rackets in the middle price range. You can find models with top features at an affordable price in this segment. However, there are also a lot of inferior options to avoid. Make sure you do proper research before choosing your model and ask a friend or another person who has been playing with it for a while.
Best premium padel racket
Nox Tempo WPT
Nox Tempo WPT Luxury is part of the official World Padel Tour series. After a massive success in 2021, they are now releasing an updated version. The rackets' drop shape provides a nice balance between power and control. The hitting surface consists of 12K carbon fiber, which responds well when hitting the ball. Several layers make up the core, which is relatively stiff to aid you in different situations. The 2022 model includes an interchangeable wrist strap. Tempo WPT is a great choice for those who want a premium racket that plays well in all aspects of the game.
---
Find the best price for Nox WPT Luxury 2022:
How to choose a more expensive padel racket
The term premium can be applied to anything, so make sure that the racket you will invest so much money in is high quality. Sadly, many expensive rackets on the market are not up to par. Choose a model tailored to your playing style and elevates your game. Even if you've spent a lot of money on a premium racket, consider switching if it doesn't feel like it's working 100%.
Best padel racket for control
Bullpadel Vertex 03 Control
The Bullpadel Vertex 03 Control has a new design for 2022, but otherwise, it retains the winning concept that has made it a bestseller. This racket has a round shape and a low balance point, making it easy to handle and swing. In addition, Bullpadel's Air React Channel technology creates a more aerodynamic padel racket with air channels, allowing faster swing speeds. The hitting surface features a 12K carbon fiber, while the core has different layers to enhance responsiveness. We recommend the Vertex 03 Control racket to players at the intermediate and advanced levels who are looking for a racket with great control and feel.
---
Find the best price for Bullpadel Vertex 03 2022:
How to choose a padel racket for control
Control rackets are generally easier to play than offensive rackets, but their playability varies quite a bit. Start by considering your level of play and make sure you choose a racket that is not too difficult to play. You should also consider the purpose of a control racket: do you want maximum control, or do you want to avoid injuries? A harder racket will provide better control, while a softer racket will reduce the chance of injury.
Best all-around padel racket
Babolat Viper Air
The Babolat Viper Air 2022 targets offensive players who prioritize speed in play. The model has a new design with Smoke Effect, which is found on the side of every racket, making each one unique. This racket has a hybrid shape and weighs only 355 grams, making it easy to handle. The surface consists of 16K carbon fiber, and the core is adaptive, which means it can handle different types of impacts. For anyone who has been playing for a while and wants a racquet with good response, we recommend the Viper Air.
---
Find the best price for Babolat Viper Air 2022:
How to buy an all-around padel racket
The target audience for an all-around racket is wide since it suits a variety of players. However, there are differences between different brands and models, so think about what part of the game you value most. Hybrid or drop-shaped options may suit you if you have good ball striking skills but need help on the offensive side, while a round-shaped option makes it easier to get right to the ball and help with control.
Best padel racket for power
Bullpadel Hack 03
Paquito Navarro's racket of choice is the Bullpadel Hack 03, the sequel to Hack 02, the bestseller last year. This year, the racket has a more stylish design and a diamond shape rather than a hybrid one. Top-heavy and with a sweet spot in the upper sector of the hitting surface, this racket provides extreme power and response. The outer layer consists of carbon fiber, and the core consists of layers with varying densities, which aids with speed during different aspects of the game. If you've been playing padel for a while, have good technique, and want to be able to smash balls out of the court, we recommend Hack 03 for you.
---
Find the best price for Bullpadel Hack 03:
How to choose a racket for offensive play
It may be tempting to buy a powerful racket to decide points on your own, but these models require more from the player. You need to be at the right level to benefit from an offensive padel racket. A hard racket will provide a better response if you're hitting hard, while a softer core will help you generate speed.
Best padel racket for women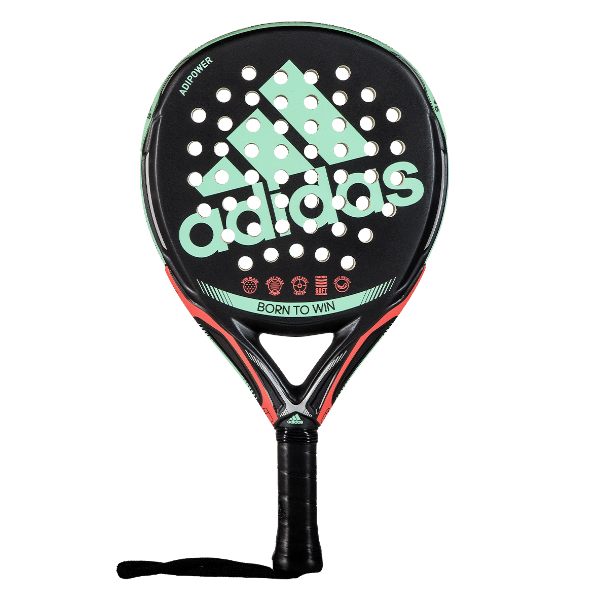 Adidas AdiPower Woman Lite
Adidas AdiPower Woman Lite 3.1 is a lightweight racket with great control and comfort. It has a round shape, a centered sweet spot, and a neutral balance. The racket features a fiberglass surface and a softer core, making it easy to play with. In addition, there is a structure on the hitting area that makes it easier to apply spin to the balls. The AdiPower Woman Lite is perfect for players who want an all-around racket that's gentle while maintaining control and speed.
---
Find the best price for AdiPower Woman Lite 3.1:
How to choose a women's padel racket
Playing level and physique are factors that influence the choice of padel racket. As a women's padel player, you should choose a lighter and softer racket explicitly designed for women. It reduces the risk of injuries such as tennis elbow and facilitates the development of your game. Women's rackets' playability and comfort also make them popular with men.
Best padel racket for kids
Head Delta Junior
Head Delta Junior is a padel racket that weighs about 320 grams and is ideal for children and juniors who want to play padel. With its drop shape, the racket works well on defense and offense. In addition to the lighter weight, the racket is 3 mm shorter than the standard, but the thickness is the same as on adult rackets. A fiberglass hitting surface and a medium-hard core respond well during play. We recommend the Delta Junior to children and juniors who want a versatile racket to improve their game.
---
Find the best price for Head Delta Junior:
How to choose a racket for children and juniors
While children can play with adult rackets, we recommend selecting a model that is specifically designed for children. Choosing the right junior racket will make the playing experience more enjoyable and promote their development in the best possible way. In addition, rackets for children are lighter and smaller in size, which reduces the strain on the shoulders and elbows. This helps prevent injuries.
Best padel racket for tennis elbow
Nox ML10 Pro Cup
One of the world's best-selling padel rackets, the Nox ML10 Pro Cup has a wide target group. This version has the same specifications as the previous one but boasts a hitting surface similar to sandpaper. In addition, an interchangeable wrist strap is new for 2022, called the "Smart Strap System." The racquet has a low balance and a round head. The result is fine control and comfort while hitting. The hitting surface features fiberglass, while the frame is carbon fiber. ML 10 Pro Cup Rough Surface is the ideal racket for people who enjoy a soft hitting feel and a comfortable racket.
---
Find the best price for Nox ML10 Pro Cup Rough Surface 2022:
Tips for choosing a racket against tennis elbow
The more you play, the greater the risk of injury to your body. Adding a gentle racket to the mix can help, but take a break if you feel an injury. Choose a racket with a low balance and softer ore to avoid unnecessary strain. Ensure you have the right size of padel grip, as this can also affect your risk of injury. Remove or add grip pads as necessary.
---
Comparison of the padel rackets
| Model | Shape | Balance |
| --- | --- | --- |
| Adidas Essnova Carbon CTRL | Round | Neutral |
| Babolat Vertuo Air | Teardrop | Netural |
| Bullpadel Hack Comfort | Diamond | High |
| Adidas Metalbone HRD | Diamond | High |
| Head Evo Delta | Teardrop | Neutral |
| Adidas AdiPower CTRL Lite | Round | Neutral |
| Nox Tempo WPT Luxury | Teardrop | Neutral |
| Bullpadel Vertex 03 Control | Round | Low |
| Babolat Viper Air | Teardrop | Neutral |
| Bullpadel Hack 03 | Diamond | High |
| Adidas AdiPower Woman Lite | Round | Neutral |
| Head Delta Junior 2022 | Teardrop | Neutral |
| Nox ML10 Pro Cup Rough Surface | Round | Low |
---
FAQ about padel rackets