Young players must start with a good junior padel racket (or racquet), making the game more enjoyable and encouraging development. Here is our guide to the best junior padel rackets and what to consider when buying a racket for kids.
Read our comprehensive racket guide to learn more about how shape, weight, and balance affect playing characteristics.
Limited Time Offers
Limited Time
Padel Nuestro - Flash Offers
Limited time offers with up to 80% off.
Limited time offers with up to 80% off.
Show Less
Differences between padel rackets for children and adults
For children and juniors, a good paddle racket should be easy to play with and gentle. Children's shoulders, arms, and wrists are not as strong as adults, and they cannot swing rackets designed for adults. As a result, the paddle racket designed for juniors looks different.
Lighter in weight
Kids padel tennis rackets are lighter than adult racquets to work correctly. Adult versions weigh between 350 and 390 grams, while junior versions weigh between 290 and 340 grams. In addition to making it easier to swing, this reduces the risk of muscle strain and injury.
A smaller grip
Junior rackets have narrower and shorter grips to accommodate smaller hands. Having a smaller grip makes it easier to hold the racket and reduces forearm tension. You can add additional grip pads if you want a thicker grip.
Material
Softer materials like fiberglass are used instead of carbon fiber in the frame and the hitting surface to make children's padel rackets more playable. In addition, the core of the racket is usually softer to increase sweet spot size and make it more forgiving.
Ett bra padelracket för barn och juniorer kännetecknas av att det är lättspelat och skonsamt. Barnen har mindre styrka i axlar, armar och handleder och orkar inte svinga ett racket som är anpassat för vuxna. Därför konstrueras padelracket avsedda för juniorer på speciellt sätt.
Best padel racquet for ages 8-12
Even among the younger generation, padel tennis is growing fast and making its way into clubs. Is your child interested in playing padel? In that case, we recommend investing in one of the models below we have named the best padel racket for kids and juniors in 2023.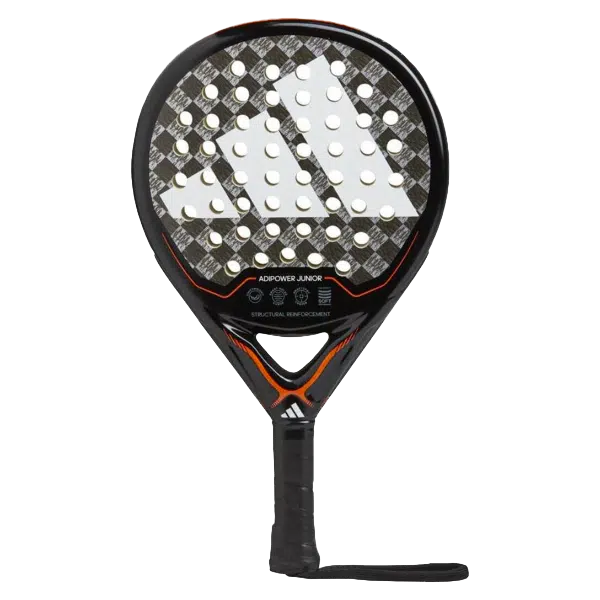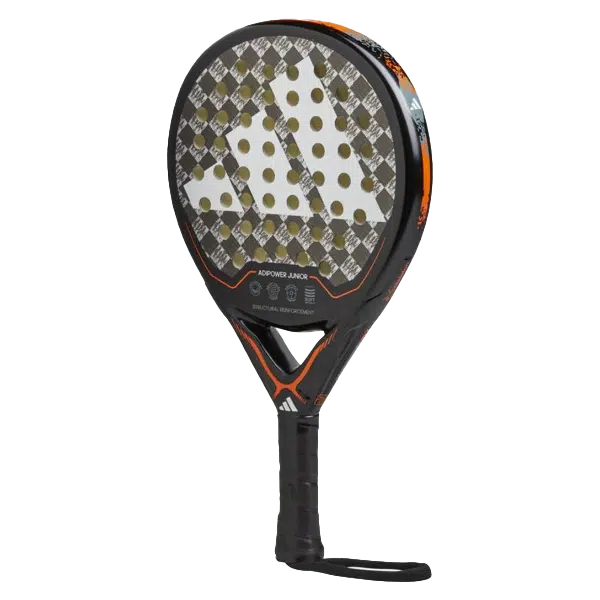 Adidas Adipower Junior 3.2 2023
This Adidas AdiPower Junior 3.2 padel racket is suitable for children between the ages of 8 and 12. This model offers a good balance between control and speed due to its medium balance. Weighting 310-330 grams, it is light and easy to swing. 38 mm is the standard thickness.
A fiberglass hitting surface and a soft core enable the racket to generate speed in all stroke types, making it perfect for smaller players.
AdiPower Junior 3.2 padel racket features a carbon fiber frame, providing stability and durability. There is also an integrated frame protector that protects against impacts.
This junior model is suitable for both beginners and more experienced children. This racket deserves a place among the best padel rackets for kids and juniors in 2023.
Find the best price for Adidas Adipower Junior 3.2 2023:
---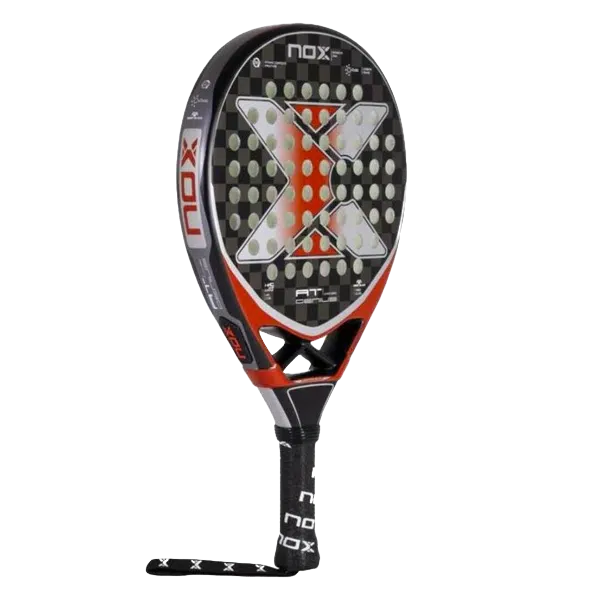 Nox AT10 Genius JR By Agustin Tapia 2023
This is the junior version of the Nox AT10 Genius, which Agustin Tapia uses at the WPT. AT10 Junior is the perfect racket for children and teenagers who want a lighter racket without compromising quality.
Because the racket is drop-shaped, it provides a good combination of speed and control. Agustin Tapia's AT10 Genius JR weighs 335-345 grams and is in our opinion, the best choice for kids who want to play padel. Suitable for children aged 8-12.
Find the best price for Nox AT10 Genius JR By Agustin Tapia 2023:
---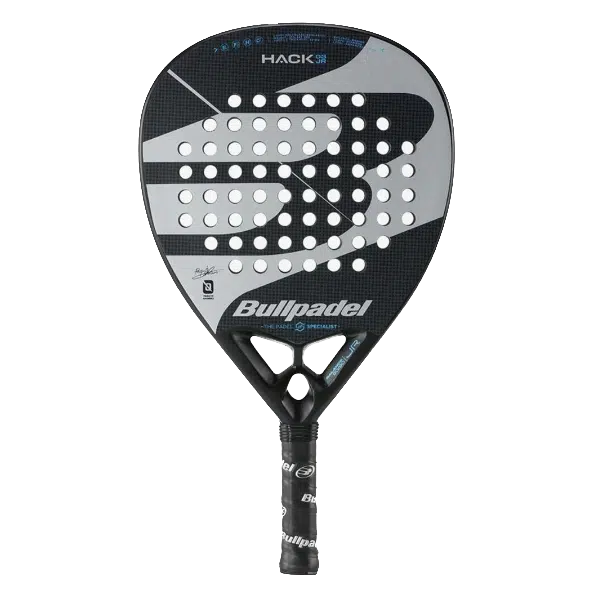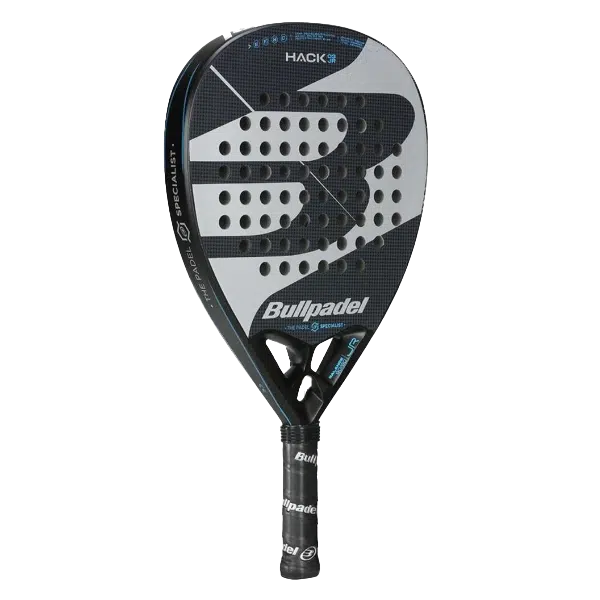 Bullpadel Hack 03 JR 2023
The Bullpadel Hack 03 JR is the junior version of the Hack, the racket of choice of superstar Paquito Navarro. Juniors who value speed should consider this racket. Featuring a diamond-shaped head, a high balance, and a sweetspot at the top of the hitting surface, this racket has all it needs to provide power.
To make it easier to handle, it is lighter and narrower (33 mm instead of 38 mm) than adult rackets. A fiberglass surface layer provides good comfort and minimizes the risk of injury.
Design-wise, it's similar to the adult version. The Bullpadel Hack 03 JR racket is designed for kids and youngsters who dream of smashing balls out of courts like the pros.
Find the best price for Bullpadel Hack 03 JR 2023:
Padel racket for girls 7-11 years old
Girls can indeed play with any children's racket, but some find it more enjoyable if it's made especially for them.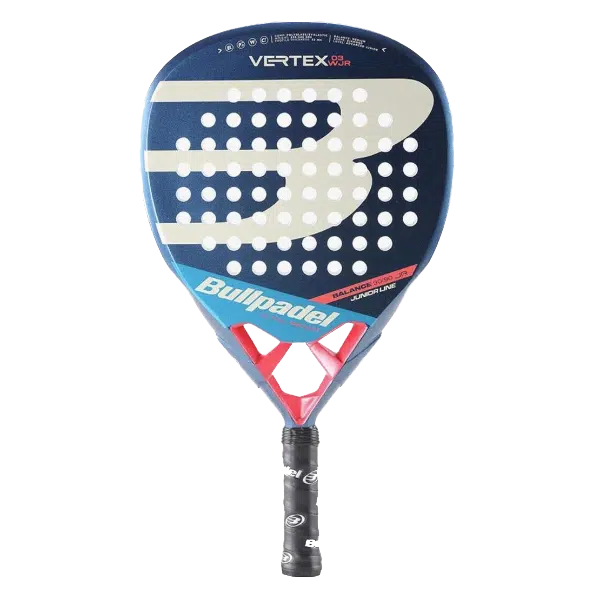 Bullpadel Vertex JR Girl 2023
The Bullpadel Vertex JR 2023 is suitable for girls aged 7-11. This racket weighs less, has a thinner frame, and has a narrower handle than adult rackets. It makes it easier for juniors to play and handle the racket and helps them develop their skills.
Diamond-shaped Vertex JR 2023 rackets assist players in generating speed with their strokes. The frame is 33mm thick instead of 38mm, the hitting surface is carbon fiber, and the racket has a cool design. This is one of the best padel rackets for girls in 2023.
Find the best price for Bullpadel Vertex JR Girl 2023:
Padel rackets for children under seven years old
Even the youngest players should join in on the padel trend and fun on the padel court. The racket we picked will give the kids the best start to their future padel adventure.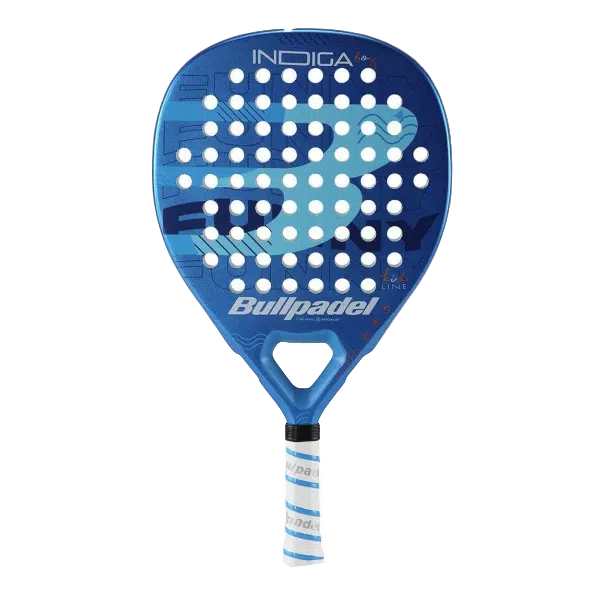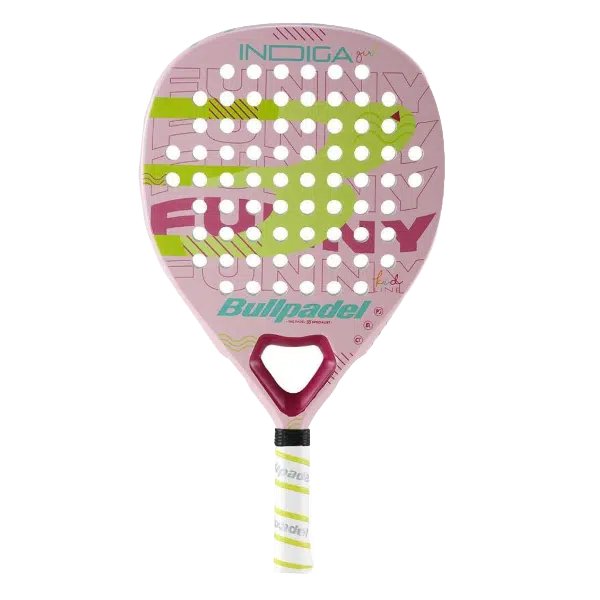 Bullpadel Indiga Boy/Girl Kids 2023
The Bullpadel Indiga Kids series is designed for juniors aged 3-7 who are beginning to appreciate padel. There is a boy's version in a vibrant blue color and a girl's version in a gorgeous pink color. The racket has a drop shape, making it a versatile choice for kids learning padel strokes.
Due to its delicate shape and thin frame profile, the racket is well suited for children. If you are looking for a quality racket, take a closer look at these rackets.
Find the best price for Bullpadel Indiga Boy/Girl Kids 2023:
Summary of the best padel rackets for kids 2023
Here are the winners in the kids category: