Pickleball is a great sport that is growing in popularity in many countries worldwide. Starting with pickleball might leave you wondering, "Where can I find pickleball courts near me?". In this blog, we will discuss how to get started playing pickleball in your area.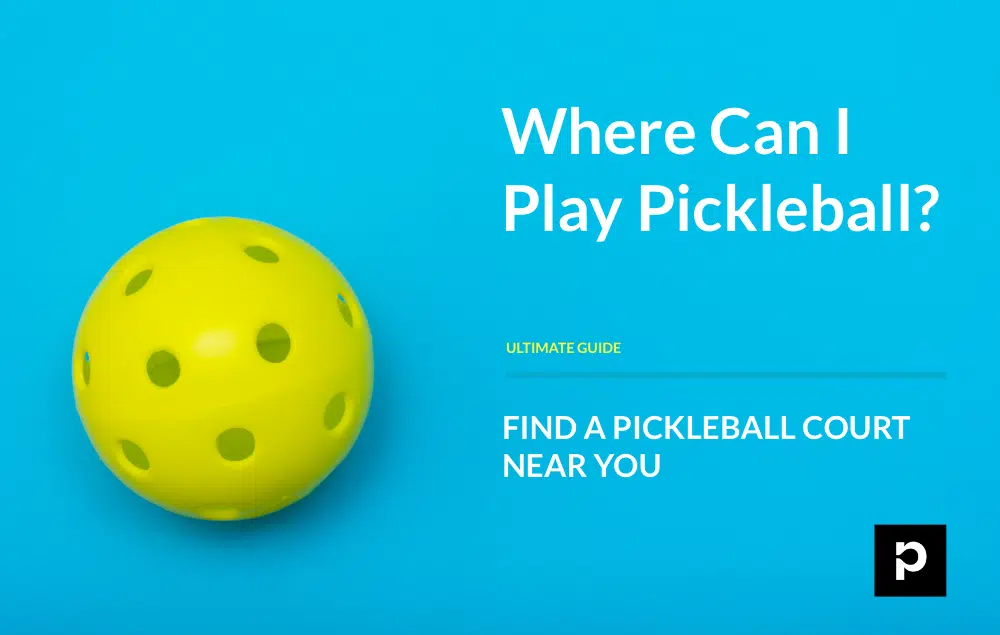 Where can I play pickleball?
Let's take a look at the options you have when it comes to various courts and places to play pickleball. Still not sure about the rules? Check out our article Rules of Pickleball.
Indoor Pickleball Courts
Indoor pickleball courts are specially designed surfaces used for playing pickleball. You can find indoor courts near you at many indoor venues like schools and community centers.
Keep in mind that some courts may be open to the public while others may be private or require a membership. You'll also want to check the hours of operation to make sure the court will be open when you want to play.
If you can't find an indoor pickleball court in your area, don't worry. You can always play outdoors.
Outdoor pickleball courts
If you're wondering where to find an outdoor court for pickleball, you're in luck! Many community parks and recreation centers offer courts for the public to use. You can also find outdoor pickleball courts at tennis clubs and private residences.
Whether you're a beginner or a seasoned pro, playing pickleball on an outdoor court is a great way to enjoy the game. Just be sure to dress for the weather and bring plenty of water to stay hydrated.
Public free pickleball courts
You may be asking yourself, "Where can I find public outdoor pickleball courts that are free to play?" To find places to play pickleball for free, there are a few places you can check out.
Your local community center or rec center is a great place to start. Many of these facilities have free or low-cost courts that the public can use.
Another option is to look for public parks in your area that have pickleball courts. These are typically first-come, first-serve, so you may have to wait your turn to play.
You can also check with your city or county parks and recreation department to see if there are any available courts in your area.
How can I find a pickleball court near me?
Pickleball is one of the fastest-growing sports in the US and is quickly growing worldwide. According to the Sports and Fitness Industry Association, there are now over 4.8 million people playing in the US, almost double the numbers from five years ago.
With that kind of global growth, it might seem easy to find a place to play in your local area. Here are some tips to help you find the best pickleball courts near you.
Google
One of the best places to start is a quick Google search for pickleball courts in your area.
A Google search will give you a list of courts in your area. In the example below, you can see the results from our search for New York. You can filter the results by rating and opening hours.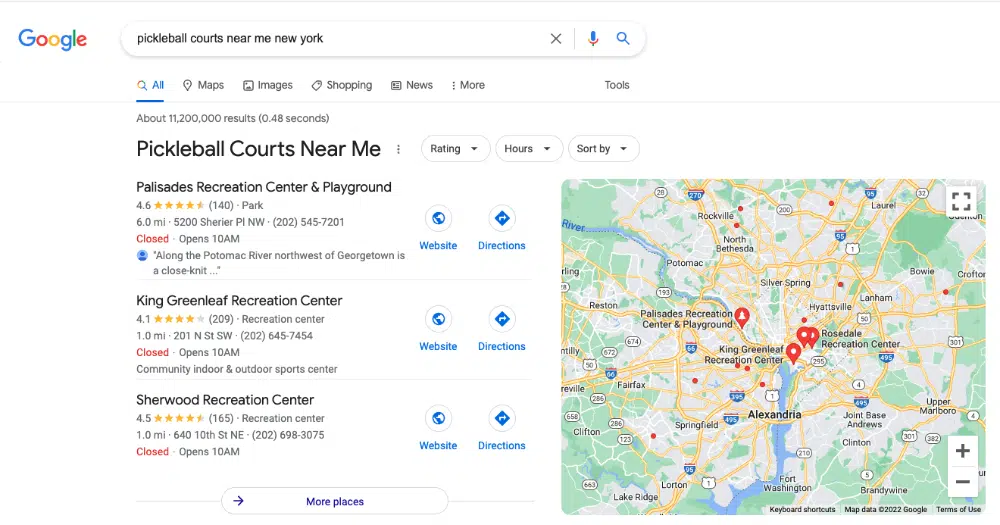 Another option is to directly to Google Maps and performs a search. Below is an example of a search in the area of Los Angeles.
Tip: You can narrow your search by using "indoor pickleball court near me" for example.
Local community centers
Finding a pickleball court in your local community center is easy. There are a few ways to go about this. A great place to start is to ask the staff at the community center if they have a pickleball court.
You can also search online. Many community centers have websites that list their amenities. It is likely that a pickleball court will be listed if the community center has one.
Check online for your local community center if you're unsure where it is. Most communities have social media pages that provide information about their locations. You can also check the website of your local city sports department to see if they have any information.
Local tennis centers
Pickleball is a game similar to tennis, and many tennis centers across the country are now offering pickleball as an option for their tennis courts. Some are simply adding a couple of courts for pickleball to their facility, while others are making a more significant investment by constructing entirely new pickleball complexes, including both indoor courts and outdoor courts.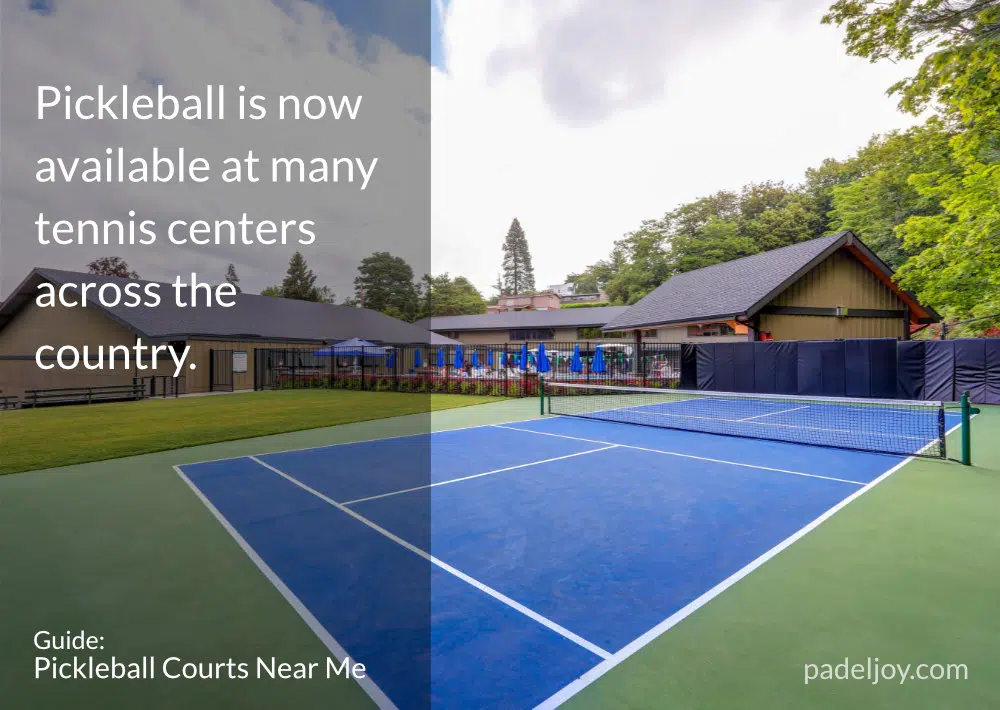 This is great news for the rapidly growing sport of pickleball, as this makes the game more accessible than ever before.
If your local tennis center does not have pickleball courts, you can play on a tennis court with a temporary net. Just ask the tennis center for permission first.
Places 2 Play – USA pickleball website
The USA Pickleball Association (USAPA) website is a great resource for finding pickleball courts.
Their 1,900+ ambassadors and 40,000 members in the global pickleball network regularly update the Official USA Pickleball Places 2 Play database with the latest info on pickleball locations.
Find a pickleball court in your city, state, or location using the provided search box. Use the map link to search geographically.
They track almost 8,000 pickleball locations, with 110 new ones being added each month.
Also, you can download the USAPA smartphone app for the iPhone. The USAPA mobile app also works on iPad and Android phones.
Facebook Groups
There are a couple of ways to use Facebook to find places to play pickleball.
The best way is to search for local Facebook groups that are dedicated to pickleball, for example, Pickleball Forum, a pickleball community that has over 60k members. These groups will usually have a list of courts in your area.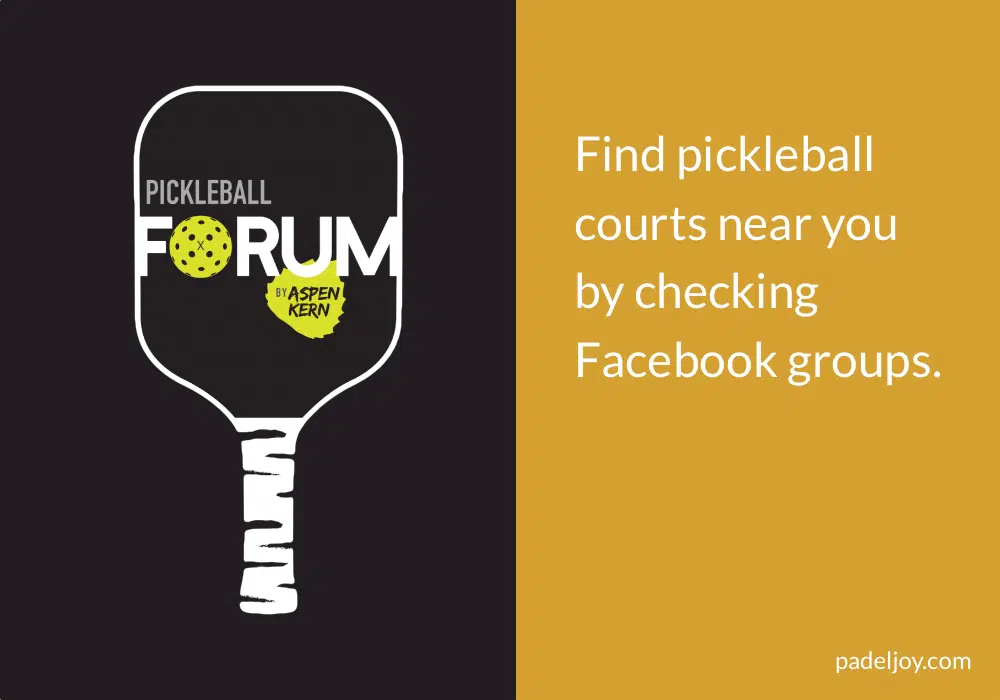 You can also search for groups based around your city or town. These groups may not be dedicated to pickleball, but they will likely have members who are pickleball players. You can post a question in these groups asking where the nearest pickleball court is.
The local Facebook groups also post information about pickleball-related events and pickleball tournaments.
Is pickleball portable?
One of the great things about pickleball is that it is highly portable. You can easily set up a pickleball court almost anywhere. You need a portable pickleball net and a few pickleball paddles, and you're good to go.
This makes pickleball an excellent option for those who want to stay active but may not have access to a traditional court. It also makes pickleball an excellent choice for those who travel frequently. You can simply pack up your gear and take it with you wherever you go.
Can I play pickleball on a tennis court?
The answer is yes; you can play pickleball on a standard tennis court with a few modifications. Pickleball is a paddle sport similar to tennis but played on a smaller court.
If you want to play pickleball on a tennis court, you must line the court for pickleball. A pickleball court's dimensions are 44 feet long and 20 feet wide.
The non-volley zone line called the kitchen is 7 feet from the net on each side. The net is also lower than a tennis net ​​and should be 34″ in the center.
Can you play pickleball on the driveway?
If there are no courts nearby, you can build your own pickleball court. Many people can find enough room on their driveway to set up a court. If you don't have the space to set up a full-sized pickleball court, you can opt for a half-size portable pickleball set.
What surface do you play pickleball on?
You can choose from a number of materials for the surface of the pickleball court. It's usually played on a hard surface, such as concrete or asphalt. In general, pickleball isn't played on grass due to bounce variations.
What equipment do you need to play pickleball?
Pickleball is a paddle sport that can be played indoors or outdoors. To play pickleball, you will need a pickleball paddle, a pickleball, and a net. You can also wear pickleball shoes, which are specially designed to provide traction and support when playing on a pickleball court.
What is the decibel level of pickleball?
Pickleball's decibel level varies depending on a number of factors, including the type of pickleball being used, the playing surface, and the level of experience of the players. A general estimate would place the decibel level of pickleball between 60 and 80 decibels.
Where can I find pickleball near me?
Doing a search online will allow you to find pickleball near you. Pickleball clubs can also be found on the USAPA website or in Facebook groups.
Where can I find pickleball players near me?
There are a number of ways to find pickleball players near you. Check with your local parks and recreation department to see if they offer pickleball leagues or clinics.
You can also find pickleball clubs in your area online. Also, you can post a message on a pickleball forum or social media group asking if anyone knows of any pickleball players in your area.