Top 10 Best Pickleball Paddles in 2022 is the definitive source of information for those seeking a new pickleball racket or looking to upgrade their current paddle set. This comprehensive buyer's guide covers all the best pickleball paddles, including specifications, styles, features, and reviews.
It can be overwhelming to try to find the right pickleball paddle for you, so we compiled a list of the best ones on the market right now. Let's go!
Best performance pickleball paddles
JOOLA Ben Johns Hyperion CFS
The JOOLA Hyperion CFS is the paddle that world #1 pickleball player Ben Johns uses. Designed in partnership with Ben Johns and trusted by him in competition, this paddle performs at the highest levels. USAPA also approves it.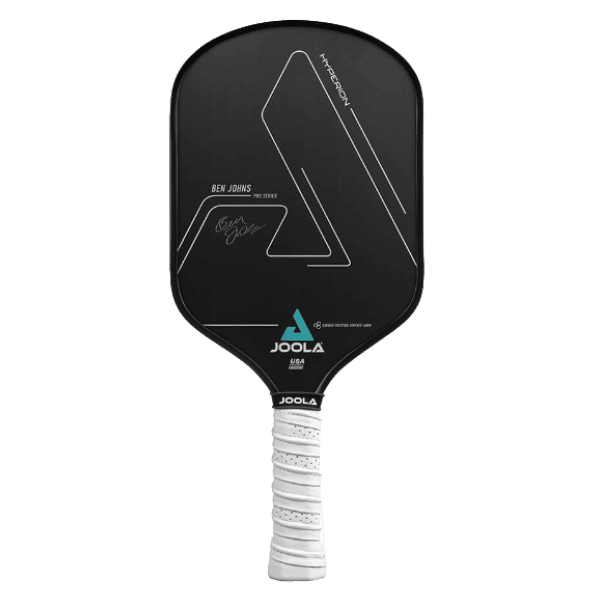 One of three paddles in the Hyperion series, the CFS 16 is Ben's signature paddle.
The Hyperion CFS paddle has a great design in all black. Designed for players of all skill levels, the Hyperion CFS 16mm paddle by Ben Johns will fit any player. It will give you an excellent combination of spin, control, and power.
With a unique head curvature, the paddle creates less drag and increases swing speed. A special foam injected into the paddle perimeter increases stability and the size of the sweet spot, making it more forgiving to play.
There is a perforated, anti-slip ridge grip that creates an optimum hold performance as well as increased shock absorption.
It's a paddle you shouldn't miss out on if you want to find a new one.
Standout features:
CX-Forged handle provides maximum flex for power and comfort
A reactive honeycomb core maximizes the consistency of the bounce and feel
Carbon friction surface to provide more spin
Pro Kennex Ovation Flight Pickleball Paddle (Blue)
After more than two years of research and development, ProKennex has released the Kinetic Ovation Flight paddle. Jennifer Dawson and Steve Dawson, gold medalists at the US OPEN and USAPA Nationals, are working on the project.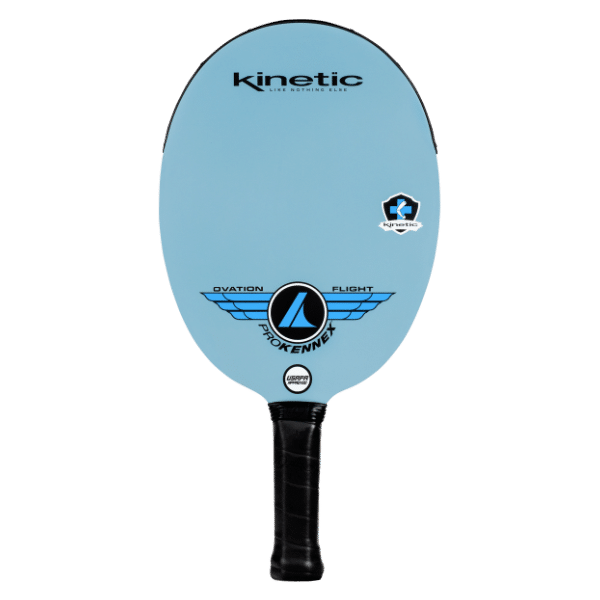 This paddle features superior consistency, accelerated ball velocity, a wide sweet spot, maximum spin, and a great feel, making it one of the best in its class.
Due to broader spacing in the honeycomb design, Cloud Core technology allows for a lighter paddle, enhancing your swings' power and strength.
With Kinetic technology, harmful shock and vibration are eliminated, reducing fatigue and soreness in the wrist, elbow, and shoulder and minimizing injury risk. According to many customer reviews, the Ovation Flight helped them recover from tennis elbow.
If you're an intermediate or advanced pickleball player, the Ovation Flight delivers the speed and consistency you need to take your game to another level. It is one of the best pickleball paddles available.
Standout features:
For injury-prone players, it is perfect because of its ability to absorb vibration
With Diamond Frost technology, you'll get maximum spin
Developed with the US OPEN and USAPA Nationals Pickleball Champions
Best value pickleball paddle
ONIX Graphite Z5 Graphite Pickleball Paddle
In addition to providing exceptional value for money, the Onix Z5 Pickleball Paddle features excellent ball control, power, and spin, along with a large sweet spot. Due to its Nomex Core and graphite face, it is also durable.
The Onix Graphite Z5 is the top-seller paddle in the Onix line due to its outstanding ball control and touch. The Z5's widebody shape is a popular choice for beginners and advanced players alike with its large sweet spot.
With a graphite face and a Nomex core, the Z5 gives players a superior feel for the ball, and its weight of 7.5-8.2 ounces strikes the perfect balance between power and speed.
With the Z5, you get the outstanding ball control of a Nomex paddle in a medium-weight and graphite paddle. A wooden handle with flared edges mimics the shape of a table tennis racket.
Standout features:
It offers exceptional value for less than $100
The paddle has an enlarged shape to give the largest sweet spot possible
It is balanced for power and speed for all-around performance
Best pickleball paddle for beginners
Champion Eclipse Graphite Pickleball Paddle
The Champion Eclipse Graphite Pickleball Paddle is a lightweight paddle designed to suit many types of players. It has a comfortable grip that you can easily use for hours on end.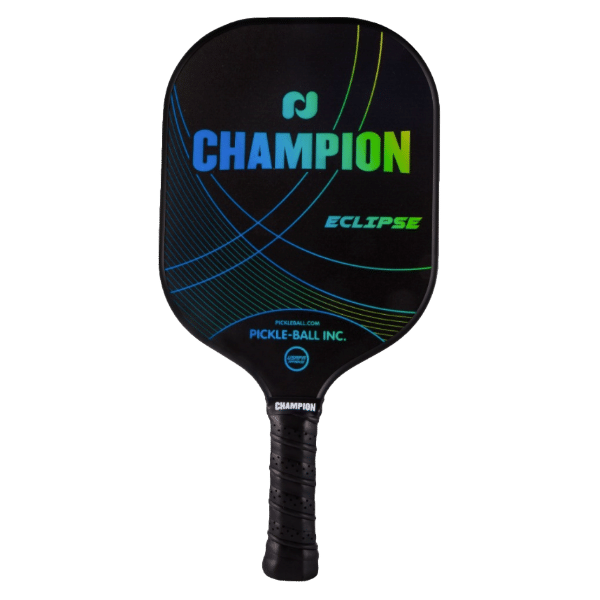 Players of every skill level will enjoy playing with the Champion Eclipse Graphite Paddle, which is light and fast yet provides the best performance. Its slim edge guard lets players maximize the paddle's surface area and get an extra punch from the sweet spot because of its 7-3/4″ width.
Despite its maneuverability, the graphite face and polymer core make it feel responsive in hand. With a weight of 7.3 – 7.8 ounces, the Champion Eclipse Graphite Paddle is USAPA-approved. Players of any size can use it comfortably because of its small grip circumference. It also has a cushioned grip, which reduces vibrations from impact. In addition, the handle length is 5″, so you have enough space to adjust your hold on the paddle.
As a durable and versatile paddle, the Champion Eclipse Graphite Paddle is an excellent option if you want a paddle that feels comfortable yet can be used to make dynamic plays.
And it's affordable, which is a huge plus. So we would recommend this paddle to anyone who is looking to get started with this sport.
Standout features:
It is easy to play and forgiving, making it perfect for beginners
Maximum hitting surface with slim edge guards
Reduces vibrations and injuries thanks to the cushioned grip
Here are our top 5 picks for new players.
Best pickleball paddle for intermediate Players
Selkirk SLK Evo Hybrid Max Pickleball Paddle
SLK Evo Hybrid paddles combine power and control on the court, making them popular for intermediate and advanced pickleball players. In addition, Evo Hybrid offers unmatched performance value thanks to its large sweet spot, comfortable grip, and low price point.
New from Selkirk, the SLK Evo Hybrid is a great choice for intermediate pickleball players who want to take their game to the next level.
With a C6-Flex Power Fibreglass Face, this paddle provides the power and control you need on every play. The cushioned SLK grip is ultra-comfortable and non-slip and provides a stable, secure grip.
The Rev-Core Power Polymer Core paddle offers a powerful interior and a massive sweet spot for maximum performance. The weight range of the SLK Evo Hybrid is 7.8 – 8.2 oz, and the grip circumference is 4.25″.
If you are looking for a well-rounded paddle to help you win more games, we recommend taking a closer look at the Evo Hybrid.
Standout features:
Strong in all aspects of the game
An ultra-comfort grip designed to absorb sweat as well as impacts
Its large sweet spot makes it forgiving to play with
Best pickleball paddles for advanced players
Paddletek Tempest Wave Pro Pickleball Paddle
PaddleTek's Tempest Wave Pro paddle is an excellent choice if you're an experienced pickleball player. It offers excellent accuracy, power, and forgiveness, allowing you to reach the highest levels of performance.
Tempest Wave Pro has a design for touch and control without sacrificing too much power. The Smart Response Technology and a large, consistent sweet spot add finesse to every shot, while the balanced weight enhances speed and maneuverability for even better play.
You can control and accurately place the ball where you want it. Precision and speed are the key factors in the Tempest series pickleball paddles, making it ideal for strategic players.
Weight ranges from 7.6 – 8.0 oz, and standard grip circumference measures 4 3/8″. The Thin Grip circumference is 4 1/8″.
If you are looking to win more games, this professional pickleball paddle delivers the performance you need to win at the highest levels of play.
Standout features:
An excellent paddle for control and precision play
High-tech polymer honeycomb for increased power
The sweet spot is large and consistent for added finesse
Best pickleball paddle for control
Selkirk Amped Pickleball Paddle
For those who want control and precision, the Selkirk Amped is one of the best pickleball paddles. The Amped has a long handle and a large surface area, making it very versatile, keeping with the traditional paddle shape.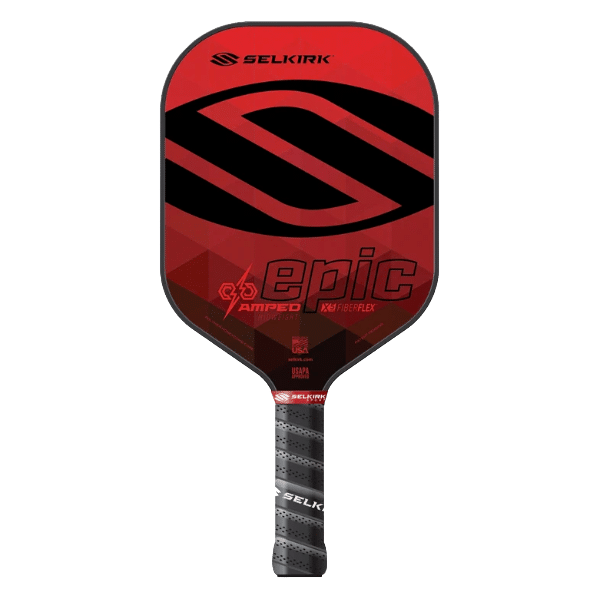 Like all Selkirk paddles, the Amped consists of the finest materials and proprietary, cutting-edge technology.
Selkirk's Amped paddle has a FiberFlex fiberglass face and a thicker Polypropylene X5 core to provide optimal ball cushioning. Furthermore, it uses polypropylene honeycomb technology for consistent speed. As a result, reduced amplitude and frequency of vibrations result in a smoother feel and reduced risk of injury.
Pickleball paddles designed by Amped Pickleball have approved for tournament pickleball play by the United States of America Pickleball Association.
Standout features:
A versatile pickleball paddle that players of all skill levels can use
Fiberglass face and a thicker core to provide optimal ball cushioning
For added finesse, the sweet spot is large and consistent
Best pickleball paddle for power
HEAD Gravity Graphite pickleball paddle
Whether you are an intermediate or advanced level player seeking power to dominate your games, look no further. The HEAD Gravity offers great power combined with a soft impact feel.
With decades of experience and modern technology, HEAD offers only the best pickleball paddles available. HEAD's lightweight carbon pickleball paddles feature a Graphite hitting surface that provides a superior feel and enhanced control for competitive players.
The HEAD Gravity's Hybrid Hitting Surface provides a superior blend of power, comfort, and control, along with its handle stabilizer technology for excellent dampening on hard shots.
Power players will enjoy the premium Gravity model's Extreme 3D Spin and Handle Stabilizer Technology.
Standout features:
Lightweight carbon paddle
Powerful without sacrificing comfort
Handle Stabilizer Technology
Best pickleball paddle under $100
Niupipo Pickleball Paddle
Developed in collaboration with professional pickleball player Frank Anthony Davis, the Niupipo paddle is USAPA approved.
The Niupipo paddle has upgraded material. The high density and hardness of Polypropylene Honeycomb Core material will make it last longer.
This composite paddle uses a fiberglass surface, making it durable compared to other pickleball rackets and reducing ball deflection. In addition, the paddle features a premium grip and edge guard, as well as moisture-wicking, anti-skid fabric.
Featuring a 4-1/2″ (4.5) handle length and a 4.4″ grip circumference, this Niupipo racquet is ideal for quick hand switching. In addition, it has a wide-body shape that provides a larger sweet spot and hitting surface.
Standout features:
A good price-quality ratio
Developed with player Frank Anthony Davis
Materials that are durable for long service life
Best Pickleball Paddle Under $50
Gamma Quest Pickleball Paddle
There are many pickleball paddles under $50, but which is the best cheap pickleball paddle? Unfortunately, many cheap paddles are not USAPA-certified. However, gamma Quest is an excellent middle-weight pickleball paddle that's suitable for all levels.
As it uses fiberglass composite materials, the Quest pickleball paddles offer great control and comfort. In addition, a Gamma honeycomb grip provides long-lasting comfort during gameplay.
The Quest pickleball paddle has a polypropylene honeycomb core and a fiberglass composite hitting surface for better control and precision placement.
The Gamma Quest is one of the best pickleball paddles for beginners and intermediate players on a tight budget.
Standout features:
Medium weight paddle with an excellent price-quality ratio
Composite materials for comfort made from fiberglass
Beginner-friendly and easy to play
Frequently Asked Questions