Pickleball, as well as its accessories, are becoming increasingly popular. Do you want to improve your pickleball skills? In that case, choose the best pickleball paddle first. Then choose the right court shoes. Here are the top 10 best pickleball shoes for players of all levels.
What shoes do I need for pickleball?
The short answer to whether pickleball shoes are necessary is yes. Although you can wear a running shoe or athletic shoes when playing pickleball, there are several benefits to investing in a pair of pickleball shoes.
Playing indoors requires court shoes similar to those worn by badminton or volleyball players. If you play pickleball on an outdoor court, then a pair of padel shoes or tennis shoes will be best for you.
The benefits of pickleball shoes
Using proper shoes to play pickleball is necessary for players of all levels. Having comfortable and supportive shoes will help reduce fatigue and reduce the risk of injuries. In addition, good pickleball shoes will also provide you with the most significant amount of traction. You will be able to make more accurate shots and move around the court more efficiently.
Picking the best shoes for pickleball will enable you to improve your gameplay and have fun playing this popular sport.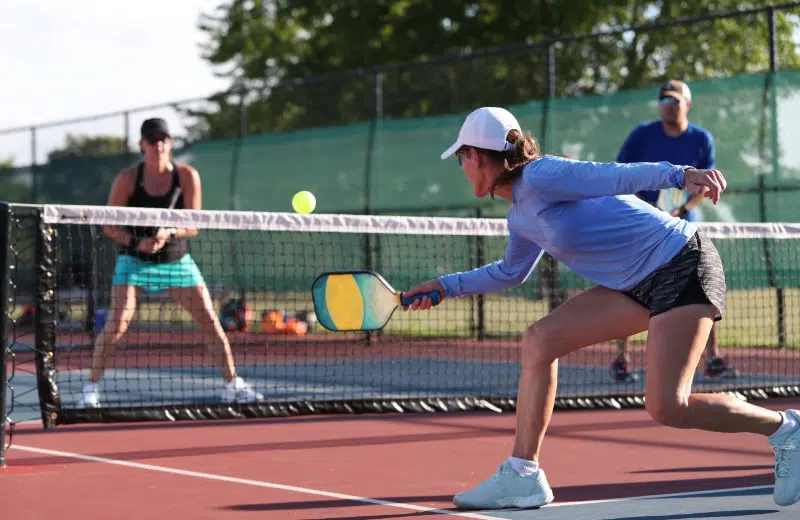 How to choose the right pair of pickleball shoes
Choosing the right pair of shoes is very important for any sport. This is also true for pickleball, a sport for which shoes are an integral part of the game. Here are some tips on choosing the best pickleball shoes for you.
Level of play
Your level of play is an essential factor to consider when choosing pickleball shoes. A beginner shoe should suit you just fine if you are just getting started. As you gain more experience, you may want to upgrade to a more advanced pair of shoes. There is no need to worry, though. Most pickleball shoes will fit players of all levels.
Type of court
You should consider the type of surface you are playing on when choosing pickleball shoes. For example, if you play pickleball outdoors, you can wear pickleball shoes or tennis shoes; the surfaces of hard courts are the same. You should get an indoor pickleball shoe or another court shoe if you play indoors.
Width and length
When buying pickleball shoes, make sure they are comfortable and fit your feet perfectly. Choose a pair that is both comfortable and supportive of your foot's natural shape. Ideally, you want to choose a shoe that is neither too wide nor too narrow.
Ankle support
We recommend finding a pickleball shoe with good arch support and adequate cushioning. By doing so, you will be less likely to suffer from ankle pain and other foot injuries. Avoid running shoes as they are not supportive enough for pickleball's lateral movements.
Shoe weight
A good shoe should provide plenty of support, comfort, and maneuverability when playing pickleball. However, the shoes should not be too heavy since you'll be running and moving around on the pickleball court.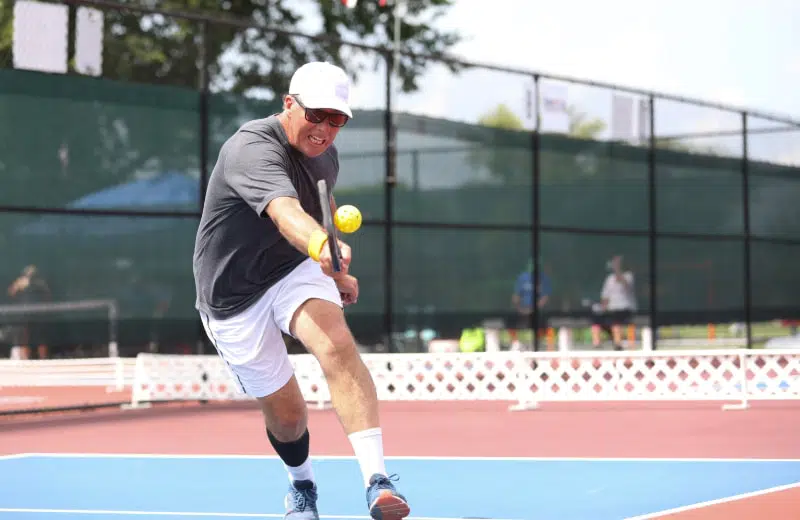 Best pickleball shoes for men
If you're looking for the best pickleball shoes for men, you're right. We will examine some of the best men's pickleball shoes today and why they are so good.
Adidas Barricade pickleball shoes
Adidas Barricade men's pickleball shoes are among the best on the market for players of all levels. The innovative lacing system enables the shoe to mold to your foot ideally.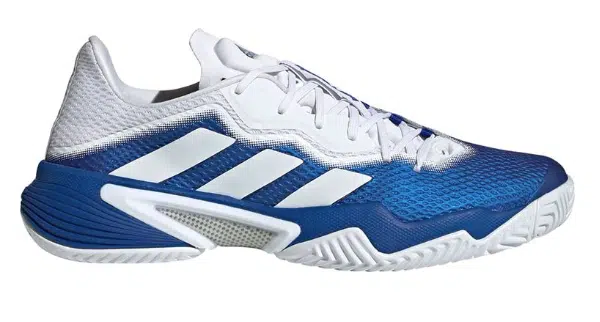 The shoes have good arch support and extra cushioning, which can help reduce ankle pain. Moreover, the weight of the shoes is just right so that you won't tire out quickly. In addition, they are very stylish, so you will look good while playing.
The remaining gaps are filled by adding a Geofit system in the heel. A TPU midsole cushions the midsole and shank. Its bold Adidas wordmark is made from tough RPU to resist wear from foot drag.
Standout features:
Made with Primegreen, a series of recycled materials that provide high performance
Lightweight Bounce cushioning improves comfort and flexibility
Laces are attached to internal webbing so that when you tighten them, the tongue perfectly fits the shape of your midfoot
K-Swiss Men's Express Light pickleball shoe
The K-Swiss Express Light men's pickleball shoe is an excellent option for anyone looking for good arch support and ankle stability. As they're lightweight, you can quickly move around and stay comfortable throughout your game.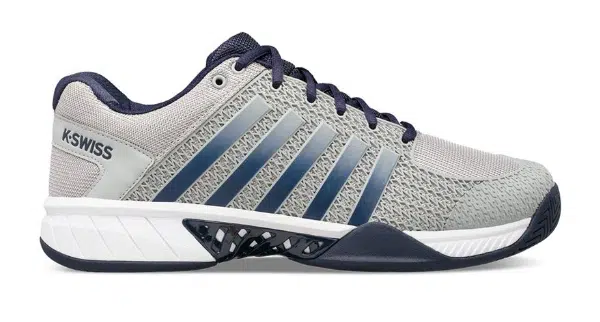 K-Swiss is the first brand to introduce a pickleball-specific court shoe. The Express Light Pickleball shoe is designed to provide players with a comfortable, lightweight, breathable shoe that supports the on-court movement and performance needed for the sport.
The Express Light is an all-around shoe perfect for the new player or the frequent player. The shoe features a K-Swiss Pickleball logo and a customized Pickleball sock liner. Ideal for use on hard court surfaces as well as clay courts.
Standout features:
An EVA midsole with a unique formula for maximum cushioning and durability
An interlocking heel grip lining helps to reduce slippage by gripping the heel of the sock
Durawrap is an additional layer of protection against excessive toe-dragging on the shoe's upper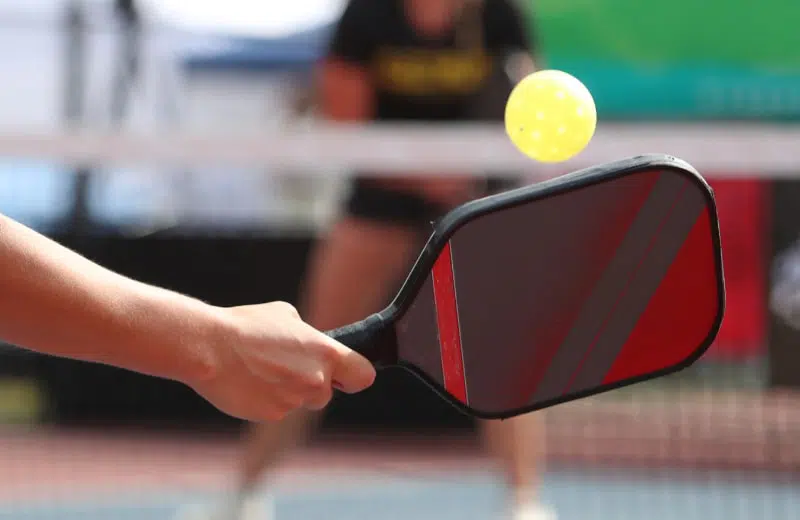 Best pickleball shoes for women
In this section, we look at the best pickleball shoes for women. These shoes are specifically designed for women and used on pickleball courts. They come in a variety of colors, styles, and prices to find the perfect pair for you.
ASICS Women's Gel-Renma pickleball shoes
ASICS Women's Gel-Renma pickleball shoes are perfect for players of all levels. They are lightweight and durable, making them great for playing on hard courts. Plus, they come in various colors, so you can find the perfect pair to match your style.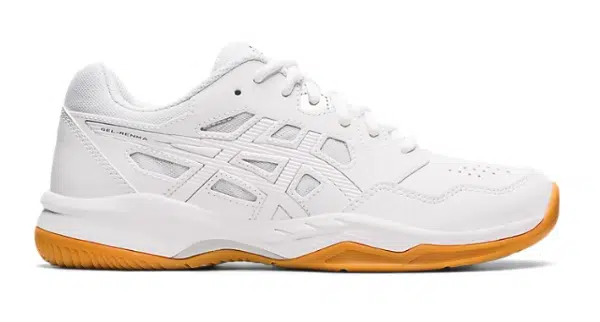 The shoe has been designed specifically for pickleball players and tested by real pickleball athletes. With the Asics Gel Technology, the Gel-Renma pickleball shoe reduces impact vibration during abrupt landings. As a result of the durable gel sole, there will be a reduced risk of fatigue or injuries to the feet during the play.
These Asics shoes also use the Trusstic Technology for improved ankle support and stability during pickleball matches. With grooves in the rubber sole, you can move more freely due to increased flexibility.
We recommend looking at the Gel-Renmas if you are searching for shoes designed specifically for pickleball.
Standout features:
Designed specifically for playing pickleball and lateral movements
Providing comfort with a forefoot gel cushioning system
Natural rubber outsole for smooth and balanced movements
K-Swiss Women's Express Light pickleball shoe
Next on our list of best pickleball shoes for women is the K-Swiss Women's Express Light pickleball shoe. This shoe is great if you want a lightweight, easy-to-move shoe. Choose from various colors and styles to find the perfect pair for you.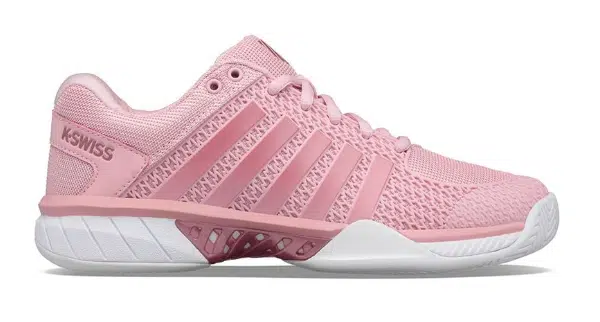 These women's pickleball shoes are designed to provide players with a lightweight, breathable shoe that will support their on-court activities and enhance their performance. The Women's Express Light is designed specifically for pickleball courts and features lightweight cushioning and a natural rubber sole.
It is an all-around shoe, perfect for beginners and more experienced pickleball players looking for a new pair of good-quality shoes.
Standout features:
A moisture–management sock liner with anti-microbial properties that keeps feet cool and minimizes the effects of perspiration
Draggards located on the outsole in the high wear areas of the toe and heel offer increased abrasion resistance
Outsole with high density offers durability from heel to toe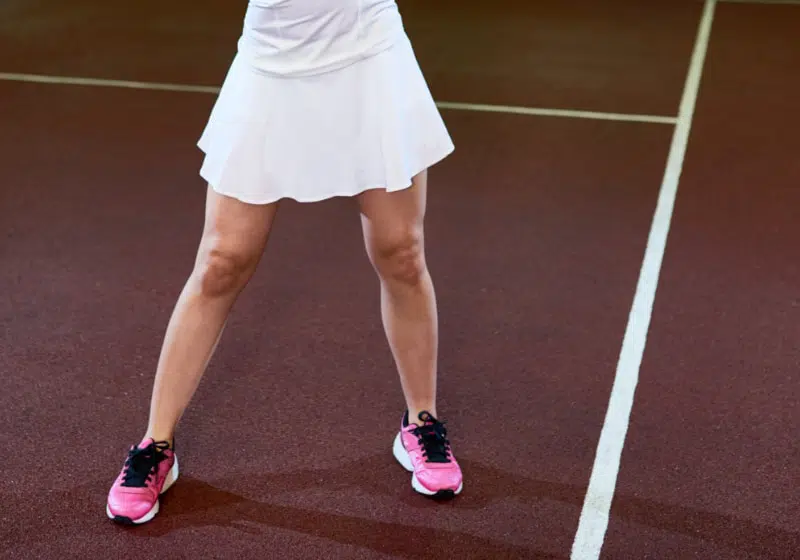 Best outdoor pickleball shoes
You want to make sure that you are wearing the right shoes when you are playing pickleball outdoors. You will want to make sure that you are wearing the right shoes for the type of surface you are playing on and feel comfortable wearing them. In this section, we will look at the best shoes for outdoor pickleball on the market today.
New Balance FuelCell 996v4.5 pickleball shoes
Our first pick for best outdoor pickleball shoes is the New Balance FuelCell 996v4.5. This eye-catching tennis shoe is constructed of FuelCell foam underfoot for energy return and a fast, responsive feel.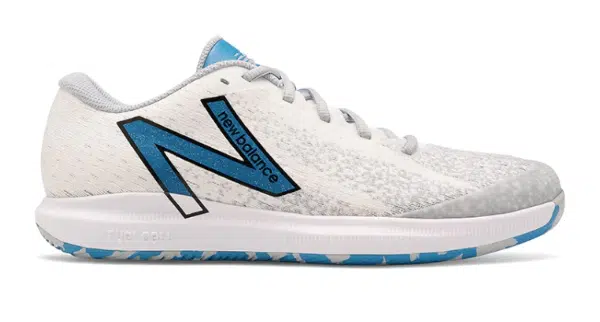 The New Balance FuelCell 996v4.5 tennis shoes are designed to provide the perfect balance of flexibility and durability. They are made with a responsive rubber outsole that offers excellent traction for outdoor pickleball. At the same time, the breathable mesh upper allows your feet to stay cool and comfortable during long matches. The shoes also feature a durable construction that can handle multiple sessions of use. You can be sure they will last through many rounds of pickleball play.
We consider this the best pickleball shoe to wear for outdoor pickleball and suggest you try it if you want a stylish and lightweight shoe.
Standout features:
FuelCell foam provides a forward-moving sensation
Featuring a non-marking, complete ground contact outsole
Synthetic upper and durable rubber outsole
Asics Solution Speed FF 2 pickleball shoes
Some players prefer to wear pickleball shoes that are durable and sturdy, while others prefer lightweight shoes. With the Asics Solution Speed FF pickleball shoe, you do not need to compromise stability for speed.
This shoe offers better stability and a more flexible fit, making it an ideal choice for athletes looking for quicker accelerations. The upper features a polyurethane application that provides better support, flexibility, and a more secure fit. To reduce water usage and emissions, the sock liner is produced using a solution dyeing process.
Solution Speed FF tennis shoes are equally at home on tennis courts and outdoor pickleball courts.
Suppose you are a pickleball player that prioritizes fast movements and speed on the pickleball court. In that case, we recommend checking out this model.
Standout features:
Unique foam technology provides a lightweight forefoot gel cushioning system
Maintains the foot's center of gravity on the shoe's platform, providing better midfoot stability
Reduces shock during the impact phase and allows a smooth transition to midstance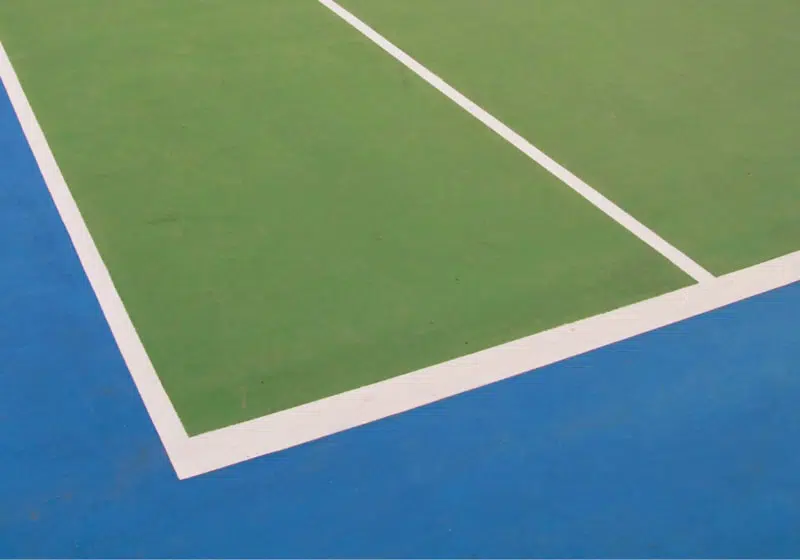 Best indoor pickleball shoes
Playing indoor pickleball requires a great deal of movement and turning, and twisting. That is why your shoes are so important. Indoor pickleball court shoes will have to be designed accordingly. You can opt for an indoor pickleball shoe, a volleyball shoe, or any other court shoe. Here are the best pickleball shoes for indoor courts available today.
Asics Gel-Rocket 10 pickleball shoes
Next on the best pickleball shoes 2022 is a multi-purpose indoor court shoe, the GEL-ROCKET 10. Asics has aimed to improve the shoe's stability and flexibility this year.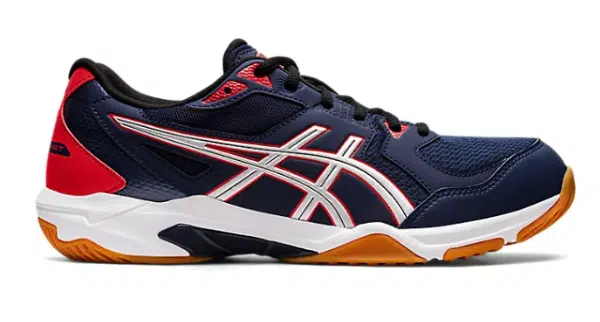 The shoe is designed with a flexible upper construction that helps feet bend more naturally and allows players to move more freely, crucial on indoor pickleball courts. Moreover, this shoe features synthetic leather overlays, making it a supportive shoe.
A wrap-up outsole and outrigger provide functional support as part of a side-to-side movement. Last but not least, the flex grooves and a side grip design improve flexibility on the court.
In our opinion, this is one of the best court shoes available right now. Although they are marketed as volleyball shoes, they work just as well for indoor pickleball. The shoe is also affordable, another factor contributing to its inclusion on this list of the best pickleball shoes of 2022.
Standout features:
Indoor court shoes with breathable mesh upper and flat soles
Using flex grooves in the outsole improves flexibility
The wrap-up of the heel results in a smoother landing
Head Sprint Pro 3 pickleball shoes
The Head Sprint Pro 3 court shoes are an excellent option for players at all levels. Made with a durable rubber sole and comfortable construction, they offer great comfort and support. Both beginners and experienced players can benefit from the excellent traction and stability these shoes provide.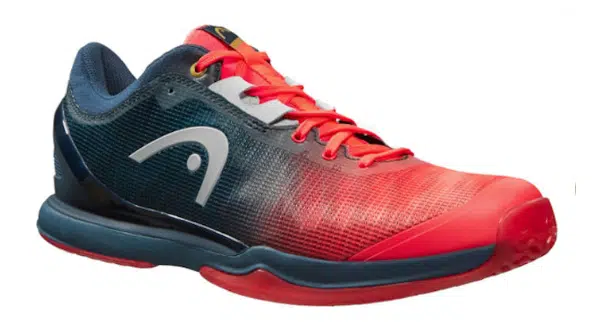 Sprint Pro 3 Indoor provides lightweight and comfort at its finest, making it the perfect court shoe for indoors. It is designed for players who want more agility on an indoor court.
The mesh material allows the shoe to be light and breathable. At the same time, the sock construction ensures a high level of comfort. In addition, the new heel counter keeps your foot in place during challenging rallies.
We recommend trying the Sprint Pro 3 if you are looking for indoor shoes that you can use for playing pickleball, racquetball, squash, or any sport on indoor courts.
Standout features:
Court shoes with lightweight, breathable mesh
Low-to-the-ground for all types of indoor court sports
Non-marking rubber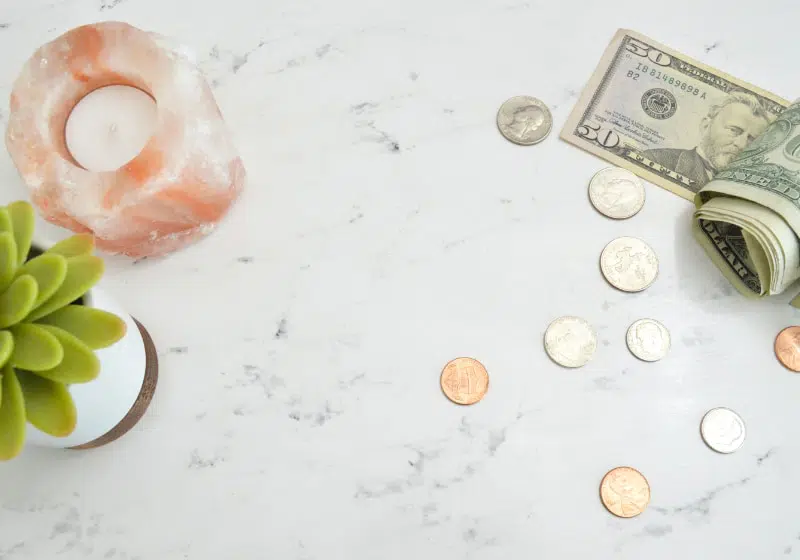 Top budget-friendly shoes for pickleball
Many people are turning to pickleball as a fun and competitive sport. Consequently, many pickleball players are looking for good, budget-friendly shoes that will help them improve at a lower price. We will take a closer look at the best budget-friendly pickleball shoes.
ASICS Men's Gel-Dedicate pickleball shoes
You can't go wrong with the Asics Gel-Dedicate shoes if you have a limited budget. They are affordable and come in various colors to find the perfect pair for your outfit.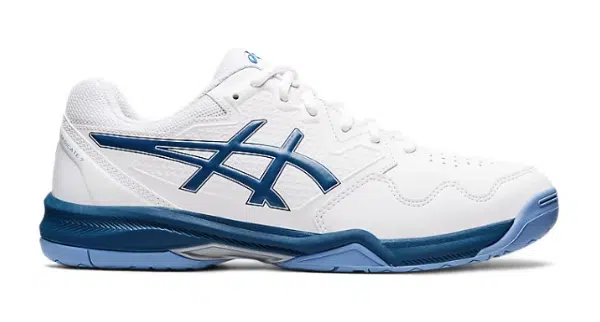 Gel-Dedicate 7 tennis shoes offer good stability and a flexible feel while playing. Synthetic leather is used in the upper material for excellent stability and comfort.
The shoe also features a wrap-around outsole that increases stability and allows your feet to move freely. By doing so, you can change directions more confidently, especially in lateral movements.
Standout features:
Gel technology cushioning offers excellent shock absorption
Stability is increased by the Trusstic technology and wrap-up outsole
Synthetic leather toe overlays with a durable finish
Slazenger Indoor Mens Trainers pickleball shoes
If you are looking for a shoe that fits a limited budget, the Slazenger Indoor court shoes can also be a good choice. In addition to being perfectly suited for the pickleball court, they are also practical and stylish.
Featuring a padded ankle collar, tongue, and cushioned insole for all-around comfort, the mesh foot with synthetic overlays ensures a ventilated, durable fit. Slazenger branding provides a recognizable finish, while a textured rubber sole provides excellent traction.
Standout features:
All-around court shoes with a rubber outsole that can be used for pickleball, volleyball shoes, or for playing squash
It has an excellent price to quality ratio
Synthetic shoes with breathable uppers
Pickleball shoe-related questions
Conclusion
Pickleball is gaining popularity, as are the accessories associated with the game. Pickleball shoes are vital accessories that help players perform better on the court.
If you want to play pickleball, you should get proper footwear. Your shoe choice depends on the surface on which you will be playing.
For example, if you plan on playing indoors, court shoes similar to those worn by badminton and volleyball players would be appropriate.
For our outdoor courts, padel or tennis shoes would be more appropriate. The use of running shoes for pickleball is not recommended since they are primarily intended for forwarding movements.
The best shoes for pickleball provide good arch support and adequate cushioning. These characteristics help prevent injuries to the ankles and feet during play. You should not select heavy shoes since you will be running and moving around a lot on the pickleball court.
We have been looking at the best men's pickleball shoes, such as the Adidas Barricade and the K-Swiss Express Light, in this buying guide. We also picked our favorites among the best women's pickleball shoes, the Asics shoes Gel-Renma and the K-Swiss Express Light.
For players on a tight budget, we selected the Asics Gel-Delicate as the best shoes for pickleball.
Hopefully, this guide has inspired you to get the proper shoes to help you improve your game.