Our guide to the best padel rackets for tennis elbow 2023 is for people looking for a racket to help them avoid injuries while playing padel. Below you can see some of our favorite models that are arm friendly. These can prevent shoulder, wrist, and tennis elbow (padel elbow) problems.
Having trouble finding a racket that fits your style of play? Take a look at our racket guide. Our guide to the best padel racket of 2023 is worth checking out.
Time Limited Offers
Limited Time
Padel Nuestro - Flash Offers
Limited time offers with up to 80% off.
Limited time offers with up to 80% off.
Show Less
The wrong racket can increase the risk of tennis elbow
You can develop a padel elbow or tennis elbow for many different reasons. Padel racket selection is one of the most critical factors. With a gentle padel racket, you reduce the strain on your muscles and the risk of injury.
Padel rackets that are arm friendly have a lower weight, a low balance, and a softer core. We have listed below three models that are kind to elbows and can benefit those with elbow problems.
Best padel racket for tennis elbow – Budget choice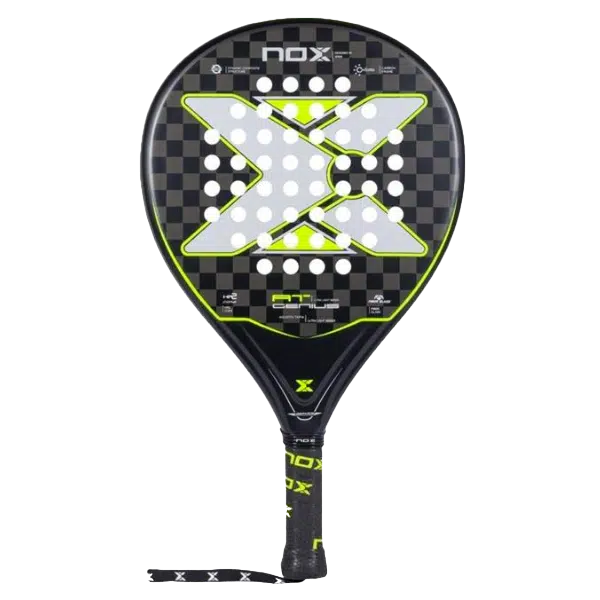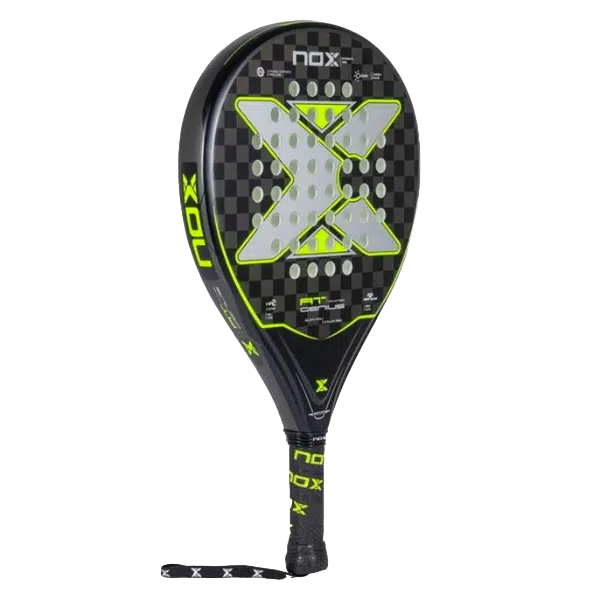 Nox AT10 Genius Ultra Light 2023
Nox AT10 Genius Ultra Light 2023 is a padel racket that is light on the arm and suitable for those who wish to play with a more lightly swung racket. With a large sweet spot, you can get good speed and feel even if you don't hit perfectly clean. Vibrations are effectively absorbed by the racket due to its design by Nox. This reduces the risk of elbow pain since vibration is a major cause of padel elbow pain.
DCS (Dynamic Composite Structure) technology is incorporated into the Nox AT10 Genius Ultra Light 2023 to increase hitting feel and comfort. This racket is ideal for juniors, ladies, and men who enjoy a lighter racket.
Find the best price for Nox AT10 Genius Ultra Light 2023:
Best arm friendly padel racket – Value for money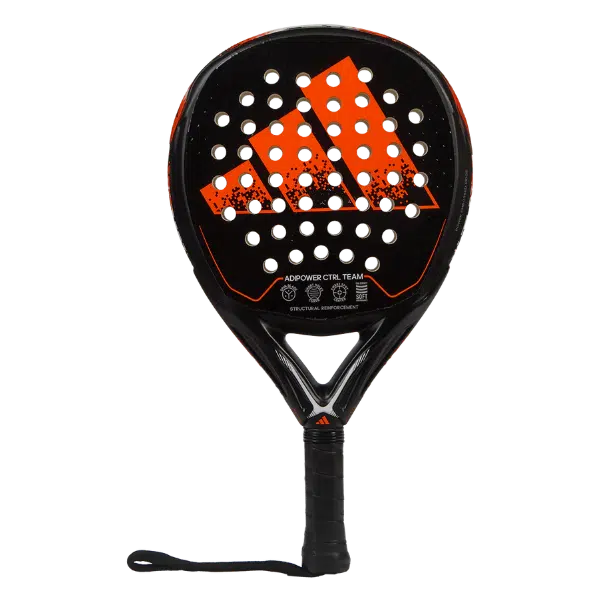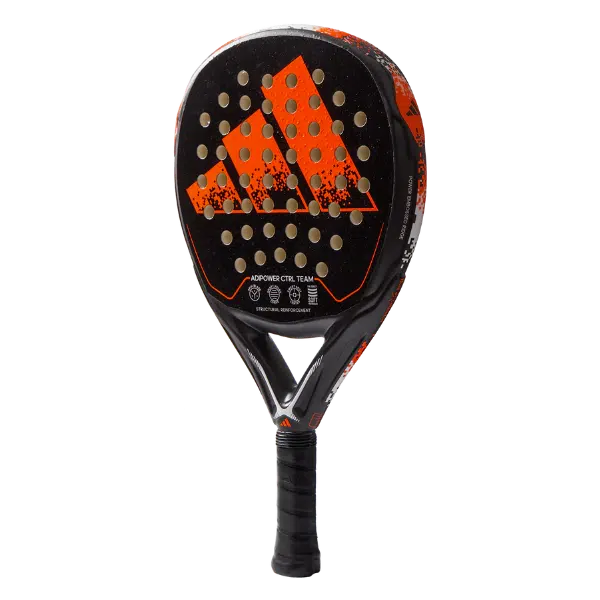 Adidas Adipower CTRL Team 3.2 2023
Padel rackets like the Adidas Adipower CTRL Team are forgiving and easy to play. The racket's round shape and low balance make it easy to move, which reduces elbow strain. As a result of the fiberglass hitting surface, hitting feels pleasant due to its increased comfort. Additionally, it reduces vibrations that reach the elbow, which reduces the risk of injury. A carbon fiber frame ensures maximum stability and durability.
We recommend looking into AdiPower CTRL Team if you suffer from elbow pain. One of our top picks for best padel racket for padel elbow 2023.
Find the best price for Adidas Adipower CTRL Team 3.2 2023:
Best comfortable padel racket – Premium choice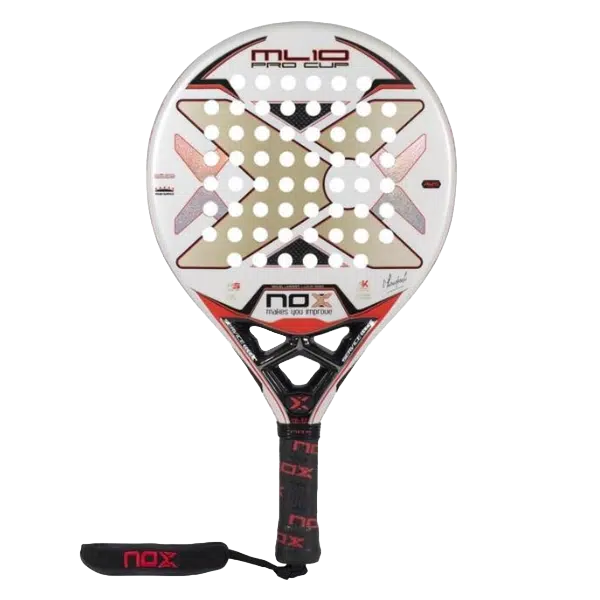 Nox ML10 Pro Cup Luxury 2023
Nox ML10 Pro Cup is the company's best-selling padel racket. They developed the ML10 Pro Cup Luxury based on this model in 2022, which is Miguel Lamperti's preferred racket. With 3K carbon fiber instead of 3K silver, the Nox ML10 Pro Cup Luxury 2023 is slightly more rigid without being too stiff. The softer hitting feel, and carbon fiber characteristics make it a good choice.
It has a large sweet spot and absorbs vibrations very effectively, contributing to its great hitting feel. Carbon fiber makes up the frame, ensuring durability.
In our opinion, the ML10 Pro Cup is the best padel racket for intermediate-level and above players who wish to reduce the risk of elbowing during play.
Find the best price for Nox ML10 Pro Cup Luxury 2023:
Tips for preventing tennis elbow or padel elbow
Frequency
Padel is a fantastic sport that's easy to get caught up in. Remember that your body needs rest and that the risk of injury increases the more you play. Take a shorter break if you feel pain while playing.
Technique
One of the main causes of injuries is poor technique. Although a gentle padel racket can reduce the risk of injury, it is not enough. Improve your technique with the help of a trainer if necessary.
Grip size
Padel grip size has a significant impact on injuries. If you have a too narrow or thick grip, you will need to hold the racket tighter, resulting in muscle tension. Overgrips should be applied or removed as required.
Summary of the best padel rackets for tennis elbow 2023
The incorrect choice of noise can lead to injuries such as tennis elbow. Typically, a gentle padel racket has a low balance to make it easier to handle and a softer core to catch vibrations.
If you are a new player or have had injuries, you are part of the risk group and should consider a comfortable padel racket. Padel rackets are available in all price ranges, but avoid the cheapest ones since they use materials that absorb vibrations less well.
You can prevent injuries by reducing your playing frequency, improving your technique, and ensuring you have the right grip size.
The best padel rackets for tennis elbow 2023 are:
Questions about tennis elbow