When you start playing pickleball, one of the first things you need to do is choose the right paddle. The wrong paddle can make the game harder and more frustrating than it needs to be. In this blog post, we're going to take a look at some of the best pickleball paddles for beginners.
Check out the buying guide best pickleball paddles for all levels in 2022 if you have been playing for a while.
Getting a beginner pickleball paddle: things to consider
Choosing the right beginner pickleball paddle can be challenging. There are many factors to consider when making your decision. Here are a few things to remember as you shop for your first beginner's pickleball paddle.
Pickleball paddle weight
The weight and balance of the paddle are essential. A heavier paddle will give you more power, while a lightweight paddle will be easier to control. The size of the paddle is also crucial. A smaller paddle will be easier to maneuver, while a larger one will give you more reach.
Pickleball paddle materials
First, you need to decide what type of beginner paddle you want. There are two basic types of paddles: wooden and composite. Wooden paddles are typically less expensive, but they don't last as long as composite paddles. Composite paddles are usually more costly and contain different materials, like carbon fiber. However, they're also more durable and tend to offer better performance.
Pickleball paddle grip sizes
In addition, you need to think about the grip. Pickleball paddles have different grips, so you must choose one that feels comfortable. If you're unsure what type of grip to get, it's usually best to try a few different paddles before deciding.
Edge Guard
An edge guard is used on a pickleball paddle to help extend the life of the paddle. It also protects the paddle from damage when it is dropped or hit on the ground.
What are the best pickleball paddles for beginners?
There are a lot of different pickleball paddles on the market, which can make it tough to decide which one is right for you, especially if you're a beginner. But don't worry, we're here to help! In this section, we'll recommend some of the best beginner's pickleball paddles.
Franklin Sports Pro Pickleball Paddle
The Franklin Sports Pro Pickleball is a top-quality paddle with a brand new MaxGrit textured surface technology. This surface material is approved by the USAPA and can provide excellent traction and spin rate on the ball for optimal control.
Professional pickleball player Aspen Kern has designed this paddle to give you the best possible performance on the court. It's a great first paddle for beginners or intermediate players who want to improve their game, and its high-quality construction means that it can stand up to the demands of competitive play.
Standout features:
Designed by Pickleball pro Aspen Kern
Embedded carbon fiber to generate spin and speed
USAPA certified and approved for tournament play
---
Amazin' Aces Graphite Pickleball Set
This set is perfect for those just starting to get into the game. The graphite paddles are lightweight and offer great control. The set has four balls and a mesh bag for easy storage and transport.
This quality pickleball paddle set weighs 8.3 oz and features a polymer core paired with a graphite face. It has a hand-stitched contour grip for power and control.
If you're looking for an excellent pickleball paddle to help improve your game, look no further than the Amazin' Aces Graphite Pickleball Paddle. This is the perfect paddle for the beginner pickleball player and will help you take your game to the next level.
Standout features:
Great value for money
Includes two paddles, balls, and a mesh
Adapted for beginners and intermediate players
---
SLK Evo Hybrid & Soft
The SLK Evo Hybrid & Soft is an excellent choice for beginners. It's soft and comfortable and lightweight too. This makes it perfect for those who want to start learning without feeling overwhelmed. Plus, it's durable, so you can keep using it for a long time.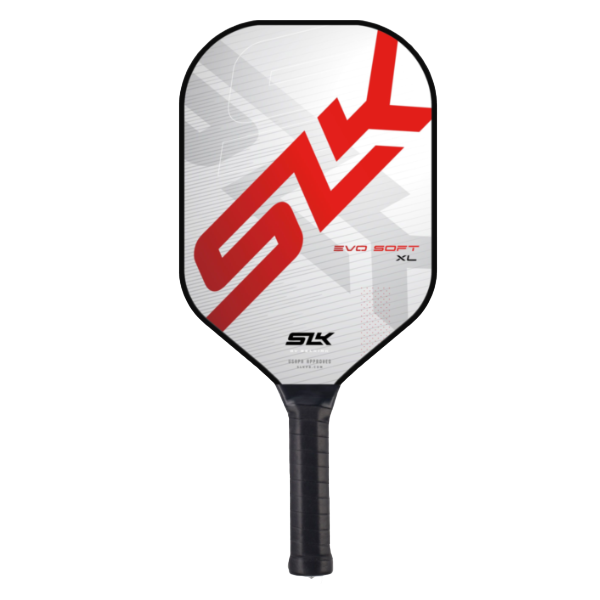 The SLK Evo Hybrid & Soft is the perfect choice for those who want a massive sweet spot and a thicker core. With the SLK Rev-Soft Core technology, the impact is absorbed to give players a softer feel while still delivering the power they need on the court.
Standout features:
Comfortable grip
A lightweight pickleball paddle for maximum maneuverability
The massive sweet spot makes great for beginners
---
Engage Pickleball Encore EX 6.0
The Engage Pickleball Encore EX 6 is a premium pickleball racket for players of all levels and a great choice for both beginners and advanced players. It has an excellent balance between power and ball control and consists of premium quality materials. It is USAPA (USA Pickleball Association) approved for tournament play.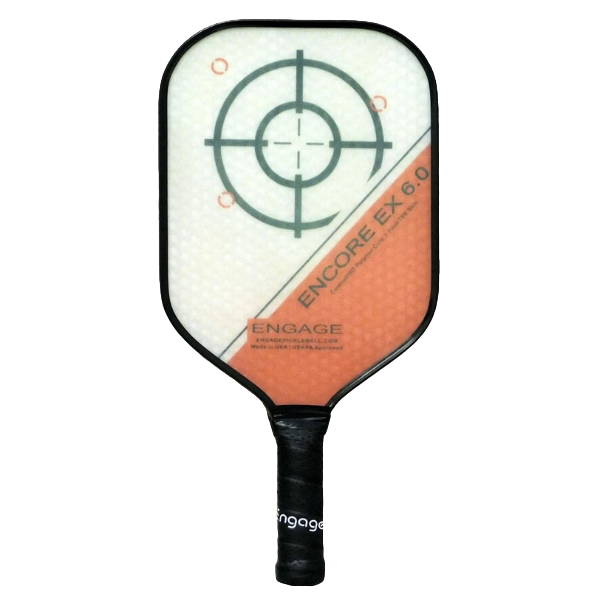 The Encore EX 6 is one of the market's best beginner's pickleball paddles. It is designed and manufactured in the USA with US-based suppliers. The paddle features a rough-textured skin which provides excellent spin for your game. The paddle also has an ergonomic design, making it comfortable to grip and play with. The EX 6 is a paddle that provides excellent playing characteristics and is one of the best beginner pickleball paddles.
Standout features:
Good balance between control, power, and reach
Core & Skin Dimensioning technology offers players a large sweet spot
Works for players of all levels, keep it as you improve
---
HEAD Cyber Elite Paddle
Are you looking for a great starter paddle? The HEAD Cyber Elite is perfect for beginners and intermediate players. It has a beautiful design, is easy to play with, and it's made from premium quality materials.
The HEAD Cyber Elite is a lightweight pickleball paddle that is perfect for new players. The fiberglass hitting surface offers an excellent feel and ample power, while the comfortable grip ensures that you can keep playing for hours.
Its unique Ergo Grip provides minimal vibration to help you avoid problems with injuries such as tennis elbow. Overall one of the best pickleball paddles for those new to pickleball.
Standout features:
Elegant design
Easy to play paddle, perfect for beginners
Balance of power and control
---
Final thoughts
Pickleball is a game that is steadily gaining popularity among people of all ages. Choosing the right equipment when starting any sport is essential, and pickleball is no different. Selecting the best pickleball paddle can significantly impact your overall gaming experience.
A beginner should choose a paddle that is comfortable to hold and easy to swing. In general, we recommend staying away from too heavy paddles. Instead, opt for a lightweight or midweight paddle. To find the best beginner's pickleball paddle, you can try several before buying. This way, you can figure out what weight, grip size, and style work best for you.
There are a lot of great paddles on the market, so take your time choosing the one that's right for you. With patience and perseverance, you'll play like a pro in no time! Are you ready to get started? Learn how to find a pickleball court near you.