The Best Padel Rackets for Control 2022 is a guide for players who wish to place their shots accurately, regardless of their skill level. Discover the best round control rackets currently available on the market.
Considering a control racket but not sure if it's for you? If so, we recommend you read our racket guide. You can find inspiration on the best rackets in other categories in our best-in-test 2022.
Top 3 padel rackets for control
What is a good control racket?
Control rackets are ideal for padel players who prefer precision over power and tend to have a more defensive style of play. A good control padel racket reduces the chances of mis-hits that lead to points lost in the game.
Control rackets excel in managing the ball in defense and placing it exactly where you want. Most rackets with control as their primary characteristic are round and have a low or medium balance point.
---
Best Control Racket – Budget Choice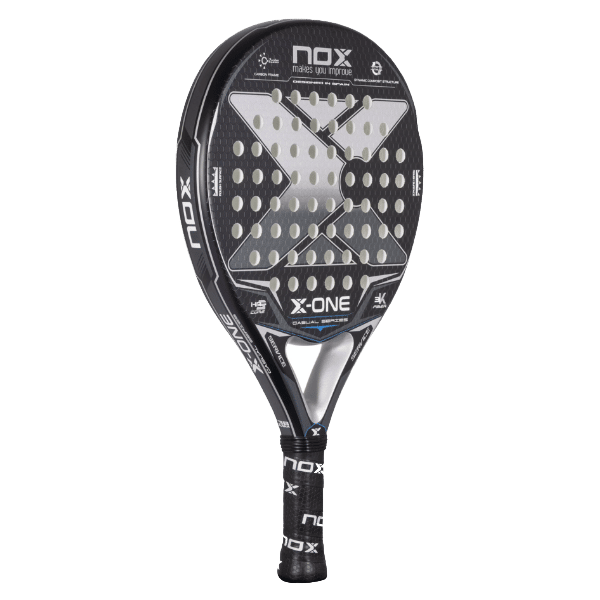 Nox X-One Evo 2022
Nox X-One Evo 2022 is a solid and easy-to-play racquet for players seeking control. Despite being in the budget category, it offers nice quality.
The racket is round and features a large sweet spot in the middle of the hitting surface. A bigger sweet spot allows you to get clean hits and reduce the number of errors. The frame is constructed of 70% carbon fiber, making it durable and stable without being too rigid. The hitting surface consists of fiberglass.
If you are on a limited budget and want an excellent control racket, try the X-One Evo.
Find the Best Price for Nox X-One Evo 2022:
---
Best padel racket for control – Value for money
Adidas Essnova Carbon CTRL 3.1
Adidas' Essnova Carbon CTRL 3.1 padel racket is an affordable option for players of all levels. A best-seller last year, this year's model has a carbon fiber hitting surface for added responsiveness.
This racket has a round shape with a medium balance, making it easy to use on defense while adding speed to the offensive game. A wide sweet spot on the racquet makes hitting clean and maintaining speed easier. Players with injury problems such as tennis elbow could benefit from Essnova Carbon CTRL 3.1.
Find the Best Price for Adidas Essnova Carbon CTRL 3.1 2022:
---
Best padel racket control – Premium choice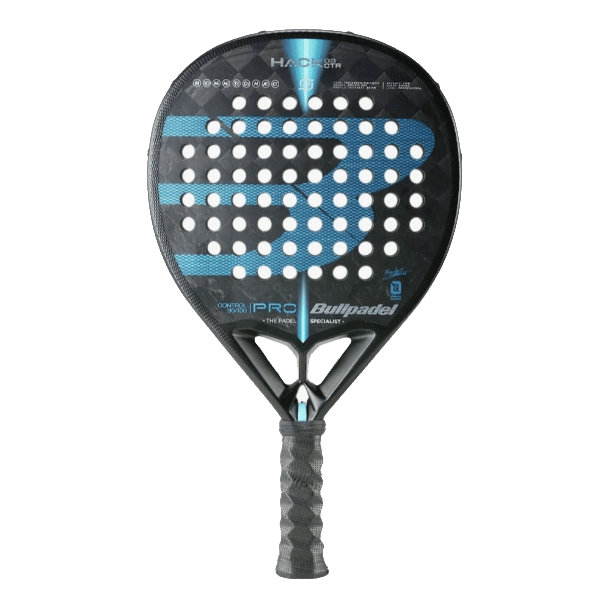 Bullpadel Hack Control 03 2022
Paquito Navarro's Hack 03 is a version of Bullpadel Hack Control 03 2022 that is easier to play. Its round shape and low balance make it easier to maneuver.
Hack Control 03 features the new Air React Channel technology that improves aerodynamics. The surface layer consists of the Tricarbon material, and the racket has layers of varying densities in the core. The outer layer has a higher density for better response on hard shots, while the inner layer has a lower density for greater speed on looser balls.
Don't miss Hack Control 03 if you have the budget and enough technique to use a relatively technical padel racket.
Find the Best Price for Hack Control 03 2022:
---
How do I choose the right padel racket for control?
Match the racket to your skill level
The playability of control racquets is generally better than that of offensive options, but there is a big difference between models. Take your level of play into account when comparing rackets, and make sure it is not too difficult to play.
Identify the purpose of the racket
Before choosing a model, you must first decide why you need a control racket. Is the goal to maximize your game's control or reduce the chance of injury?
Consider a racket with a softer core and a vibration-absorbing technology to avoid injuries. For maximum control, a more rigid core can often be beneficial.
Don't overlook other characteristics
Players do not base their entire game on control alone. Consider what parts of your game need strengthening, and choose your racket accordingly. The more control you select, the less power you'll have. You can prioritize control while maintaining decent attacking properties using control-oriented models with medium balance and a core favoring speed.
---
Questions about padel rackets for control
---
Summary of the best control racket for padel 2022
Control rackets are characterized by their ability to place balls accurately. Due to their low balance, control rackets are easy to handle and move. The playability makes them ideal for beginners and players who want to avoid injuries.
Control rackets are available from most brands and in all price ranges. Consider your level of play and the purpose of your racket when choosing a racket. Would you like to reduce the risk of injury or do you want to gain maximum control over your game?
There are many control-oriented rackets, depending on which parts of your game you want to improve. If you don't want to compromise too much power, you may want to consider rackets with a medium balance and a core that generates speed.