This article will review the best padel rackets for intermediate players. Our recommendations include models that aren't too complicated to play but still offer plenty of features. These rackets also perform well at more advanced levels. Are you interested in taking your game to the next level?
Learn more about what influences your choice of padel racket by reading our great racket guide. Don't miss our 2022 racket favorites in a variety of categories.
Top 3 padel rackets for intermediate level
Improve your padel game with an excellent intermediate racket
Padel for beginners focuses mainly on keeping the ball in play. Once you've mastered the basics, you'll probably want to progress rapidly.
For your development to continue, you need the right racket. If you choose the wrong racket, you can hinder your growth and take away some of the game's enjoyment. The following three models will suit the ambitious exerciser who wants to up their game. Let's get started!
---
Best intermediate padel racket – Budget choice
Babolat Vertuo Air 2022
The Babolat Vertuo Air 2022 is light and easy to handle, weighing only 345 grams. It is drop-shaped and has a fiberglass surface and a soft core that absorbs vibrations well. It is common for intermediate players to spend many hours on the padel court, so a racket like this can reduce the risk of injury.
The Vertuo Air offers both speed and control. You can get to the ball quickly, which is useful in defensive and offensive play. Softness means you get good help with speed in all strokes.
We recommend the Babolat Vertuo Air 2022 racket for beginners who want a racket that is easy to play and that deserves to be on our list of the best padel rackets for intermediate level 2022. If you have a larger budget, you might want to compare it with the Babolat Veron Air 2022 to see which one you prefer.
Find the Best Price for Babolat Vertuo Air 2022:
---
Best padel racket for intermediate level – Value for money
Adidas AdiPower CTRL Lite 2022
Adidas' AdiPower CTRL 3.1 model is very popular. It is, however, a hard racket that requires good ball-striking, so it may not be for everyone. AdiPower CTRL Lite 3.1 offers a more comfortable and easy-to-use alternative.
It has a fiberglass surface and a softer core, giving it a great sweet spot and more forgiving. Its neutral balance and rounded shape make it easier to play in all game areas. It plays well both defensively and offensively.
Essentially, everyone can use this model, from beginners to advanced players. We recommend trying the AdiPower CTRL Lite 3.1 padel racket, one of the best rackets for intermediate players in 2022.
Find the Best Price for Adidas AdiPower CTRL Lite 2022:
---
Best padel racket intermediate players – Premium choice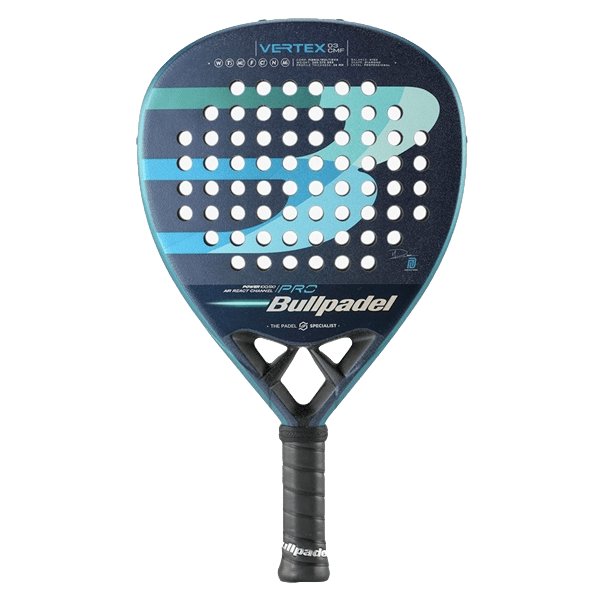 Bullpadel Vertex 03 Comfort 2022
The Bullpadel Vertex 03 is the brand's most popular racket and one of the world's best-selling padel rackets. It's not hard to see why since this model performs well in every game aspect. Intermediate players may find the Vertex 03 challenging to play. With the Vertex 03 Comfort, this problem is solved by being more forgiving and easier to play.
The Bullpadel Vertex 03 Comfort 2022 is a great choice for those who primarily care about speed but also want to maintain decent control. The surface layer consists of the new material Fibrix, which combines carbon fiber and glass fiber. As a result, the racket is relatively forgiving on miss-hits, making it a more gentle padel racket. With a high balance, the racket has excellent power with overhead strokes and smashes without being too challenging to play on defense.
Like Martín Di Nenno at the WPT, choose the Vertex 03 Comfort 2022. Our opinion is that this is an excellent choice for intermediate and above players.
Find the Best Price for Bullpadel Vertex 03 Comfort 2022:
---
What is a good intermediate level padel racket?
The racket should be playable
Once you feel confident on the padel court, it's easy to buy super-advanced rackets overconfidently. You are still in a developmental phase, so a racket that's too difficult to play can impede your progress. We recommend that you continue using an easy-to-play racket with better playing characteristics and materials than a beginner's racket. Your racket choice should reflect who you are and not who you want to be.
Find the right racket by testing
You are in an exciting phase if you are an intermediate player. You have passed the beginner phase and are usually making progress. It is the perfect opportunity to experiment with rackets of different shapes, weights, and playing characteristics.
Be honest with yourself
Learn how different rackets affect your game and get a feel for it. Is the racket you play with too difficult to play? Would you benefit from one that is easier to play? Can you play better with softer rackets? Do you feel more comfortable with a certain balance? Are you prone to injury with certain rackets?
Whenever you purchase a new and expensive racket, it's easy to look for advantages. Try to be objective and honestly assess how the racket feels; it should feel 100%. Sometimes it is worthwhile to sell the racket and buy another to continue developing.
---
Common questions about intermediate rackets
---
Summary of the best padel rackets for intermediate players
After you have passed the beginner level, you should upgrade to a racket with better materials and characteristics. You need to beat better opponents and get the ball over the net.
You should choose a round racket if you want control and manageability primarily. An offensive racket with a drop-shaped head can give you more power. When it comes to diamond-shaped rackets, you should wait until you are more advanced.
At the intermediate level, racquets cost between 150 and several hundred euros, but the essential factor is the playing characteristics. Ensure that playability is your priority so that you do not hinder the development of your game. Additionally, experiment with different types of rackets to find the one that suits you best, and don't be afraid to switch if it does not benefit your game.