Stiga Art 2020
Stiga Art 2020 is a padel racket with properties that suits many types of players. Stiga is a well established Swedish brand within sports.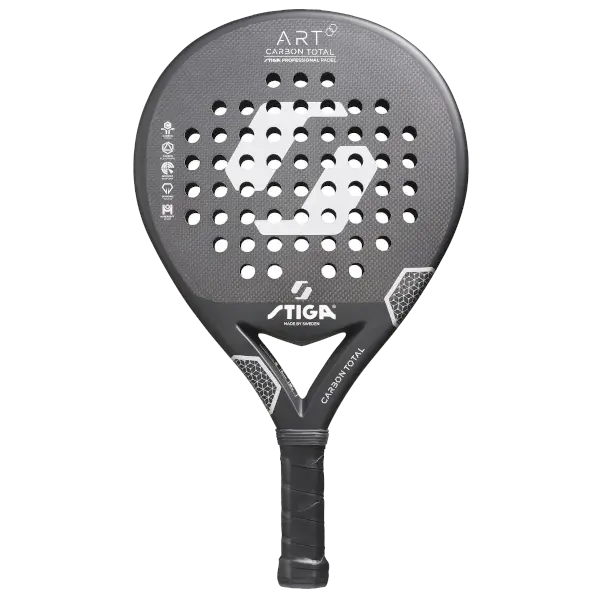 ---
Introduction
The racket has a round shape, medium balance, and a sweet spot located in the center. The core consists of Hypersoft Foam and the frame is made of carbon fiber. Carbon 3K is used on the surface.
REVIEW
Stiga Art 2020 first impressions
As Stiga Art is supposed to have a low balance, we were a bit surprised upon first picking up the racket. It's not the typical low balance control racket as it has a slightly higher balance. Our test racket weighs 367 grams including two overgrips but feels somewhat heavier than that, robust. We measured the balance to 260 mm.

We think the design of the racket looks great with its matte finish and black/grey colors. Very Scandinavian.
Stiga Art 2020 on the padel court
The first impression on the padel court is good. It's comfortable to play with and offers a sensation of being a stable racket. The feel is relatively soft but still distinct and the sound is muted and pleasant.

Its round shape makes it easy to handle in defensive situations. It offers great control in precision shots and lobs. The size of the sweet spot is also more than acceptable.

The medium balance helps generate power in the attacking game. Compared to other control-oriented rackets, it's easy to generate decent power in volleys, bandejas, and smashes.

It's a typical all-around racket that works well in all parts of the game. It's comfortable and we don't experience any problems with noticeable vibrations. That being said, there are better alternatives for the injury-prone players.

The overall in-game experience is positive, and we'll happily follow the progress of Stiga within the field of padel.
Stiga Art 2020 overall impression
Stiga Art is a well-designed padel racket that suits many players. It's comfortable and delivers a decent feel both in attack and defense.

If you are a medium to an advanced level player looking for a good all-round padel racket, this might be worth trying.