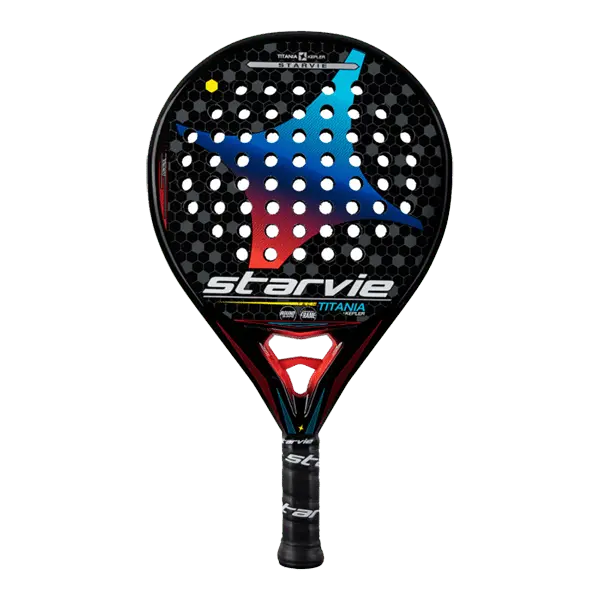 StarVie Titania Kepler Pro is an easy-to-play padel racket for players of all levels. It offers a balance between control and power. Great price-quality ratio.
---
---
---
Year: 2021
Brand: StarVie
Weight: 350-385 g
Level: Beginner/Intermediate/Advanced
Shape: Round
Balance: Low-Medium
Hardness: Medium
Type: Control
---
---
Introduction
The updated version of last year's bestseller. Titania Kepler Pro is manufactured by hand in Azuqueca de Henares which is outside Madrid in Spain. This model is part of the Star collection, which is slightly lower in price.

Titania Kepler Pro has a round shape and low to medium balance. The frame is made of carbon fiber and the core consists of EVA Medium in a variant called PRO50 with medium hardness. This version is harder than the regular version of the Titania Kepler.

The surface consists of carbon fiber and has a structure to help generate spin. The racket neck contains the Titania Core construction for improved handling and weight distribution. It also uses RTS technology to reduce vibrations.
---
First impression
StarVie Titania Kepler has received a proper design upgrade this year. It has a black base with a gradient from red to blue. The name is a tribute to scientist Johannes Kepler and the satellite with the same name. The racket has a glossy finish a quality feel, especially considering the lower price point.

StarVie is one of the few brands that produce the structure on the surface directly in the mold. Titania Kepler has a pattern that consists of small dots that run diagonally across the head of the racket.

Our test racket weighs about 355 grams without overgrips and we measured the balance to 265 mm. The length of the grip is 11 cm.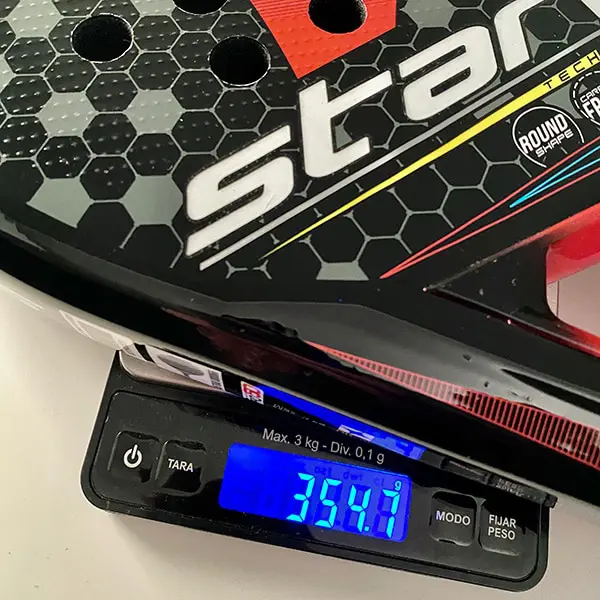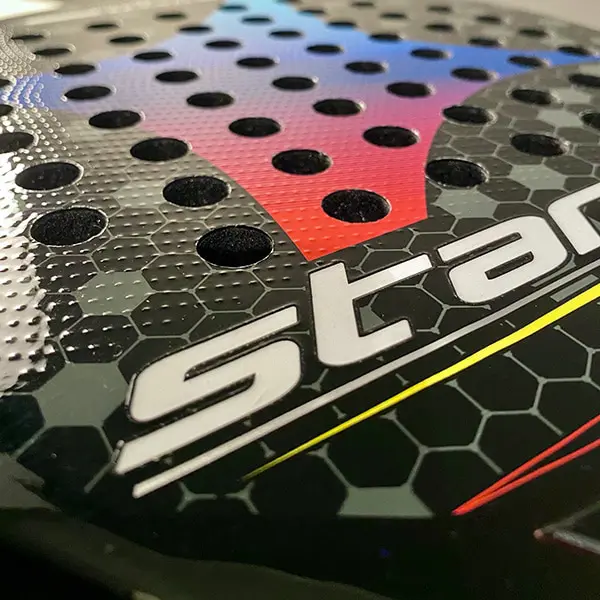 ---
StarVie Titania Kepler Pro 2021 in the defense
While the standard Titania Kepler has a soft core and a surface made of fiberglass, the Pro version is made entirely of carbon fiber using a harder core.

After hitting a few balls we can confirm that the Titania Kepler is a well-balanced racket. It's is designed to suit the average player who is looking for a high degree of playability and we believe that this model suits many different types of players.

The racket is easy to handle and offers control in the defense. It's responsive and the sweet spot is large. This helps to reduce the number of errors, in turn reducing the number of lost points. The medium-balance in combination with a medium-hard core helps generate power in counter-attacking situations.
---
StarVie Titania Kepler Pro 2021 in the attack
Moving up the court, the Titania Kepler Pro continues to deliver a great feel. The results are consistent in both volleys and bandejas. It also responsive and provides decent power in smashes. Having a big sweet spot also helps generate speed in shots closer to the frame.
---
StarVie Titania Kepler Pro 2021 playability & comfort
Playability and comfort are important factors when choosing a padel racket. Beginners and intermediate-level players generally benefit from a racket with good playability. A comfortable racket reduces the risk of injuries.

Playability: Excellent
Comfort: Very good
---
Overall impression
The overall experience with Titania Kepler Pro has been positive. It has delivered consistent results in all parts of the game. It's easy to play with and suitable for both beginners, intermediate, and professional players. Several players on the World Padel Tour play with this particular model. An affordable racket with the same properties as many premium rackets. Recommended.

If you just started playing padel or have problems with injuries, we recommend the regular Titania Kepler with a softer core.