StarVie Raptor Pro 2019
StarVie Raptor Pro is the racket choice of World Padel Tour player Franco Stupaczuk. The StarVie rackets are hand-made in Spain.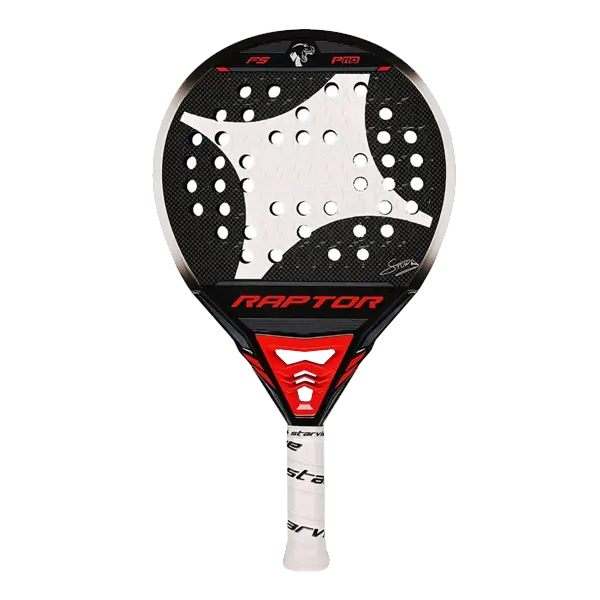 ---
Introduction
Raptor Pro has a round shape, medium balance and a relatively large sweet spot located in the center. The core is semihard, which provides a good balance between speed and control.

The frame is made of carbon fiber for best stability and durability. The impact surface has a star-patterned structure which helps to generate spin.
REVIEW
StarVie Raptor Pro 2019 first impressions
StarVie is a popular padel brand in Spain and is used by many players on the World Padel Tour. All of their rackets are manufactured in Spain to assure top quality.

You can tell it's a quality racket just from holding it. The colors look great and make this racket stand out.

StarVie Raptor Pro delivers a great balance between power and control, making this racket suitable for both control-oriented and attack-oriented players.

We find that the grip is slightly shorter on StarVie's rackets, which can be a drawback for players with big hands. However, this can be solved by wrapping the overgrip upon the neck of the racket, as many professional players do.
StarVie Raptor Pro 2019 on the padel court
The round shape in combination with the relatively hard core results in a racket that delivers exceptional control.

Unlike many other round shape rackets, the Raptor Pro has a medium balance. This gives attacking shots like volleys and smashes good power. It doesn't offer the same power as a racket with high balance, but enough for players that already have good power.

The structure of the impact surface is another plus, it works perfectly for generating spin.
StarVie Raptor Pro 2019 overall impression
Raptor Pro is is a great option for players who are looking for a balanced padel racket with both good power and control. Recommended.