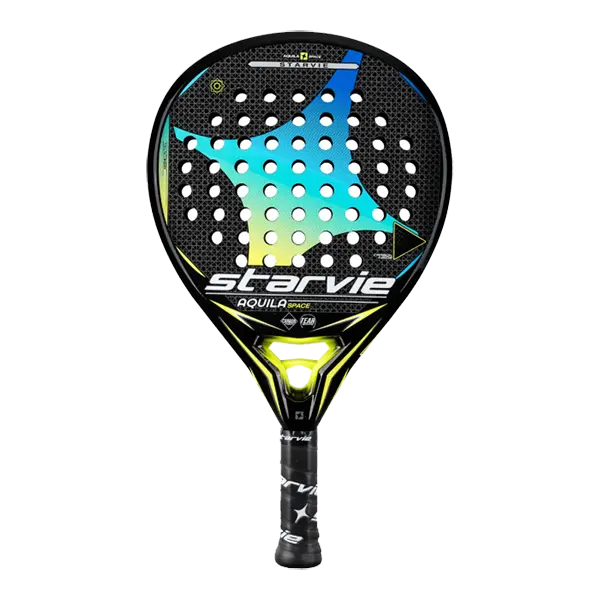 StarVie Aquila Space Pro is an affordable quality racket from Spanish brand StarVie. Good for both control and power. The Pro-version is harder than the regular Aquila Space.
---
---
---
Year: 2021
Brand: StarVie
Weight: 350-385 g
Level: Intermediate/Advanced
Shape: Teardrop
Balance: Medium-High
Hardness: Medium-Hard
Type: Balanced
---
---
Introduction
StarVie Aquila Space Pro is the sequel to last year's popular model StarVie Aquila Rocket Pro. It's manufactured by hand in Azuqueca de Henares which is located outside Madrid in Spain. This model is part of the Star collection, which is slightly lower in price.

StarVie Aquila Space Pro has a teardrop shape and medium to high balance. The frame is made of carbon fiber and the core consists of EVA in a variant called PRO50. This version is harder than the regular version of Aquila Space.

The surface consists of carbon fiber and has a pattern that StarVie calls Full Plane Effect. In the racket neck is the Aquila Core construction for improved handling and weight distribution. It also uses RTS technology to reduce vibrations.
---
First impression
StarVie Aquila Space Pro has received a design boost this year. It has a black base and gradient that goes from blue to yellow. The rack is glossy and has a quality feel, even though it's in a lower price category at StarVie.

StarVie is one of the few brands that produce the structure of the surface directly in the mold. Aquila Space Pro has a pattern that consists of small dots across the surface.

Our test racket weighs just over 358 grams without overgrips and we measured the balance to 275 mm. The length of the grip is 11.5 cm.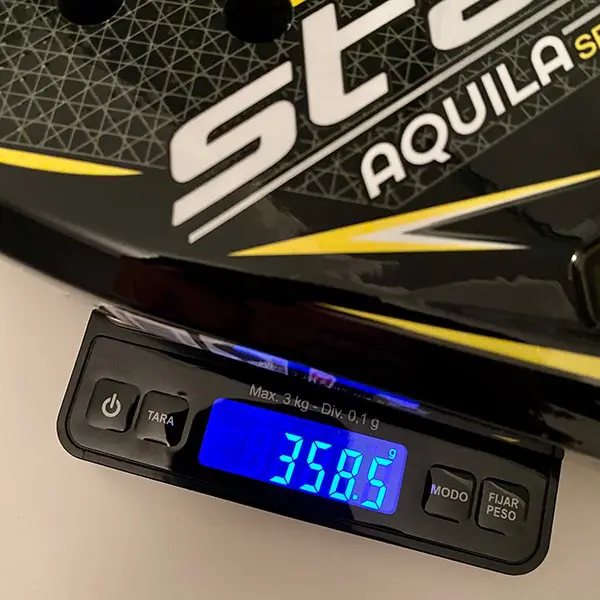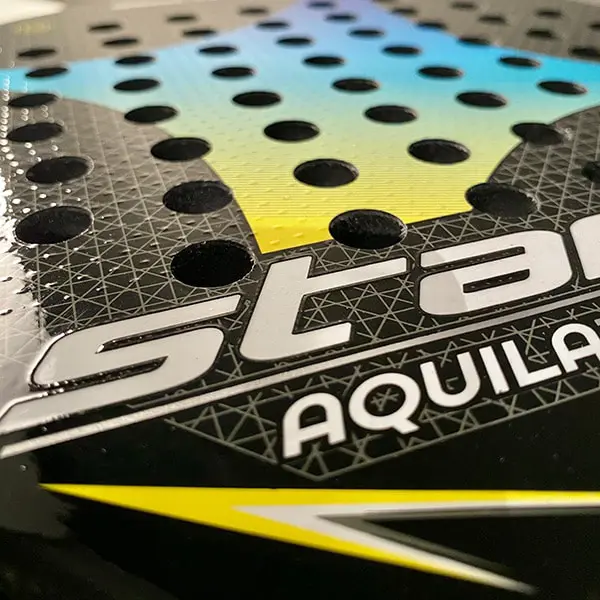 ---
StarVie Aquila Space Pro 2021 in the defense
The first impression is that the Aquila Space Pro is solid and relatively heavy. The regular Aquila Space has a soft core while this Pro model has a higher density core. It gives a distinct and firm feel on ball contact without losing comfort.

In the defensive game, Aquila Space Pro has both strengths and weaknesses. It's top-heavy, which makes it more difficult to handle in fast situations. One of the strengths of the defensive game is the fine response that provides control.

Another advantage is the relatively large sweet spot, which makes it a relatively forgiving racket to play with. Players who like to attack high balls from the back glass will also be happy with the power that Aquila Space Pro offers.
---
StarVie Aquila Space Pro 2021 in the attack
In the attacking game close to the net, the racket delivers stability, weight, and comfort. The results are consistent and the racket does what is expected when executing volleys and bandejas. The pattern on the surface helps to generate spin.

In smash situations, Aquila Space Pro delivers excellent results. The combination of a harder core and high balance helps us generate power and smash balls out of the court. It is also relatively forgiving, which reduces the number of failed smashes.
---
StarVie Aquila Space Pro 2021 playability & comfort
Playability and comfort are important factors when choosing a padel racket. Beginners and intermediate-level players generally benefit from a racket with good playability. A comfortable racket reduces the risk of injuries.

Playability: Very good
Comfort: Good
---
Overall impression
Aquila Space Pro has offered a positive experience on the court. It's strongest in the attack where it offers good power and a great feel. It's a popular model played by many top players, including at WPT level. If you are an intermediate-level player or better and are looking for an affordable racket with good in-game properties, we recommend trying this model.

The harder core of the Pro version benefits hard-hitting players. If you want a softer and easier-to-play alternative, we recommend the standard StarVie Aquila Space 2021.