Siux Genesis Hybrid 2020
Siux Genesis Hybrid 2020 is World Padel Tour player Lucho Capra's choice of a racket. Made in Spain for the best possible quality.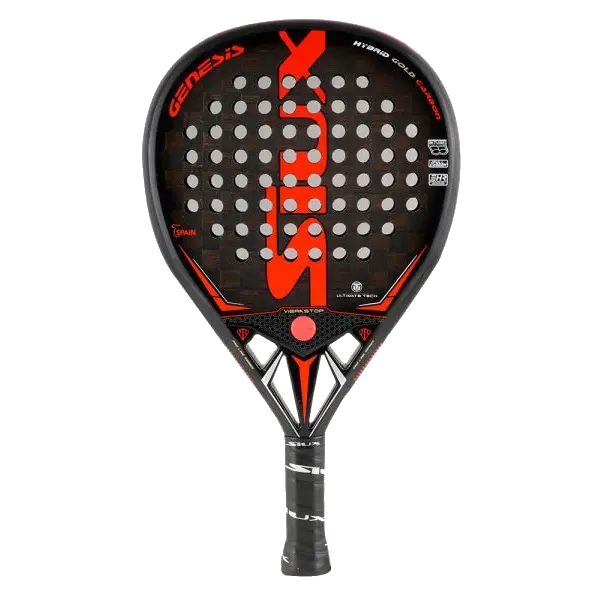 ---
Introduction
The racket has a tear-drop shape, medium balance, and a sweet spot located slightly above the center. The core consists of a version of Eva Soft called High Bounce to help generate speed.

The frame is carbon fiber and kevlar to give the racket maximum stability and durability.
REVIEW
Siux Genesis Hybrid 2020 first impressions
Siux is a popular brand in Spain and used by many professional players, including players on the World Padel Tour. The rackets are made in Spain to assure the highest quality.

We like the design, the combination of red and the golden color carbon fiber pattern gives it a unique look.

Siux Genesis Hybrid delivers a great balance between power and control, making it a good alternative both for control-oriented players and attacking-oriented players.
Siux Genesis Hybrid 2020 on the padel court
After just a few minutes on the padel court, it's obvious this racket is easy to maneuver. It's got a medium to high balance but doesn't feel top-heavy at all.

It's slightly softer core with High Bounce helps generate speed in all parts of the game. We like how the racket behaves when playing volleys, bandejas, and smashes. At the same time, it offers above-average control in the defensive game.

Siux Genesis Hybrid uses a technology called Vibrastop. It's a rubber piece attached to a specially drilled hole on both sides of the racket. It effectively reduces the vibrations, making this racket a great choice for injury-prone players.

The only thing we potentially miss is some kind of structure on the surface, helping to generate spin.
Siux Genesis Hybrid 2020 overall impression
A padel racket with a unique design offering a perfect balance between power and control. It suits many types of players with medium to high padel skills. The anti-vibration technology works great, making the Genesis Hybrid a comfortable racket.

The overall impression after playing with this racket for several weeks is highly positive.