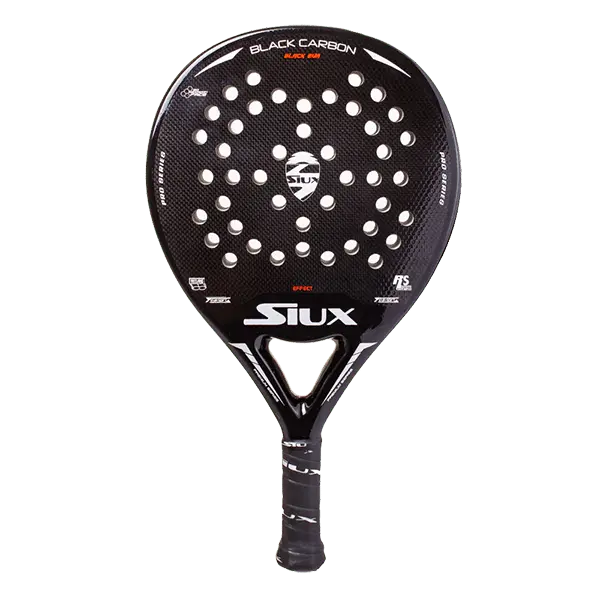 Siux Black Carbon Effect is a great looking padel racket from the Spanish brand Siux. It's comfortable and good for control. Great price-quality ratio.
---
---
---
Year: 2018 still in production
Brand: Siux
Weight: 340-365 g
Level: Intermediate/Advanced
Shape: Round
Balance: Low
Hardness: Soft
Type: Control
---
---
Introduction
Siux is a Spanish brand, producing hand-made padel rackets. It's a popular brand in Spain and among many players on the World Padel Tour. The brand regularly releases new models while keeping older models in production, making its catalog quite big. This model was developed in 2018 but is still in production as it's a bestseller.

Siux Black Carbon Effect has a round shape, low balance, and a sweet spot located in the center. The core consists of the softer material EVA Soft. The frame and impact surface are both made of carbon fiber. The hitting surface uses the technology 3D Hexagon Face which is a star-pattern structure to generate more effect.
---
First impression
Siux Black Carbon has a great looking design in black and silver with small details in red. It has the small Siux logo in the middle of the face which is characteristic of this model. The racket has a quality feel.

Our test racket weighs just under 379 gr with two over-grips and we measured the balance to 260 mm.
---
Siux Black Carbon Effect in the defense
Siux Black Carbon is a popular model and after hitting a few balls we understand why, it's easy to like. With its round shape, low balance, and soft core, the racket is easy to handle and offers great comfort.

In the back of the court, it's easy to maneuver and quickly move into the right positions. It has a large sweet spot which reduces the number of unforced errors. The soft core helps to generate speed in slower shots.
---
Siux Black Carbon Effect in the attack
Moving up the court, the racket is still characterized by its comfort and maneuverability. It provides the control we need and the patterned surface helps us generate some extra spin. It's primarily a control-oriented racket but also provides decent power.
---
Siux Black Carbon Effect playability & comfort
Playability and comfort are important factors when choosing a padel racket. Beginners and intermediate-level players generally benefit from a racket with good playability. A comfortable racket reduces the risk of injuries.

Playability: Very good
Comfort: Very good
---
Overall impression
If you are an intermediate player or advanced level player and are looking for control and comfort, this is worth a closer look.