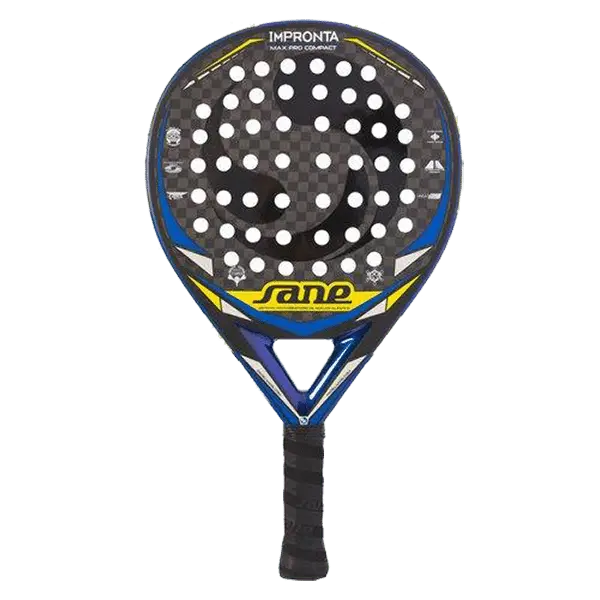 Sane Impronta Max Pro Compact is one of the top models from Sane this year. A padel racket with a firmer touch. It's well balanced providing good results in all parts of the game.
---
---
---
Year: 2021
Brand: Sane
Weight: 355-370 g
Level: Intermediate/Advanced
Shape: Teardrop
Balance: Medium
Hardness: Hard
Type: Control
---
---
Introduction
Sane has been manufacturing padel tennis rackets since 1989 and currently has a factory in Arganda del Rey in Madrid.

This model has a teardrop shape, medium balance, and a sweet spot located in the center of the racket face. The core consists of EV30 White, an EVA material with higher density for increased power. The frame is made of carbon fiber and the impact surface consists of 8 mm Textreme.
---
First impression
The racket has a bold design with its shiny blue metallic color and matt lacquered details. It has a quality feel. The racket is perceived thicker than its 38 mm because of its sharp edges.

Our test racket weighs about 370 grams with an overgrip and we measured the balance to 265 mm.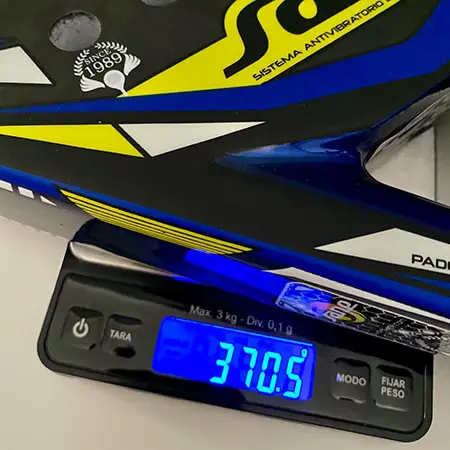 ---
Sane Impronta Max Pro Compact 2021 in the defense
This is a harder version of the Impronta Max Pro Soft. The character of the racket changes quite a lot when the hardness changes. This model is has a firmer touch. It's still comfortable, but not to the same extent as with the softer version. The balance is medium making it a well-balanced padel racket.

It delivers control and precision in the defensive game. The sweet spot is relatively large, which reduces the number of errors in for example lobs. In counter-situations, we benefit from the slightly higher balance.
---
Sane Impronta Max Pro Compact 2021 in the attack
Moving up the court, the Impronta Max Pro Compact delivers a distinct feel. It's stable when blocking fast shots and responds well during volleys. It can't compete with real power alternatives, but it provides decent power in smashes with its harder core and medium balance. If you are a less explosive player who needs help to generate speed, we recommend the Impronta Max Pro Soft.
---
Sane Impronta Max Pro Compact 2021 playability & comfort
Playability and comfort are important factors when choosing a padel racket. Beginners and intermediate-level players generally benefit from a racket with good playability. A comfortable racket reduces the risk of injuries.

Playability: Good
Comfort: Good
---
Overall impression
We would have liked to see some form of structure on the impact surface to generate more spin. We would also have preferred slightly rounded edges for a slimmer feel, but the overall experience is positive.

Impronta Max Pro Compact is a well-balanced padel racket providing both control and power. It is comfortable and easy to like. If you are an intermediate level player or better and have not yet tested the Sane padel rackets, this might be a good start.