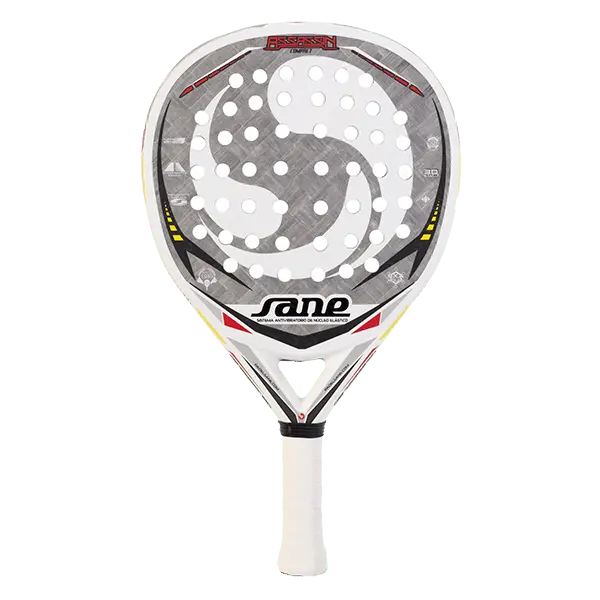 Sane Assassin Compact is one of the flagship models from Sane this year. It's a racket with a stiff and muted feel on contact. Aimed at intermediate and advanced level players looking for a powerful padel racket.
---
---
---
Year: 2021
Brand: Sane
Weight: 355-375 g
Level: Intermediate/Advanced
Shape: Teardrop
Balance: Medium-High
Hardness: Hard
Type: Power
---
---
Introduction
Sane has been manufacturing padel tennis rackets since 1989 and currently has a factory in Arganda del Rey in Madrid.

This model has a teardrop shape and a medium to high balance. The core consists of EV30 White, which is an EVA material with a higher density for more power. The frame is made of carbon fiber and the impact surface consists of 12K Aluminum carbon fiber.
---
First impression
The base color of the Assassin Compact is white. It has details in yellow, red, and carbon fiber. It has a quality feel.

Our test racket weighs just over 383 grams with one overgrip and we measured the balance to 270 mm.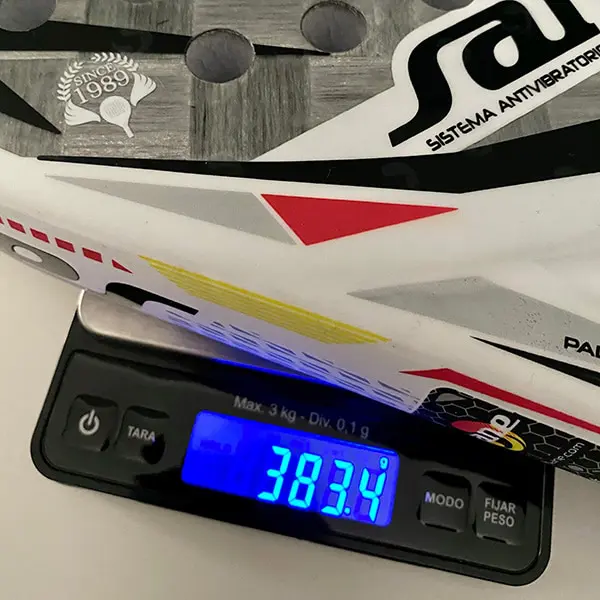 ---
Sane Assassin Compact 2021 in the defense
Sane Assassin Compact has a solid feel. It's got a muted and firm feel on contact.

The racket is primarily developed for power. With its high balance, the racket is not the easiest to handle in defensive play. Also, it's not the most forgiving racket with a relatively small sweet spot. On the positive side, it offers consistent control thanks to its harder core.
---
Sane Assassin Compact 2021 in the attack
Moving up the court, the Assassin Compact behaves better. The racket responds well to volleys and delivers consistent results. The combination of a hard impact surface and a slightly harder core increases power in harder shots. It suits power players with good technique. If you struggle to generate power, we recommend the Assassin Soft.
---
Sane Assassin Compact 2021 playability & comfort
Playability and comfort are important factors when choosing a padel racket. Beginners and intermediate-level players generally benefit from a racket with good playability. A comfortable racket reduces the risk of injuries.

Playability: Fair
Comfort: Fair
---
Overall impression
Sane generally produces comfortable rackets, and this is no exception. Although it's a stiffer racket, it's comfortable.

If you are an intermediate or advanced level player who is primarily looking for power and prefers a muted feel, this model may be worth a closer look.