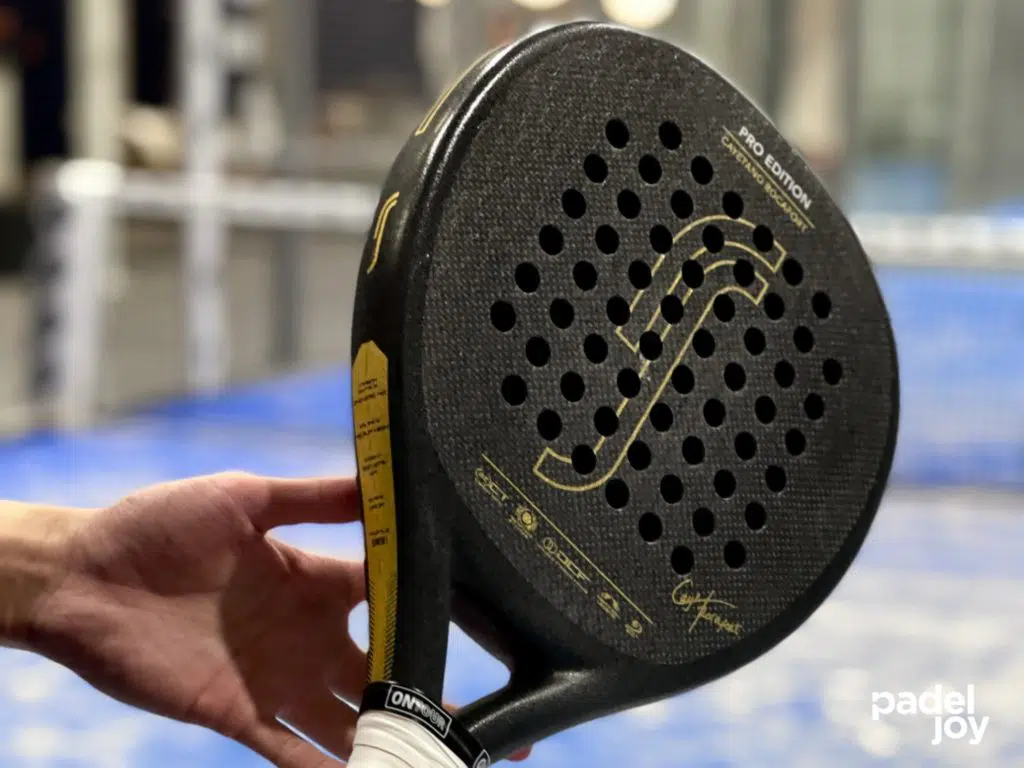 Our verdict after testing this racket from the RS 2022 collection is that it is a quality racket that offers excellent control. While this racket has a little higher balance than the other control rackets, it has very good control thanks to the adaptive EVA core, which is harder in the sweet spot and softer as you move outwards.
Our opinion on the RS Pro Edition Cayetano Rocafort 2022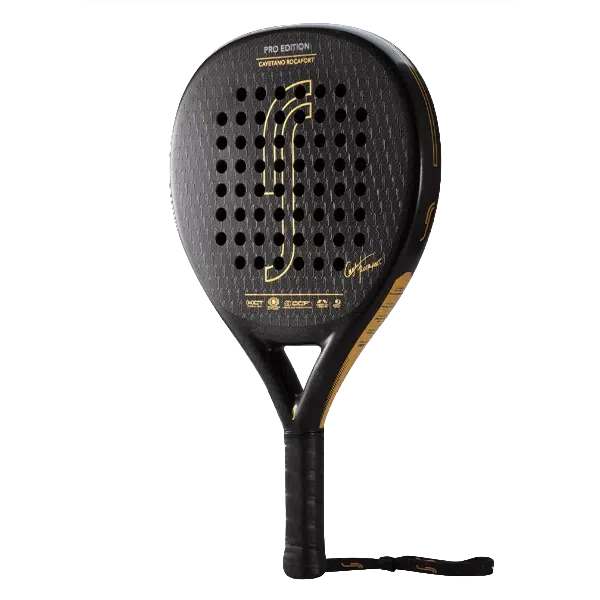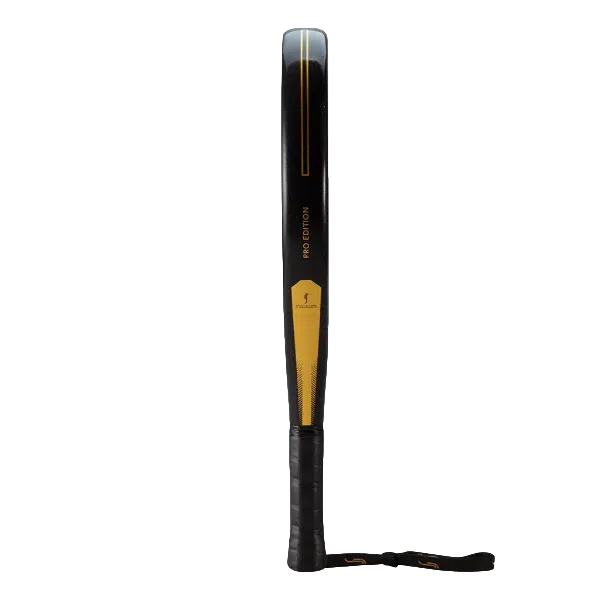 In our testing, we noted that the RS Cayetano Pro edition is a racket with unique characteristics and quality, belonging to a premium segment. With its large sweet spot thanks to its EVA core, this racket provides incredible control in ball striking and is very forgiving even when mishits happen. This racket's surface structure consists of both patterned and sandpaper, which allows it to grip the ball perfectly.
Our opinion is that RS has created a racket with a good balance between mid-range balance and control. The racket, however, requires the right technique from the player to maximize its characteristics. Once you get comfortable with the racquet, the feel of the shot is incredibly satisfying.
---
Find the best price for RS Pro Edition Cayetano Rocafort 2022:
---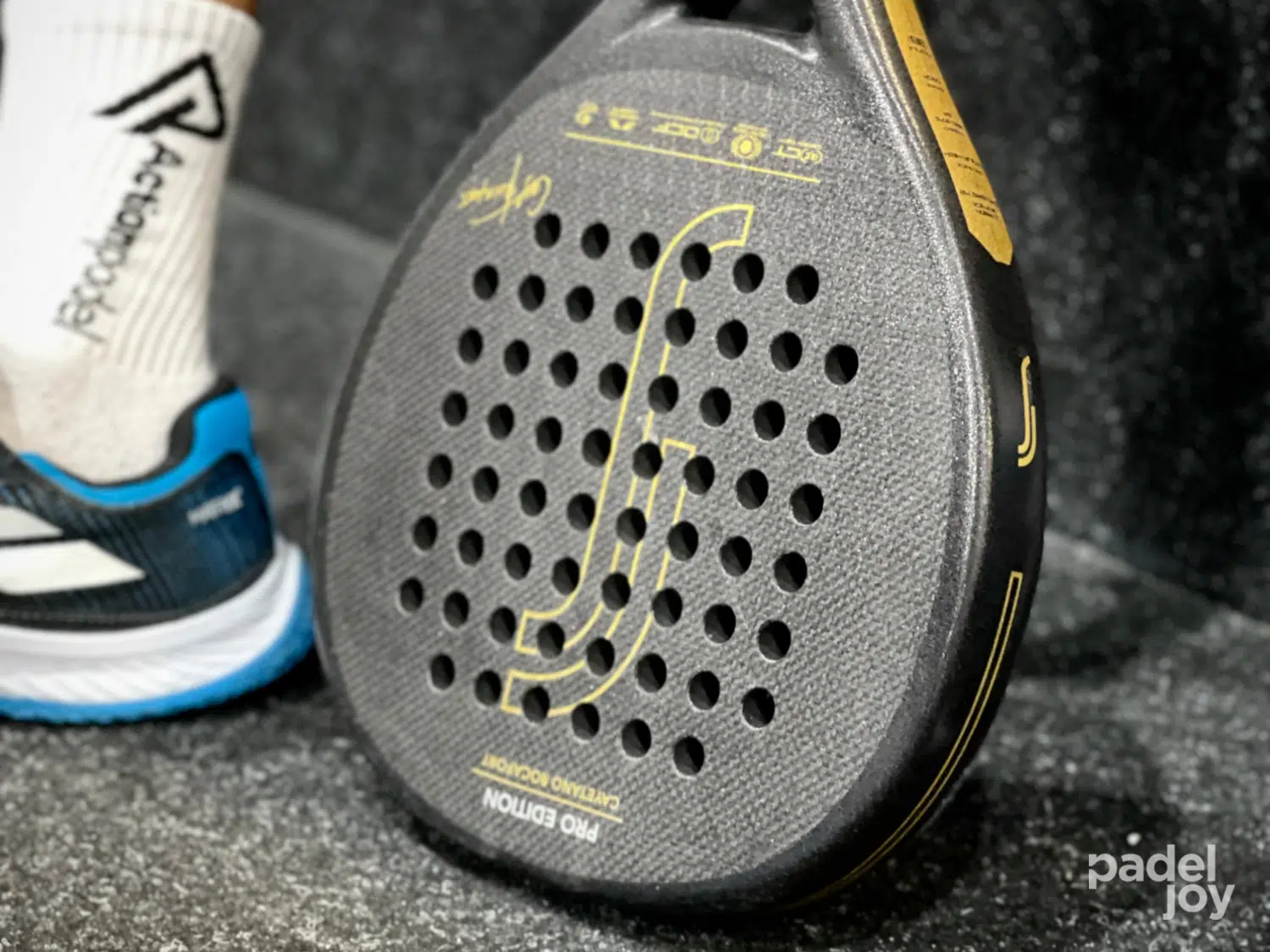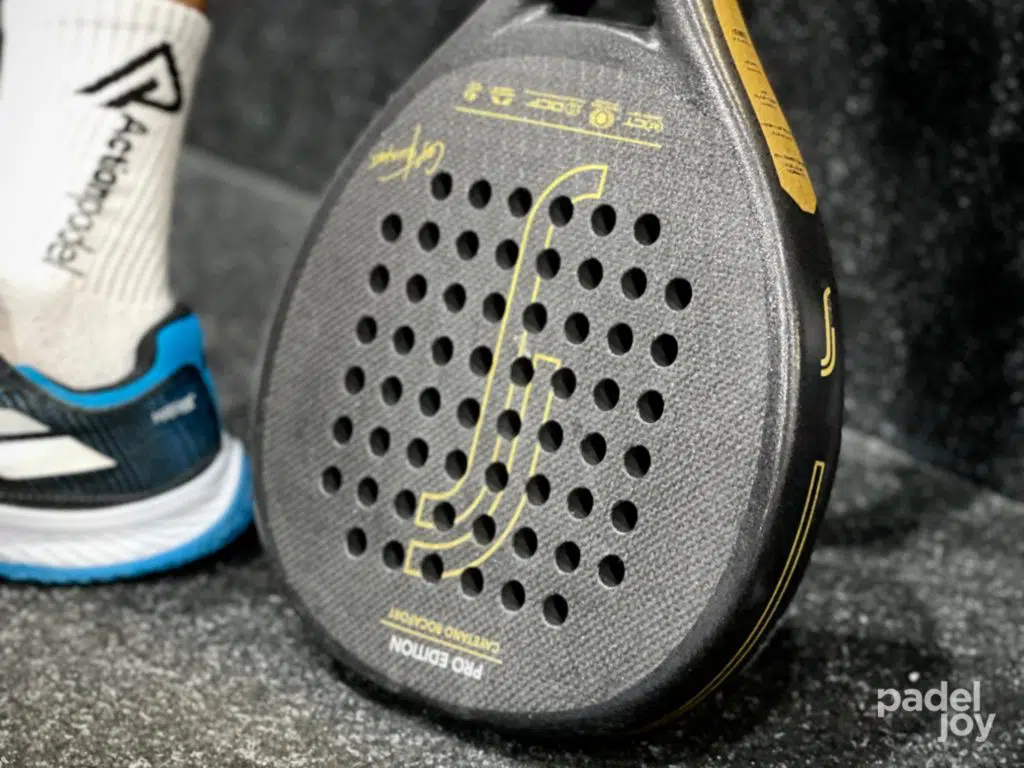 RS Pro Edition Cayetano Rocafort 2022 characteristics
Compared with the previous model year, RS and Cayetano have developed a new shape. The 2021 model featured a round shape, low balance, and soft core. With this year's model, RS opts for a hybrid/drop shape, medium balance, and adaptive core (hard in the middle, and softer at the edges). RS has also added a patterned surface in combination with sandpaper so the ball has a maximum grip on impact.
Materials
The adaptive EVA core makes the racquet stiffer in the middle and softer out to the edges, so it retains a good sweet spot and control even with its stiffness. This product has a surface made of 3k carbon fiber, which is harder than its predecessor but not too stiff.
Moreover, it has an integrated vibration dampening system that makes it easier on the elbow and shoulder when hitting the ball.
This surface layer is partly sandpaper-textured, and partly 3D patterned, giving the racket an excellent grip in the ball strike.
Balance
The racket's balance is towards the center, so it provides excellent control both defensively and offensively. Having a medium balance makes the racket feel lighter. The downside is that it lacks some weight in the smash.
Racket shape
In terms of shape, the racket has a hybrid shape, meaning that it combines two shapes. The RS Cayetano Pro edition is a mix of round and teardrop-shaped. For players who like a lot of control and can handle good technique, this can be a good advantage. This racket is great for players who usually use round or drop-shaped rackets.
Hardness
With a stiff feel but plenty of control. When hit defensively, the racquet is perceived as being easier and more comfortable, but on offense, it requires more skill.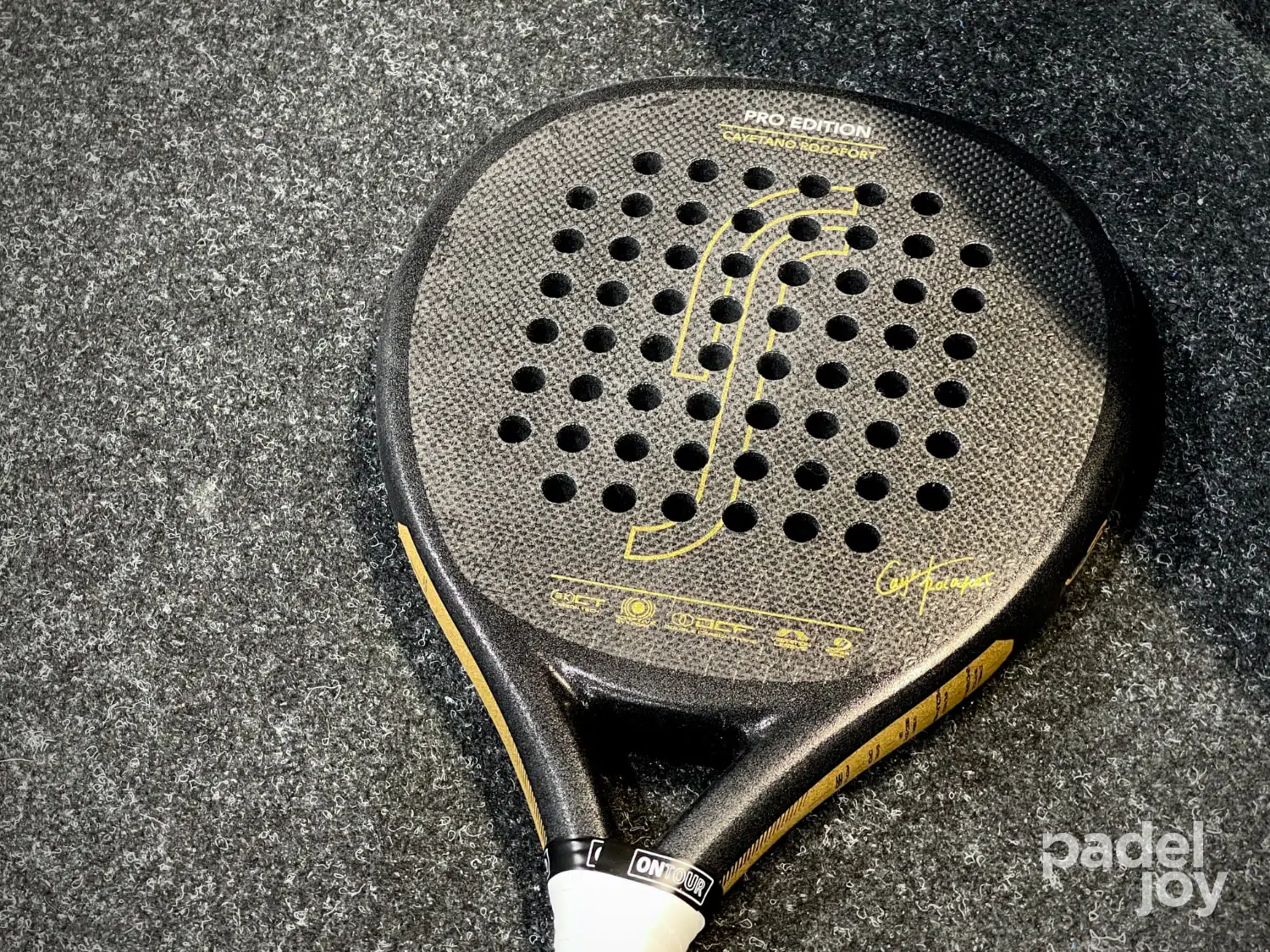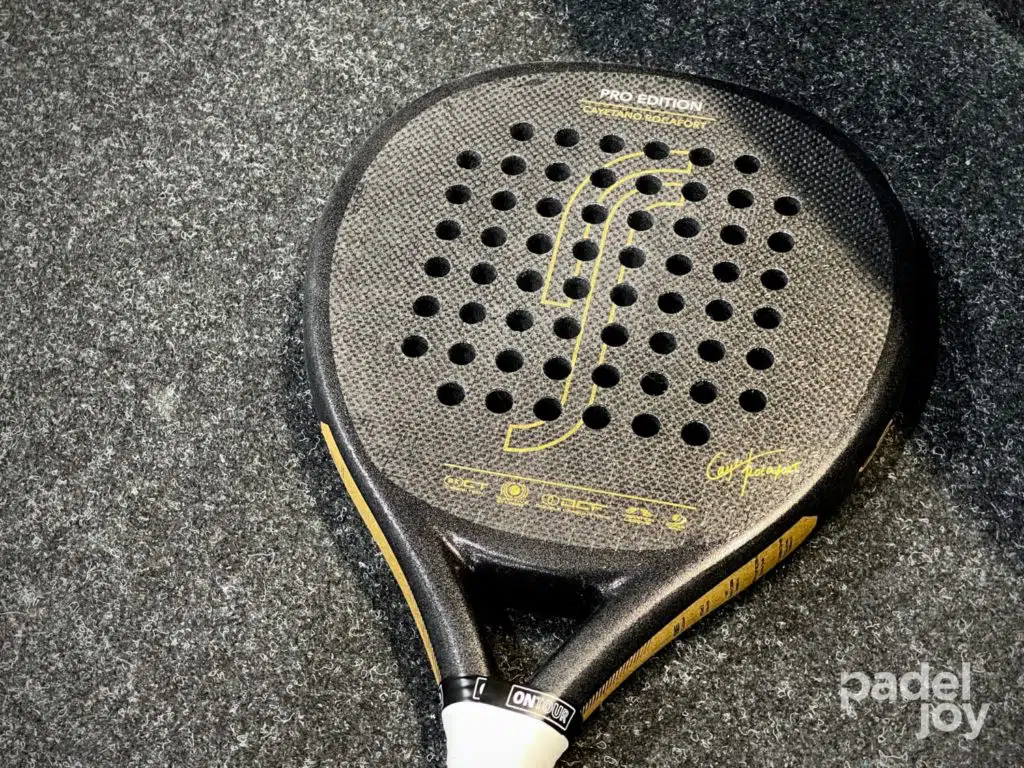 Player profile analysis
Are you wondering if the RS Cayetano Pro edition 2022 is the right racket for you? Below is our analysis of the type of player and playing style that this model is best suited for.
What player level is the RS Pro Edition Cayetano Rocafort suitable for?
RS Cayetano Pro edition is best suited to players who have been playing for a while. The racket is ideal for advanced to competitive players who are looking for control and have a good technique.
What style of play is this model suitable for?
A forehand player who wants a lot of control and a low error rate with the ability to put more spin on the ball in the volley and build up the game for the backhand player. It also suits a somewhat less aggressive backhand player, who plays a lot of bandejas and viboras before going for the winner.
Final review of the RS Pro Edition Cayetano Rocafort 2022
Overall, we think the racket is performing well. This racket is affordable and has all the characteristics you want in a control racket. However, the racket is best suited to those with a bit more experience and hours on the court as it is more difficult to maneuver offensively.