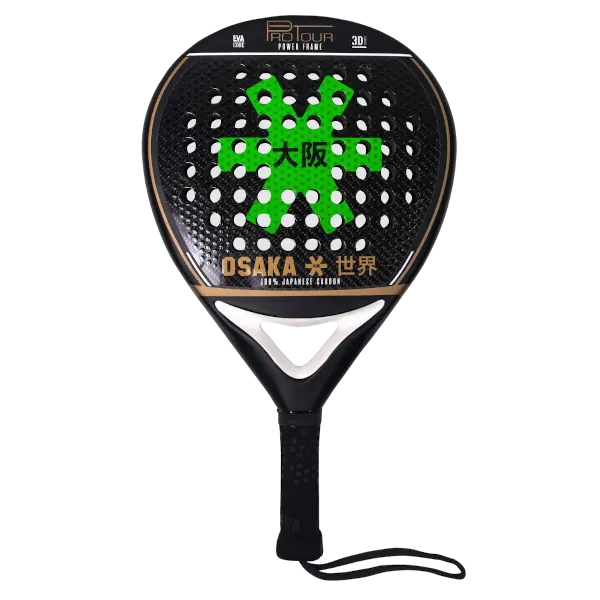 ---
Introduction
The racket has a teardrop shape, medium balance, and a sweet spot located in the upper part of the impact surface. A higher density (30 kg/m3) Eva is used in the core and the frame is made of Japanese carbon fiber.

It uses carbon fiber on the surface with an embossed 3D pattern.
REVIEW
Osaka Pro Tour Power 2020 first impressions
It's our first experience with the brand Osaka, and we're excited to see what it will bring. The first thing we notice is the rather unusual color combination.

It seems to use quality materials, and the finish is good. We're looking forward to trying it on the padel court.

Our test racket weighs about 365 grams with one extra overgrip and the balance measures 240 mm. Considering it's a power-oriented racket, the balance is low.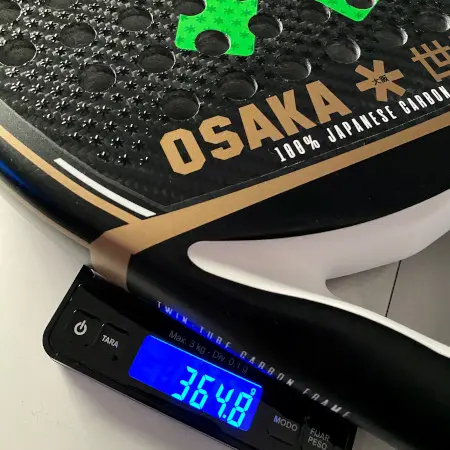 Osaka Pro Tour Power 2020 on the padel court
The Pro Tour Power is light, it feels even lighter than its 365 grams. It's not your typical head heavy and sturdy power racket.

Starting at the back of the court, we test the defensive capabilities of the racket. It's easy to handle and move quickly into the right positions. The high-density core offers good control and precision. Due to the low elasticity, softer shots suffer and the margin of error isn't that big. The overall impression in the defensive game is positive, better than expected from a power-oriented racket.

Moving on to the attacking game, we feel that the Osaka Pro Tour Power doesn't live up to its name. It's light, got a low balance, and is hard. This means you will have to generate a lot of power on your own, without much help from the racket. Short volleys that require precision is fine, but the overall positive feeling in the attacking game is just not there.

The size of the sweet spot is more or less as expected from a teardrop-shaped racket. The feel and overall touch is firm due to its high-density core, and suits players looking for firmness. Despite being hard, the Pro Tour Power absorbs vibrations effectively. We like the 3D pattern on the surface, it's well made and helps generate spin when needed.

It's been an interesting experience trying this new brand. The overall quality is most certainly there but we didn't fall in love with it on the padel court. We are looking forward to trying more products from Osaka in the future.
Osaka Pro Tour Power 2020 overall impression
A padel racket inspired by Japan for players that want to try something different than the typical padel brands. It's marketed as a power-oriented racket but doesn't have the properties we are looking for in this type of racket.

We can only recommend the Pro Tour Power for experienced players knowing exactly what they are after. Try first.
---