Nox ML10 Pro Cup 2019
The Nox ML10 Pro Cup is the first padel racket developed together with World Padel Tour star Miguel Lamperti. This padel racket is a classic and Nox's most sold racket of all time.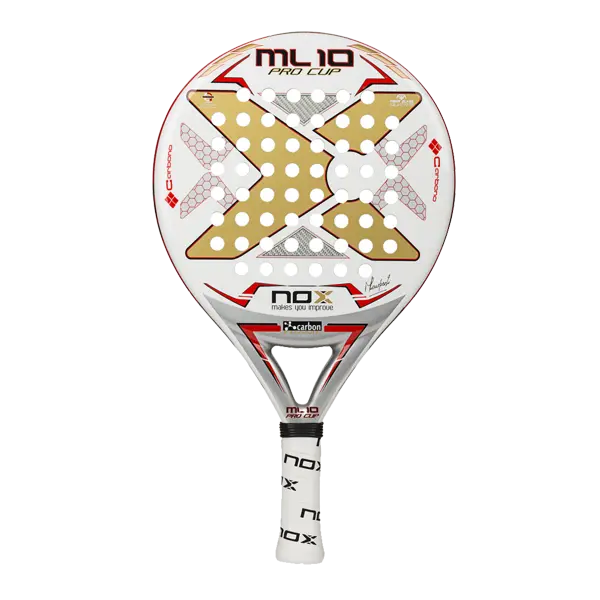 ---
Introduction
The racket has a round shape, low balance and a large sweet spot located in the center.

The impact surface is made of fiberglass and the frame in carbon fiber. It has an anti-vibration system that effectively reduces vibrations during impact and reduces the risk of tennis elbow and other injuries.
REVIEW
Nox ML10 Pro Cup first impressions
After only a few minutes with the Nox ML10 Pro Cup 2019 on the padel court, we are impressed. This is a lightweight racket that is very easy to handle.

Vibrations are eliminated well and it has a soft touch, which makes this racket an interesting alternative for those with tennis elbow problems and other injuries.
Nox ML10 Pro Cup on the padel court
With its round shape and low balance, the ML10 Pro Cup offers great control. It gives you great confidence in the defensive gameplay, generating good speed.

Despite its round shape and low balance, the rack delivers good power in volleys, bandejas, and smashes.

What we miss is some kind of structure on the impact surface to help us generate spin in some situations.
Nox ML10 Pro Cup overall impression
ML10 Pro Cup his is a great option for many different types of players. It's perfect for beginners thanks to its forgiving qualities, but it is equally suitable for advanced players.
The quality feeling is good and the design classic. If you don't like the colors there is also the ML10 Pro Cup Survivor with a camouflage pattern.
With the price also beeing fair, we understand why this is a bestseller. Recommended.