Bullpadel Vertex 2 Control 2020
Bullpadel Vertex Control 2020 is a more easy-to-play variant of Vertex 2. It is based on the same fine technology but offers better control in exchange for less power.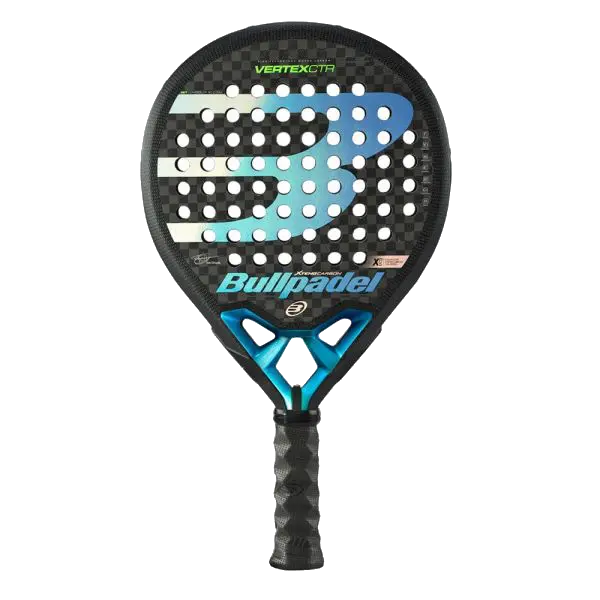 ---
Introduction
The racket has a round shape, low balance, and a sweet spot located in the center.

The impact surface is made of Xtend Carbon 12K which has 12,000 carbon fibers per cm². This gives better response and power without reducing control.

The racket has a new core made of a material called MultiEva, which is a combination of materials with different densities. The outer layer has a higher density to maximize the power of harder shots, while the inner layer has a lower density to improve the speed of softer shots.

Bullpadel Vertex 2 comes pre-assembled with the immensely popular grip Hesacore. This new ergonomic grip makes the handgrip better on the racket, resulting in less strain on the hand, wrist, and forearm. Also, fewer vibrations reduce the risk of tennis elbow.

Another feature is the possibility of attaching weights (Custom Weights) to the frame and the grip. It is possible to mount up to 3 weights x 3 grams on the frame to make the racket more top-heavy and thus generate more power. If you want increased control, you can easily mount weight of 5 or 10 grams in the grip.

The impact surface has a special texture similar to sandpaper, which helps to generate spin.
REVIEW
Bullpadel Vertex 2 Control 2020 first impressions
The Vertex 2 Control is a quality product and the color combination is great, just like last year.

After a short while on the padel court, it's clear that this racket is easy to maneuver. It offers a great feel in the characteristic Bullpadel-way.
Bullpadel Vertex 2 Control 2020 on the padel court
With its round shape and low balance, the Vertex Control offers great control and precision. We feel that the new Multi EVA core gives the racket a slightly more distinct feel on the court.
As you would expect for a control-oriented racket, it doesn't generate a lot of power for volleys, bandejas, and smashes. Players who can generate power won't have any problems with this.

With the weight system Custom Weights it is possible to make Vertex Control more top-heavy to help generate more power. Even with 2 x 3 grams in the frame cover, the difference is big.
Bullpadel Vertex 2 Control 2020 overall impression
Bullpadel Vertex Control is one of the best control-oriented alternatives available for at the moment. It has great in-game characteristics, Hesacore-grip, and the possibility to add weights.

However, we don't see purpose with the sandpaper-like surface that is supposed to help generate spin. The texture is to fine and wears off easily. Other brands have found better, more permanent solutions to this.