Bullpadel Hack 2019
Bullpadel Hack 2019 is the signature racket of World Padel Tour player Paquito Navarro from Spain. It's aimed at attacking-oriented players looking for power.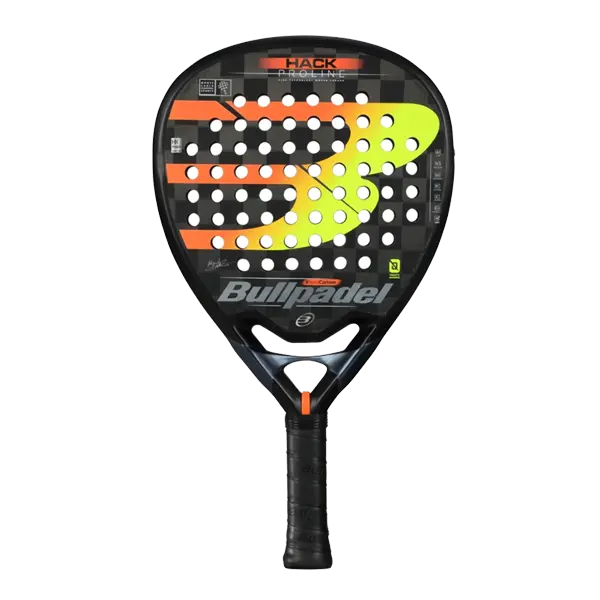 ---
Introduction
The racket has a diamond shape, high balance, and a sweet spot located in the upper part of the racket.

The impact surface is made of Xtend Carbon 18K which has 18,000 carbon fibers per cm². This gives better response and power without reducing control.

Another feature is the possibility of attaching weights (Custom Weights) to the frame and the grip. It is possible to mount up to 3 weights x 3 grams on the frame to make the racket more top-heavy and thus generate more power. If you want increased control, you can easily mount weight of 5 or 10 grams in the grip.
REVIEW
Bullpadel Hack 2019 first impressions
Bullpadel Hack 2019 has a great quality feel. It's the most expensive model in the Bullpadel range.
Bullpadel Hack 2019 on the padel court
Defensive play is challenging with this racket is it requires clean hits to deliver results. It's aimed toward more experiences padel players with good technique.

The diamond shape and high balance make it powerful in attacking play, generating great speed in volleys and smashes. The new surface Xtend Carbon 18k makes it distinct and stiff to play with, rewarding players that can hit harder with excellent response.
Bullpadel Hack 2019 overall impression
Bullpadel Hack 2019 is not for beginners. Only players with experience and good technique will be able to enjoy this racket. If you are one of those players, this might be a perfect choice.