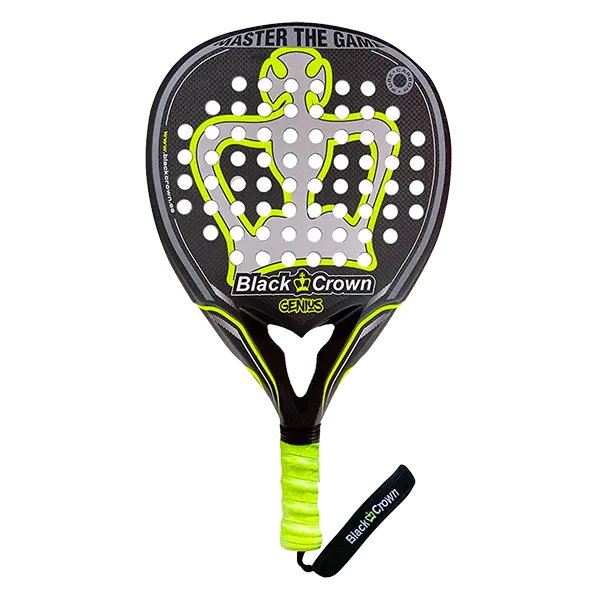 Black Crown Genius is WPT player Adrian Allemandi's choice of racket. Suits many different types of players. Good for control but lacking weight in the attack.
---
---
---
Year: 2021
Brand: Black Crown
Weight: 355-370 g
Level: Intermediate/Advanced
Shape: Teardrop
Balance: Low-Medium
Hardness: Medium
Type: Balanced
---
---
Introduction
Black Crown recently celebrated its 10th anniversary, making them a relatively young brand compared to many other Spanish padel brands. WPT player Marta Marrero is sponsored by Black Crown.

The Genius model has a tear-drop shape, low to medium balance, and a sweet spot located in the upper part of the racket head. The core consists of Soft Memory White EVA. The hitting surface is made of 3K carbon fiber and has a sandpaper-like surface. The weight varies between 355-370 grams.

The wrist strap is wider than the traditional string and slightly padded.
---
First impression
Seeing the name and the colors, it's clear that the Black Crown Genius has been heavily inspired by the bestseller Nox AT10 Genius Arena.

The racket is matt lacquered with a sandpaper feel and the finish is of good quality. However, the design feels outdated, which applies to all rackets from Black Crown. The crown logo and fonts feel don't live up to the design standards of 2021.

Our test racket weighs about 349 grams with one overgrip and we measured the balance to 255 mm. The grip is shorter than standard with its 11 cm.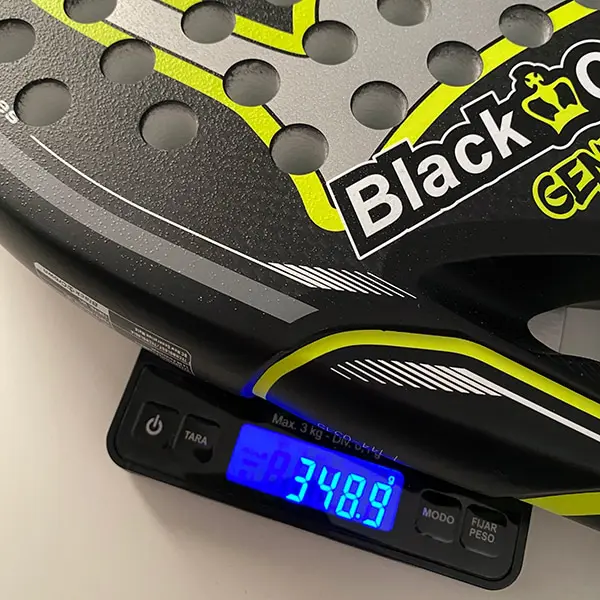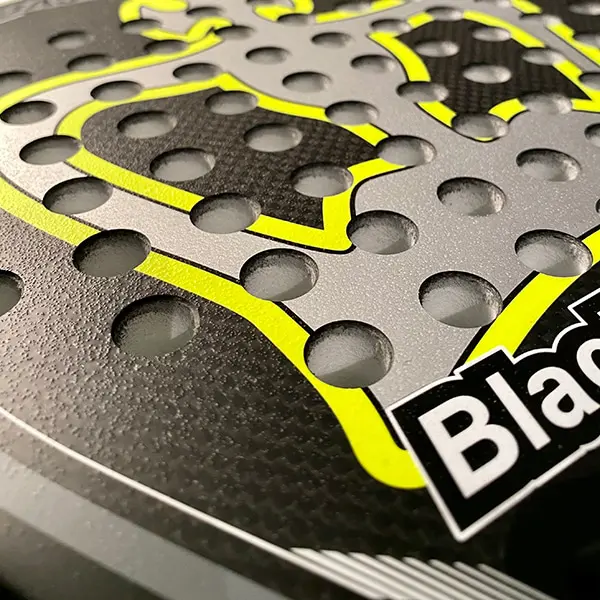 ---
Black Crown Genius 2021 in the defense
Black Crown Genius is marketed as a balanced racket with a slight predominance of control. We can immediately tell that the racket is easy to handle thanks to a lower weight and the relatively low balance.

The racket is easy to maneuver in the defensive, which means getting quickly to the ball to get a good shot. The comfort is good and we do not experience any problems with vibrations. It's relatively forgiving with a medium-sized sweet spot.
---
Black Crown Genius 2021 in the attack
As we move further up the court, the maneuverability still stands out. The racket is easy to swing. The feel on touch is relatively stiff offering good control in volleys. Executing bandejas and viboras, the racket moves nicely through the air. We however lack some weight in more aggressive shots. The same applies to smashes where the Genius is not generating much power. It's, therefore, best suited for players who prioritize control in the attack and can generate enough speed themselves.

A negative is the short grip which on several occasions in both defensive and attacking play has affected us negatively.
---
Black Crown Genius 2021 playability & comfort
Playability and comfort are important factors when choosing a padel racket. Beginners and intermediate-level players generally benefit from a racket with good playability. A comfortable racket reduces the risk of injuries.

Playability: Very good
Comfort: Good
---
Overall impression
Black Crown Genius 2021 is an easy-to-play racket that suits many different types of players at intermediate level and up. It will probably become popular internationally and may be worth a closer look if you are looking for a balanced racket. However, we think it lacks originality and special touch. With so many great alternatives on the market, we can't give it a top score.