Babolat Defiance Carbon 2019
Babolat Defiance Carbon 2019 offers a lot of news and improvements to last year's model.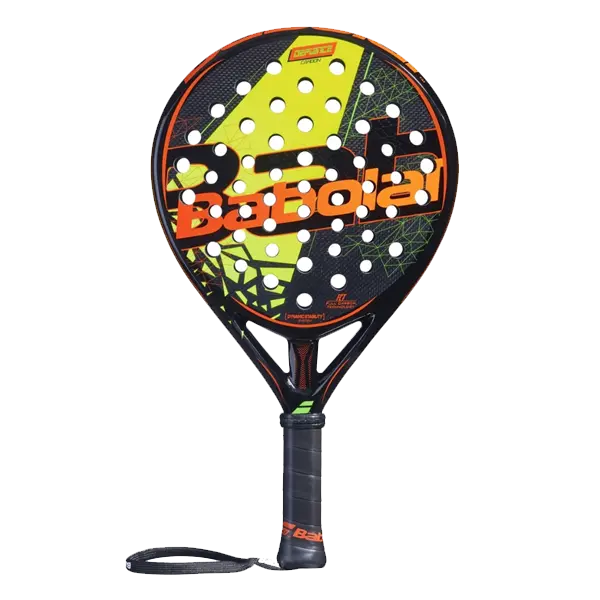 ---
Introduction
The racket has a tear-drop shape, medium balance and a sweet spot located slightly above the center. The holes centered around the sweet spot, some being smaller and some being larger to maximize power and control.

Full Carbon Construction (FcT) technology means that the entire frame and impact surface are made entirely of carbon fiber.

The surface is designed with 3D Spin technology with a pattern to help produce spin.

Dynamic Stability System results in fewer vibrations and a more stable racket.
REVIEW
Babolat Defiance Carbon 2019 first impressions
Babolat Defiance Carbon is a very popular racket that is often seen on padel courts around Spain. After playing with it, we understand why. The feeling of quality is there and it is immediately noticeable that this is an easy-to-operate racket that suits many types of players.
Babolat Defiance Carbon 2019 on the padel court
Defiance Carbon is easy to maneuver and offers great control and precision.

However, due to the round shape and low balance, it lacks power in volleys and smashes. Control-oriented players won't suffer from this, but attacking-oriented players need to be able to create their own power.
Babolat Defiance Carbon 2019 overall impression
We like the characteristics of Defiance Carbon and the design is great. This is a padel racket you'll notice on the padel court. The textured impact surface works great to add that extra spin.

If you are looking for a control-oriented racket, we highly recommend checking this model out.