Adidas AdiPower SOFT 1.9 2019
Adidas AdiPower SOFT 1.9 2019 is World Padel Tour players Ale Galán's racket choice. It delivers both power and comfort using the latest materials. It's a softer version of AdiPower ATTK 1.9.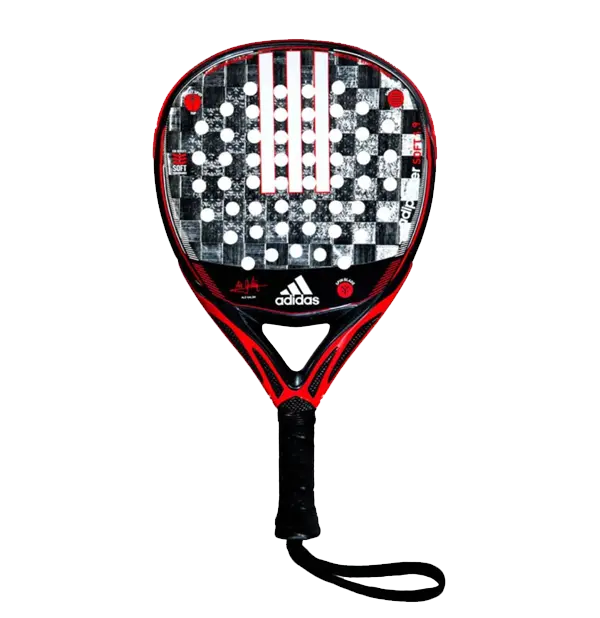 ---
Introduction
The racket has a diamond shape, high balance, and a sweet spot located in the upper part of the head.

Carbon fiber is the material used in the fram and the core consists of EVA SOFT providing comfort and feel.

DUAL EXOSKELETON technology provides stability and High Memory Foam in the core maximizes power. Spin Blade technology is used to create structure on the surface to help generate spin.
REVIEW
Adidas AdiPower SOFT 1.9 2019 first impressions
We like the design in red and black with the classic Adidas stripes. Looking closer, we find minor defects in the paint on our racket, and after investigating several other rackets in the AdiPower series it seems to be common. Nothing that will affect the properties of the racket though.
Adidas AdiPower SOFT 1.9 2019 on the padel court
Defensive play from the back of the court feels good, it offers decent control being a power-oriented racket. It's easy to maneuver and the coarse structure on the surface helps generate spin when needed.

The diamond shape and high balance make it effective in the attacking play, providing excellent power in volleys and smashes. Thanks to it's softer core it also absorbs vibrations effectively reducing the risk of injuries.
Adidas AdiPower SOFT 1.9 2019 overall impression
Our overall impression is that AdiPower SOFT 1.9 delivers excellent power, feel, and comfort. It's a good option for players looking for power without sacrificing to much control and comfort.

Like the rest of the AdiPower-series, the price tag is steep but well worth it if it's within your budget.