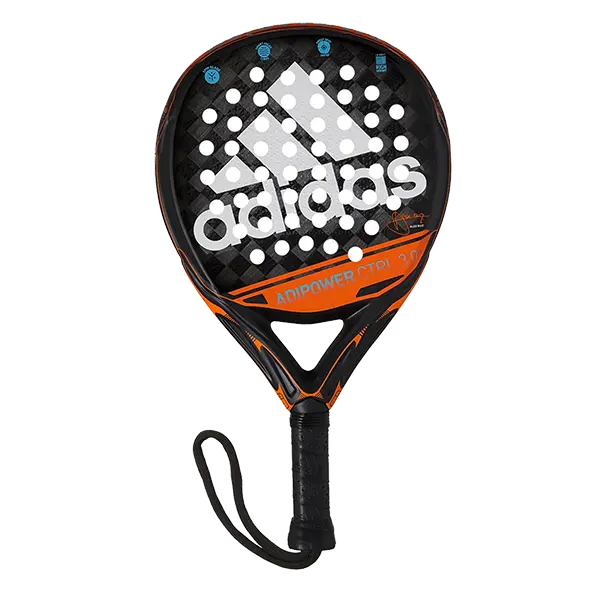 Adidas AdiPower CTRL 3.0 is a bestseller from Adidas that still holds the measure. WPT player Alex Ruiz's racket of choice. A well-balanced combination of power and control. Overall, a great feeling in the game.
---
---
---
Specification
Year: 2021
Brand: Adidas
Weight: 360-375 g
Level: Intermediate/Advanced
Shape: Round
Balance: Medium
Hardness: Medium-Hard
Type: Control
---
Introduction
The most popular racket in the entire Adidas collection. A bestseller with the signature of WPT player Álex Ruiz.

AdiPower CTRL 3.0 has the same specification and uses the same technologies as last year. What is new is the design.

It is a racket for the player that prioritizes control. The racket has a round shape, medium balance, and a sweet spot that is located in the center of the face.

It weighs 360-375 g and has a hard core consisting of Eva High Memory. The frame is made of carbon fiber with Dual eXoskeleton technology, and the impact surface consists of aluminum-reinforced carbon fiber.

AdiPower CTRL 3.0 is a racket for players of intermediate level and above who are looking for a racket with good control and good attacking qualities.
First impression
As with previous versions, AdiPower CTRL is a nice-looking racket. With its orange and black color scheme, it stands out on the padel court. The rough pattern on the surface makes it easier to generate spin on the ball.

We weighed the racket in the lab including two overgrips at about 366 grams. We measured the balance at 260 mm. The grip measures 120 mm in length.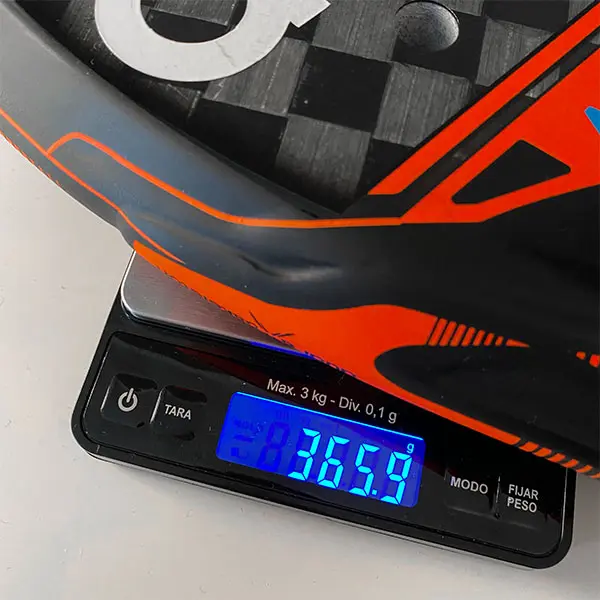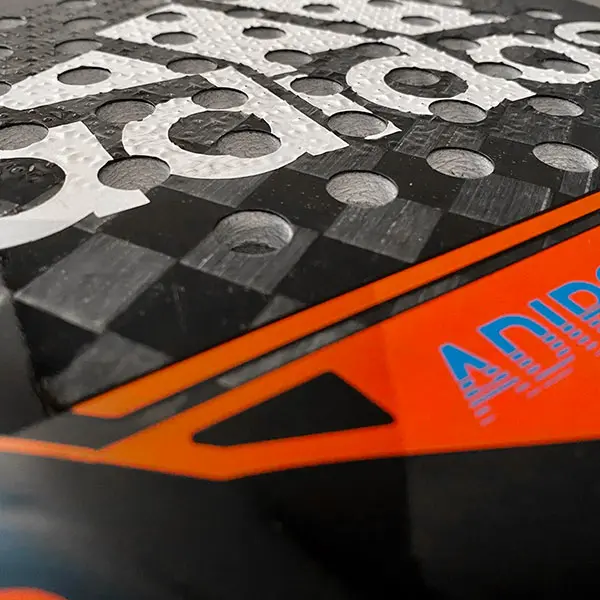 ---
Adidas AdiPower CTRL 3.0 i the defense
We have played a lot with previous versions of AdiPower CTRL. This version is unchanged from the last year's model, so this will be a familiar experience.

AdiPower CTRL is a rigid and solid racket with a distinct feel on contact with the ball. The impact surface is composed of aluminum-reinforced carbon fiber, and the core is also hard. However, the racket absorbs vibrations well, so it doesn't seem uncomfortable to use.

The round shape and medium balance make this racket relatively easy to maneuver, so we can get right to the ball even when playing under pressure. The High Memory EVA core provides excellent control and allows for good ball placement. We can apply pressure on balls in a counter-situation with an average balance, such as a "bajadas the pared".
Adidas AdiPower CTRL 3.0 in the attack
The AdiPower CTRL provides both power and control in the offensive game around the net. With an excellent response from the racket, volleys have real speed. As well as performing well in deep volleys, it also performs well in shorter placements. Due to a slightly higher balance and a core with good recoil, the rack performs excellently in the overhead game.

In terms of smashes, AdiPower CTRL provides excellent results despite its control-oriented design. In the case of topspin smashes, we have good assistance from the rough structure on the face, as we have enough weight to get flat smashes back home on our half of the court.
Adidas AdiPower CTRL 3.0 playability and comfort
The Adidas AdiPower CTRL is suitable for intermediate and advanced level players. Playability and comfort are both satisfactory.

Playability: Medium
Comfort: Medium
Overall impression
AdiPower CTRL has been around for a few years, and we understand why Adidas does not make any changes to it. All aspects of this game work well with this model. In our opinion, a well-balanced top racket. The AdiPower CTRL is a good choice for players who prefer to control the game without sacrificing too much power.

For a racket with a similar feel that is softer and easier to handle, we recommend the Adidas Metalbone CTRL. For an even easier racket to play, try the Adidas AdiPower CTRL Lite.