Adidas AdiPower ATTK 1.9 2019
Adidas AdiPower ATTK 1.9 2019 is World Padel Tour player Seba Nerone's choice of a racket. It's the updated version of last year's success AdiPower ATTK 1.8.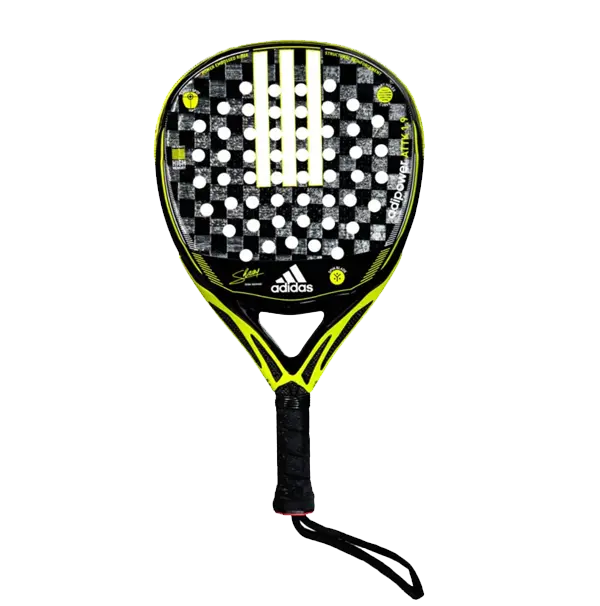 ---
Introduction
The racket has a diamond shape, high balance, and a sweet spot located in the upper part of the head.

DUAL EXOSKELETON technology provides stability and High Memory Foam in the core maximizes power. Spin Blade technology is used to create structure on the surface to help generate spin.
REVIEW
Adidas AdiPower ATTK 1.9 2019 first impressions
Bright yellow and the classic Adidas stripes, we think it looks great. It has a quality feel.

Unfortunately, there are small defects in the paint. It's a common thing with Adidas padel rackets but doesn't affect the performance of the racket.
Adidas AdiPower ATTK 1.9 2019 on the padel court
As expected, the racket delivers the best results in the attacking play.

To defend properly, you need experience and a proper technique. Otherwise, you are running a risk of misplaced shots and short lobs.

If you are looking for a powerful padel racket this is one of the best. It generates power and speed in volleys, bandejas, and smashes.
Adidas AdiPower 1.9 2019 overall impression
Cool design, the latest technology, and impressive properties make this racket a great option for the power player. As stated before, this is not for beginners, and we can only recommend it for more advanced players.

The price is high but worth paying if it suits your level and playing style.