The most comfortable padel racket 2021 is a guide to help you find a padel racket that will be less likely to cause injury. Here are some of our favorites that provide good comfort. 

Would you like help finding the right racket for your style of play? If so, then our racket guide will be of great help to you.

Top 3 most comfortable padel rackets
An appropriate racket can help you avoid tennis elbow
A number of different reasons can cause tennis elbow or padel elbow. An important factor is the racket you choose for playing. By selecting a comfortable padel racket, you reduce strain on your muscles and the risk of injury.

Comfortable padel rackets typically weigh less, have a low balance, and have a soft core. 
---
Comfortable Padel Rackets 2021
Below are three models we can recommend to prevent injuries.
Browse our favorites by category by clicking here.
BEST BUDGET RACKET
Nox X-One
Shape: Round
Level: Beginner/Intermediate
A beginner should choose a comfortable racket. The risk of injury is higher before you develop a good technique.

Beginners who are looking for forgiving qualities will benefit from Nox X-One. The racket has a round shape and a low balance, making it easy to maneuver. In addition to the softer core, the hitting surface is also soft for increased playability and comfort.

It is a good alternative for those who want a easy racket for their first time playing padel.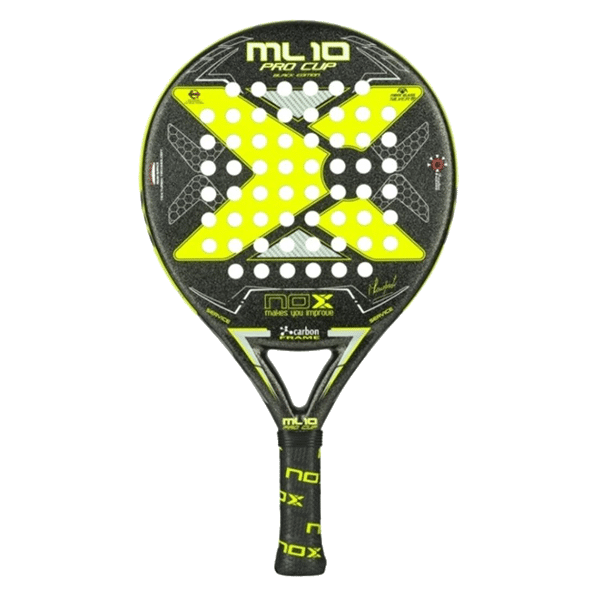 Nox ML10 Pro Cup is the brand's best-selling racket and one of the world's most popular padel rackets. It is presented here in an updated version with a sandpaper-like structure.

Because of the fiberglass hitting surface, the racket is forgiving even in incorrect hits, which leads to reduced vibrations. In addition, due to low balance, you can easily swing the racket around without causing too much strain on the muscles. The racket's main strength is in defensive play, but it also performs well in more offensive situations.

We recommend that you take a closer look at this model if you're looking for a good all-around racket with nice playing properties while avoiding problems with padel elbow.
BEST PREMIUM RACKET
Adidas AdiPower Light 3.0 2021
Shape: Round
Level: Intermediate/Advanced
A racket worthy of Marta Ortega of the WPT, which is comfortable, is AdiPower Light 3.0.

Its round shape, low balance, and EVA Soft Energy core make it a soft racket. Moreover, it weighs only 345-360 g, making it easy to swing. For impact stability, the frame uses Dual eXoskeleton.

If you suffer from padel elbow and wish to reduce the strain on your joints and muscles during games, this racket is a good alternative.

---
Tennis elbow / padel elbow prevention tips
Frequency
Padel is a fantastic sport that's easy to get caught up in. Remember that your body needs rest and that the risk of injury increases the more you play. Take a shorter break if you feel pain while playing.
Technique
One of the main causes of injuries is poor technique. Although a gentle padel racket can reduce the risk of injury, it is not enough. Improve your technique with the help of a trainer if necessary.
Grip size
Padel grip size has a significant impact on injuries. If you have a grip that is too narrow or thick, you will need to hold the racket tighter, which will result in muscle tension. Overgrips should be applied or removed as needed.
---
Summary of the best comfortable padel rackets 2021
The incorrect choice of racket can lead to injuries such as tennis elbow. Typically, a gentle padel racket has a low balance to make it easier to handle and a softer core to catch vibrations.

If you are a new player or have had injuries before, you are part of the risk group and should consider a comfortable padel racket. Padel rackets are available in all price ranges, but avoid the cheapest ones since they use materials that absorb vibrations less well.

You can prevent injuries by reducing your playing frequency, improving your technique, and ensuring you have the right grip size.
---
FAQ