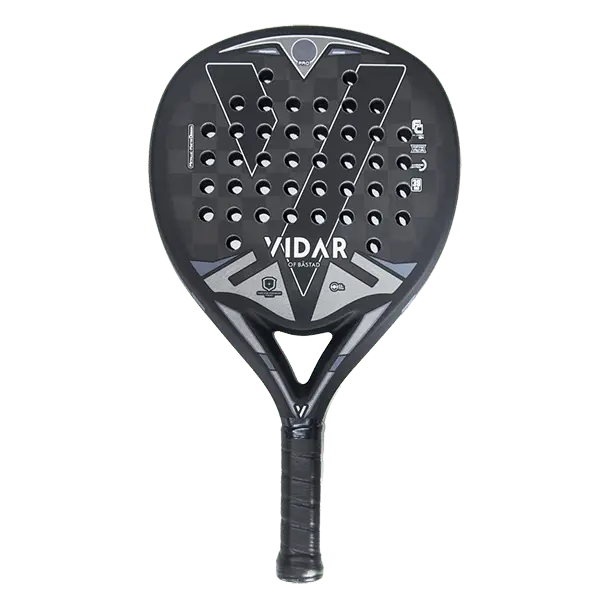 Vidar of Båstad CC Pro is a well-balanced and comfortable padel racket. The most versatile model of Vidar of Båstad's padel rackets. Suitable for many different types of players at intermediate level and better.
---
---
---
Year: 2021
Brand: Vidar of Båstad
Weight: –
Level: Intermediate/Advanced
Shape: Teardrop
Balance: Medium
Hardness: Medium
Type: Balanced
---
---
Introduction
Vidar of Båstad is a recently started Swedish brand. Their padel rackets are manufactured by SANE Padel. It's an Argentine brand dating back to 1989. Since a few years back, they have been manufacturing the rackets in Arganda del Rey in Madrid.

This model has a teardrop shape, medium balance, and a sweet spot that sits slightly above the center. The core consists of EVA Soft and the surface is made of carbon fiber 12K Textreme. The frame is made of 100% carbon fiber.
---
First impression
The racket has a matte finish with a few details in matte metallic. The design and colors are inspired by the minimalist Scandinavian design. It has a quality feel.

It has a teardrop shape in a relatively compact variant as the lower part of the racket face starts a little higher up. The grip is about 1 cm longer than on the other two models from Vidar of Båstad.

Our test racket weighs about 363 grams with an overgrip and we measured the balance to 265 mm.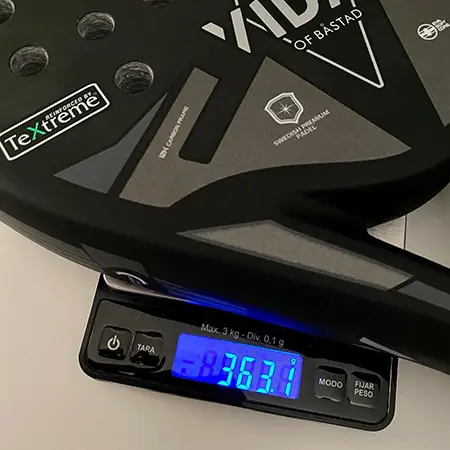 ---
Vidar of Båstad CC Pro 2021 in the defense
According to Vidar of Båstad, the CC Pro has been developed for control and feel.

In the back of the court, the CC Pro is easy to maneuver and provides control. The teardrop shape in combination with a slightly smaller sweet spot requires good technique to render good results. We would only recommend it to intermediate level players and better.
---
Vidar of Båstad CC Pro 2021 in the attack
Moving up the court, the racket provides comfort and playability. The medium balance in combination with the hard surface made of 12K Textreme helps us to generate decent power in the attack. Although, being a primarily control-oriented racket, it lacks the real power found in more attacking-oriented alternatives. We also miss some kind of structure on the impact surface to be able to generate more spin.
---
Vidar of Båstad CC Pro 2021 playability & comfort
Playability and comfort are important factors when choosing a padel racket. Beginners and intermediate-level players generally benefit from a racket with good playability. A comfortable racket reduces the risk of injuries.

Playability: Very good
Comfort: Good
Overall impression
To summarize our experience with CC Pro, we think it's a well-balanced and comfortable padel racket. It's the most versatile model of the three Vidar of Båstad rackets and suits many different types of players.