Vidar of Båstad CC Elite is the brand's most expensive model. A well-balanced padel racket leaning towards power. Nice feel and comfort. For intermediate level players and professionals.
---
---
---
Year: 2021
Brand: Vidar of Båstad
Weight: 340-365 g
Level: Intermediate/Advanced
Shape: Teardrop
Balance: Medium-High
Hardness: Medium
Type: Power
---
---
Introduction
Vidar of Båstad is a recently started Swedish brand. Their padel rackets are manufactured by SANE Padel. It's an Argentine brand dating back to 1989. Since a few years back, they have been manufacturing the rackets in Arganda del Rey in Madrid.

This model has an oversized teardrop shape and medium to high balance. The core consists of N30 Black EVA and the surface is made of 18K Textreme Aluminum. The frame is made of carbon fiber.
---
First impression
The racket has an interesting and elegant color scheme that consists of gray, black, and gold. It is matte including a few details of matt metallic.

It has a teardrop shape in a slightly larger variant, making the area of impact bigger. The Swedish flag that sits under the grip is a nice detail.

Our test racket weighs about 362 grams with one overgrip and we measured the balance to 265 mm.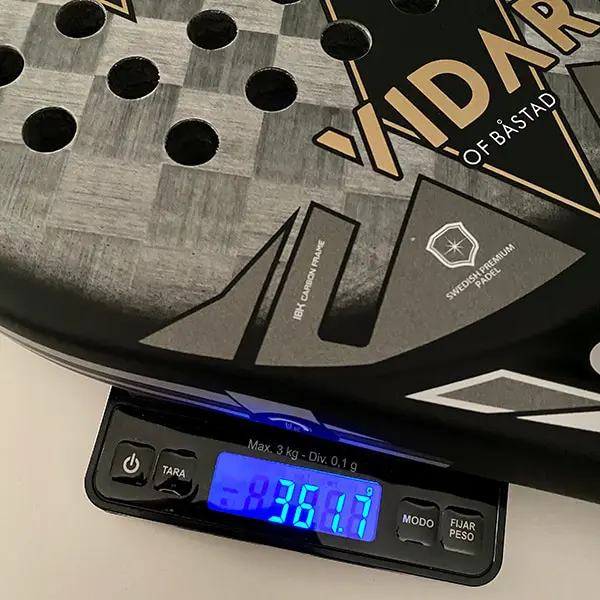 ---
Vidar of Båstad CC Elite 2021 in the defense
The Vidar of Båstad CC Elite has been developed with power in mind. Teardrop-shaped rackets with a medium-high balance can be either neutral or lean towards either control or power. We previously tested the CC Pro model, which leans towards control. CC Elite is a well-balanced racket leaning towards power.

The first impression after hitting a few balls is that CC Elite has a nice touch. It's compact with a muted sound and feels solid. The racket responds nicely and distinctly without losing comfort.

In the back of the court, the CC Elite is well-balanced, easy to maneuver, and provides control. The larger area of impact offers slightly more room for errors. The sweet spot is medium-sized and sits slightly above the center of the racket head.
---
Vidar of Båstad CC Elite 2021 in the attack
Moving up the court, the racket is responsive in volleys and bandejas. The core of the racket recovers fast helping us generate power in attacking shots. It provides more power than the CC Pro, but still not on par with many power-rackets on the market.
---
Vidar of Båstad CC Elite 2021 playability & comfort
Playability and comfort are important factors when choosing a padel racket. Beginners and intermediate-level players generally benefit from a racket with good playability. A comfortable racket reduces the risk of injuries.

Playability: Good
Comfort: Very good
---
Overall impression
Our experience with the CC Elite has been mostly positive. If you are looking for pure power, there are more powerful alternatives. But if you are looking for a well-balanced, comfortable racket to deliver good results in all parts of the game, it may be worth a closer look.