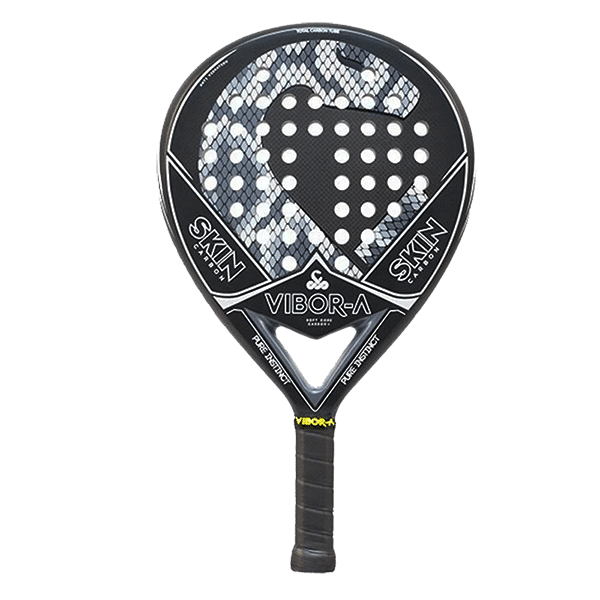 Vibora Skin is a racket with high-quality materials aimed at intermediate-level players who want to develop their game. We think that Vibora misses the target due to low playability. There are better alternatives in the same category.
---
---
---
Year: 2020
Brand: Vibora
Weight: 355-375 g
Level: Intermediate/Advanced
Shape: Teardrop
Balance: Medium
Hardness: Medium
Type: Balanced
---
---
Introduction
Vibora Skin is a teardrop-shaped racket with a medium-high balance and a sweet spot located in the upper part.

The frame is made of carbon fiber, and the surface consists of 3K carbon fiber. It has a core of Black EVA.
---
First impression
The racket has a quality feel. Despite its low weight, it feels compact and heavy.

Our test racket weighs 359 grams without overgrips. We measured the balance up to a full 280 mm, and the grip is 13 cm long.
---
Vibora Skin 2020 in the defense
Vibora Skin is designed for a balanced game and, according to the manufacturer, has a medium balance. Our model has a balance that is higher than on many pure power rackets. This racket is top-heavy.

The maneuverability in the defense is low due to the high balance. We can't find the fast movements flow, resulting in arriving late to the right positions. On the positive side, the feel on contact is pleasant, and the racket absorbs vibrations effectively.

The sweet spot size is fair, and in counterattack situations, the racket delivers good results.
---
Vibora Skin 2020 in the attack
Moving up the court, the Vibora Skin generates better results. The feel on contact is pleasant, and it delivers speed in volleys. It also allows us to control precision shots around the net.

The limited maneuverability also affects bandejas and viboras. However, the racket generates good power in these situations. In smashes, the racket also delivers fair results.
---
Vibora Skin 2020 playability & comfort
Playability and comfort are important factors when choosing a padel racket. Beginners and intermediate-level players generally benefit from a racket with good playability. A comfortable racket reduces the risk of injuries.

Playability: Low
Comfort: Fair
---
Overall impression
We think that Vibora somewhat missed the target with this one. Skin primarily targets intermediate-level players looking to improve their game. For that purpose, the racket should offer a high degree of playability in all parts of the game, which is not the case here.

If you are looking for a well-balanced racket in this price range, there are better alternatives.