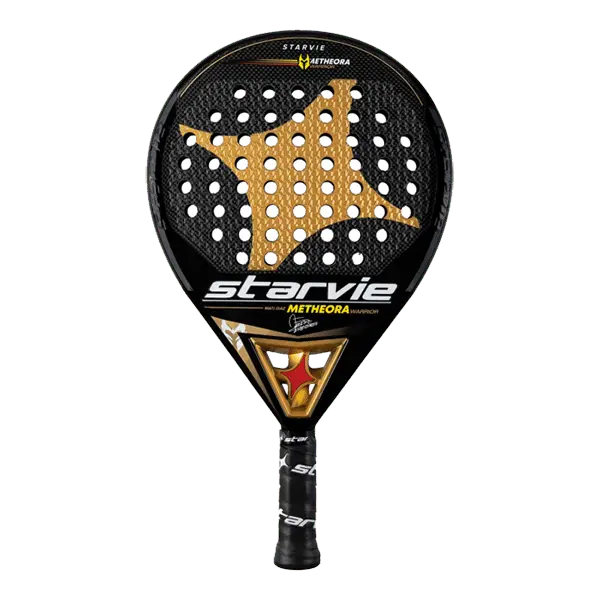 StarVie Metheora Warrior is a top-quality racket used by Matías "The Warrior" Días at World Padel Tour. It offers exceptional control and decent power. It's a technical padel racket aimed at experienced players.
---
---
---
Year: 2021
Brand: StarVie
Weight: 350-385 g
Level: Intermediate/Advanced
Shape: Round
Balance: Medium
Hardness: Hard
Type: Control
---
---
Introduction
The most expensive and perhaps most famous model in StarVie's range is back in an updated version. The racket is made in Azuqueca de Henares which is located outside Madrid in Spain.

Metheora Warrior has a round shape and medium to high balance. The frame is made of carbon fiber and the core consists of EVA Soft. The surface consists of two layers of carbon fiber and has a rough pattern that StarVie calls Full Plane Effect.

New for this year is that the model uses the technology Star Balance which will optimize the weight distribution. It also has a new type of metallic paint.

---
First impression
This year, StarVie has chosen to leave the red and black theme for the Metheora. Instead, they combine a black base with a new type of gold metallic. The text Metheora is in yellow and the star in the new construction Star Balance is red. A great looking padel racket that exudes attitude and quality. It feels more exclusive than previous versions. The finish is of the highest quality just like previous models.

StarVie is one of the few brands that incorporates the structure of the surface directly in the mold instead of applying it after. The Metheora Warrior has a texture that not only helps to generate spin but also makes the racket stiffer.

Our test racket weighs about 370 grams with one overgrip and we measured the balance to 270 mm. The length of the grip is 12 cm.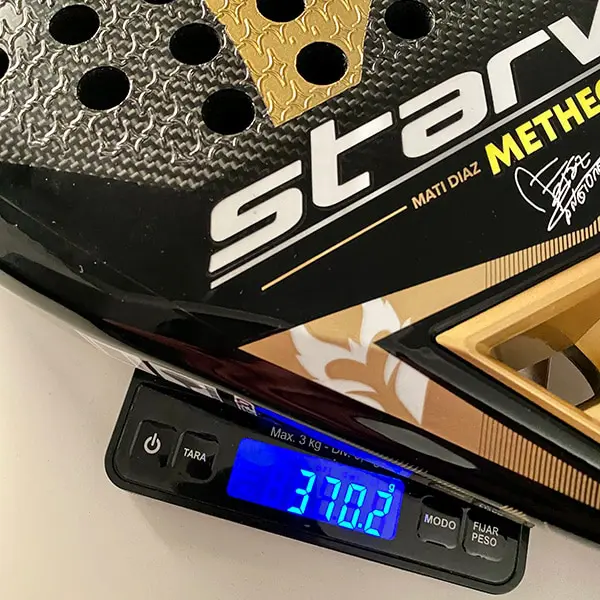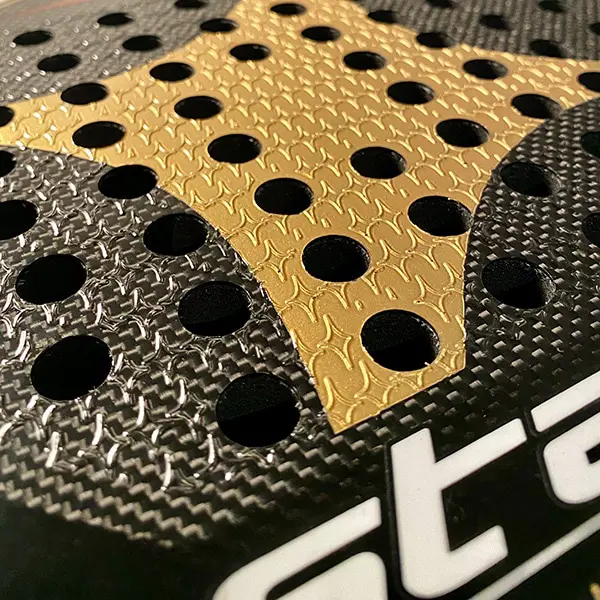 ---
StarVie Metheora Warrior 2021 in the defense
Just like previous versions, we can instantly tell that the Metheora is a stiff racket. It has a soft core, but the two layers of carbon fiber and surface texture increases the hardness. The overall result is a hard and very distinct feel.

If you ever watched Mati Díaz play you know he is a great defender, and the Metheora is a solid racket in the defense. It's responsive and offers exceptional control. It top-heavier than most control-oriented rackets, in fact on par with many attack-oriented models. This makes it a little more challenging to maneuver in defensive shots but helps generate power in counterattacks. The Metheora is a technical racket with a relatively small sweet spot, making it suitable only for experienced players with good technique.
---
StarVie Metheora Warrior 2021 in the attack
Even though the Metheora is primarily designed for control, it also delivers great results higher up the court. We benefit from the higher balance as it helps us to generate power in volleys, bandejas, and smashes. As previously mentioned the control is excellent, providing precision in attacking shots.
---
StarVie Metheora Warrior 2021 playability & comfort
Playability and comfort are important factors when choosing a padel racket. Beginners and intermediate-level players generally benefit from a racket with good playability. A comfortable racket reduces the risk of injuries.

Playability: Fair
Comfort: Poor
---
Overall impression
The StarVie Metheora Warrior is a padel racket with very specific characteristics, making most people either love it or hate it. Experienced players with good technique looking for a stiff racket tends to like it, while the average player can find it too hard and difficult to play with.

Based on the above, we can only recommend this racket If you're looking for a round racket with exceptional control and attacking qualities,

Are you an experienced padel player and a true "Warrior" looking for a racket with exceptional control that at the same time has attacking qualities? Then this racket might exactly what you need.