StarVie Brava Black Edition 2020
StarVie Brava Black Edition 2020 is created for players looking for comfort, control, and power. This racket is hand made in Spain.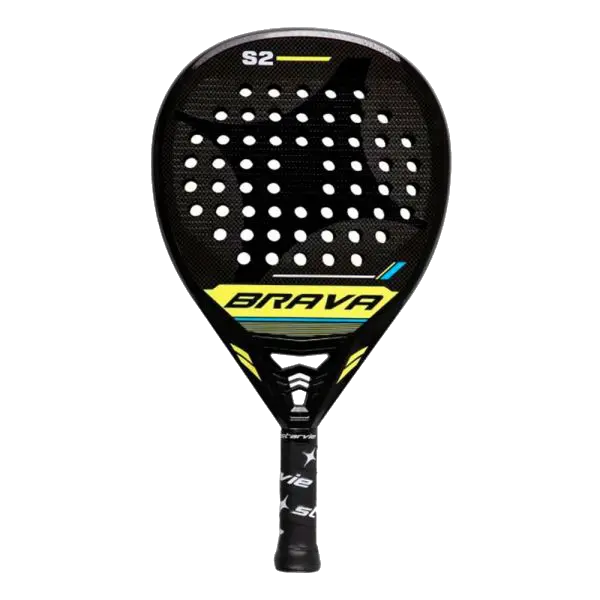 ---
Introduction
The racket has a teardrop shape, medium balance, and a sweet spot located slightly above the center. The core is soft, which makes the racket comfortable to play with and less likely to cause injuries.

It has a carbon fiber frame to provide stability and durability. The surface has an embossed star pattern to help players generate more spin when needed.
REVIEW
StarVie Brava Black Edition 2020 first impressions
StarVie is a popular padel brand in Spain and is used by many players on the World Padel Tour. All of their rackets are manufactured in Spain to assure top quality.

We liked the design of last year's Brava, but this year it looks even better. As most padel rackets from StarVie, the grip is slightly shorter than the average padel grip. The solution for players with a normal-sized or bigger hand is to overlap the neck of the racket with an overgrip.
StarVie Brava Black Edition 2020 on the padel court
The softer core makes it easy to generate speed in slower shots, making it a rather pleasant experience in defensive play. The Brava is easy to maneuver and the control is above average.

Players looking for power in volleys and smashes won't be disappointed. The teardrop shape and a medium balance help generate speed in attacking shots.

The feel and comfort are great, and we like the sound of the racket as well.
StarVie Brava Black Edition 2020 overall impression
Our overall impression is that StarVie Brava is a very good option for players looking for both control and power. Especially if you're injury-prone and are looking for a comfortable racket

Another plus is the embossed structure on the hitting surface, it works well to generate spin when needed.