Siux Fenix 2020
Siux Genesis Fenix 2020 is the racket choice of World Padel Tour player Javi Ruiz. Hand-made in Spain for top quality.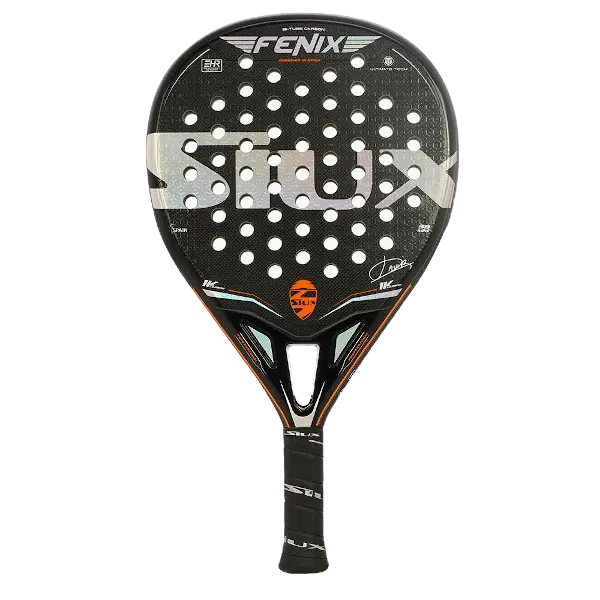 ---
Introduction
The racket has a tear-drop shape, medium to high balance, and a sweet spot located in the upper part. The core consists of Eva Soft in a version called High Recovery, which adds more speed.

The frame is made of 100% carbon fiber for maximum support and durability. There is a special construction in the neck of the racket to absorb vibrations.
REVIEW
Siux Fenix 2020 first impressions
Siux is a popular brand in Spain and used by many professional players, including players on the World Padel Tour. The rackets are made in Spain to assure the highest quality.

We like the design, the combination of black, silver, and orange looks great. It looks fast somehow.

Our test racket weighs 376 grams including two overgrips and a frame protector. The construction, shape, and weight distribution somehow make it feel slim and well balanced.
Siux Fenix 2020 on the padel court
After just a few minutes on the padel court, it stands clear that this racket is relatively easy to handle. It has a medium to high balance but in no way feels too top-heavy.

The softer core, Eva Soft, laminated in five layers gives off a distinct and firm feel. We classify this racket as medium-hard with relatively good comfort.

It's easy to handle from the defensive parts of the court and delivers a fine control during lobs and other defensive shots. It also performs well when the ball hits the outer parts of the frame, making it a relatively forgiving attacking-style racket.

Siux Fenix is intended for a more attacking style of play and really shines in this area. A high balance in combination with the High Recovery core makes it easy to generate power shots such as bandejas, volleys and smashes.

The surface structure helps to generate effect when playing topspin or slice. Its anti-vibration system is also effective when it comes to reducing vibrations and reducing the risk of injuries. Among the power-oriented rackets, we believe that the Fenix is a good option for injury-prone players.

We have been playing the Fenix for about two months, and the overall experience is great.
Siux Fenix 2020 overall impression
Siux Fenix primarily aims at attacking-oriented players with some padel experience. It also suits players looking for an all-round racket with a great balance between power and control.

It's easy to maneuver and is fun to play with. It also has a great design.

This could be the racket to take your padel to the next level. Recommended.