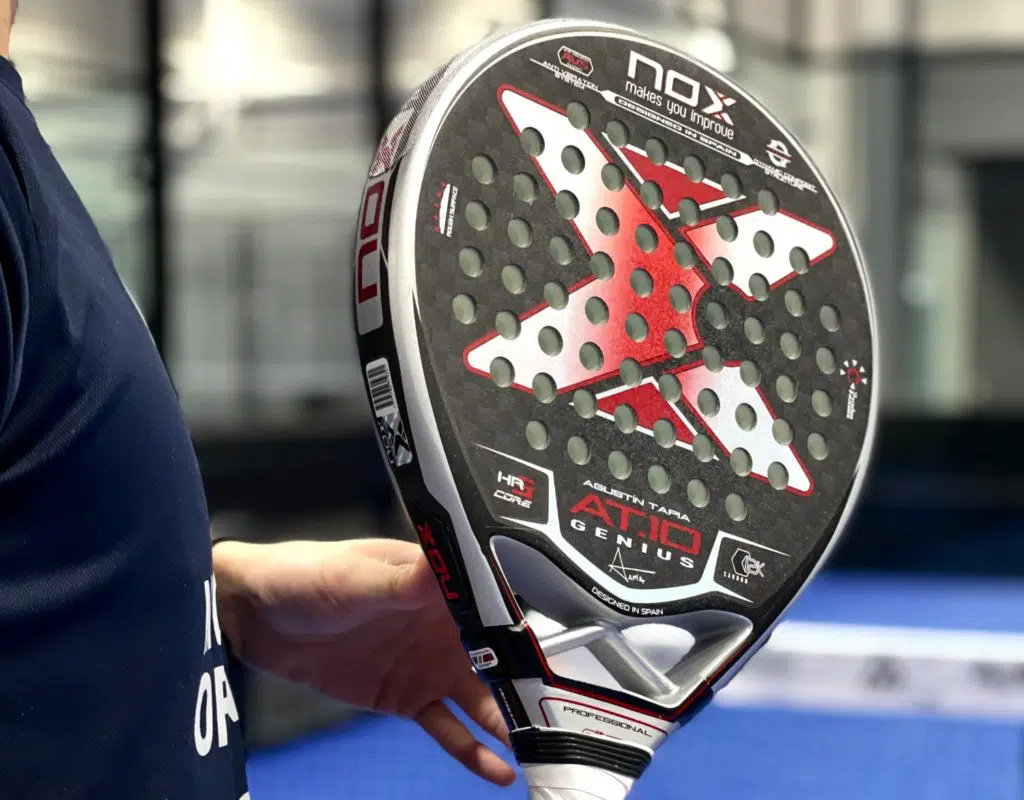 Our test of the Nox AT10 Genius Arena 2022 has shown it to be an excellent all-around padel racket that works for many different playing styles. The racket's neutral balance makes it easy to handle defense while producing good power in the offense.
Our opinion on the Nox AT10 Genius Arena 2022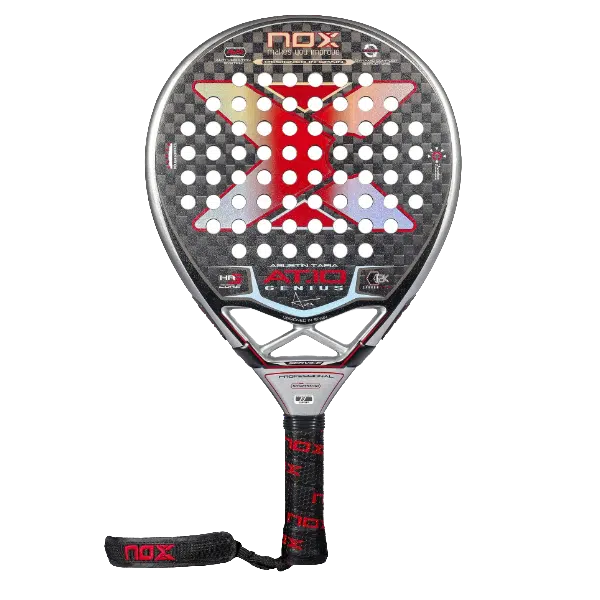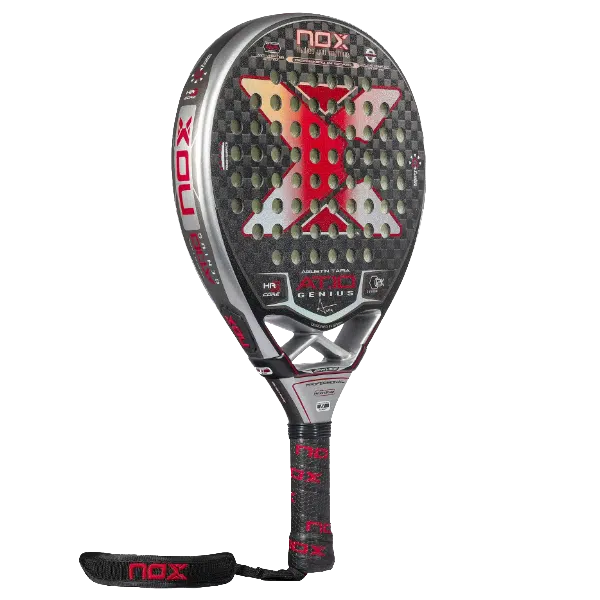 The Nox AT10 Genius Arena is a top racket with an excellent feel when hitting the ball. It is easy to play defense with a relatively low swing weight combined with a large sweet spot. In volleys and overhead games, the racket moves nicely in the air and helps us generate speed.
We believe Nox has achieved a good balance by combining 12K carbon fiber in the hitting zone with a relatively hard core. As for the feel of the ball strike, the racket is fairly forgiving while responding well to harder shots.
The sandpaper surface enhances spin on the balls, making it more difficult for opponents.
---
Find the best price for Nox AT10 Genius Arena 2022:
---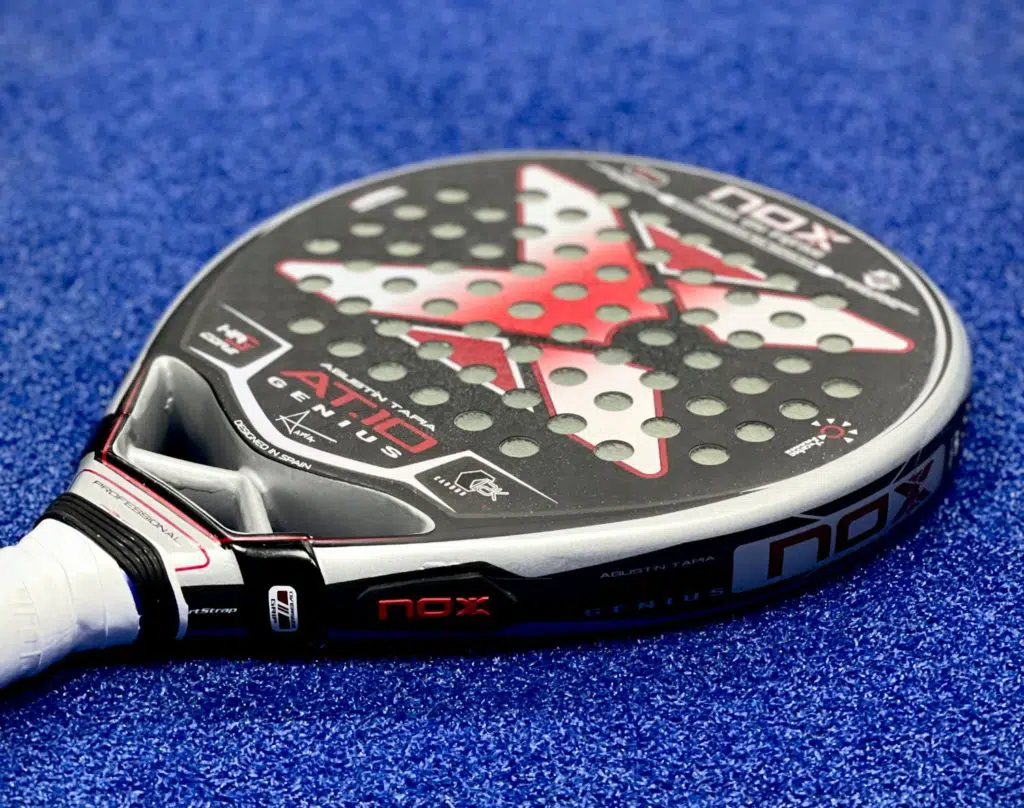 Nox AT10 Genius Arena 2022 characteristics
The Nox AT10 has the same design as last year, except that its complementary color is now red instead of green. This year, a new feature is the interchangeable wrist strap, a practical feature that we like.
Materials
The striking surface consists of Carbon 12K, a carbon fiber material with 12,000 carbon fiber threads per cm2. The result is a highly responsive carbon fiber that recoils the ball.
HR3 Core makes up the core, a variant used in many of Nox's top models. AVS, an anti-vibration system, is fitted to reduce vibration when the ball is hit by rubber parts applied to each side of the racket neck.
Balance
Nox AT10 Genius Arena has a neutral balance to work in a variety of gaming situations. Even in pressured situations, the racket is easy to swing in defense and easy to get right to the ball. When you attack, the balance is high enough for you to generate power in the smashes.
Racket shape
The racket is drop-shaped or hybrid—a shape between diamond-shaped rackets and round rackets. The AT10 is closer to a round racket, so you can use it to advantage those who prefer round rackets.
Hardness
In our opinion, the Nox AT10 Genius Arena is a padel racket that lies somewhere between hard and soft. The racket is relatively soft in slower playing situations and helps generate speed. Meanwhile, the hit is distinct and controlled, which helps when the ball is around the net. If you prefer harder rackets, we recommend checking out the Nox AT10 Genius 18K LTD.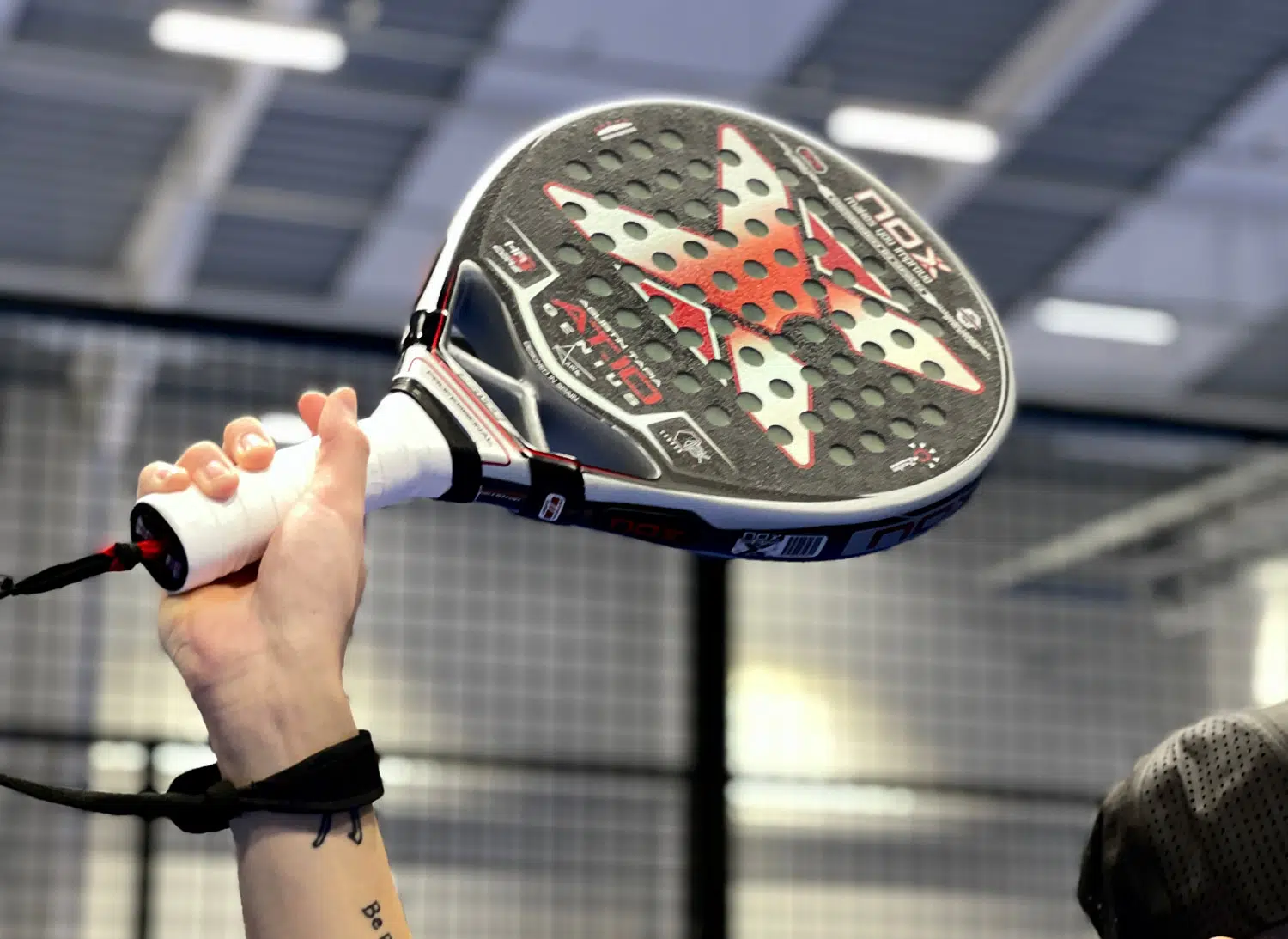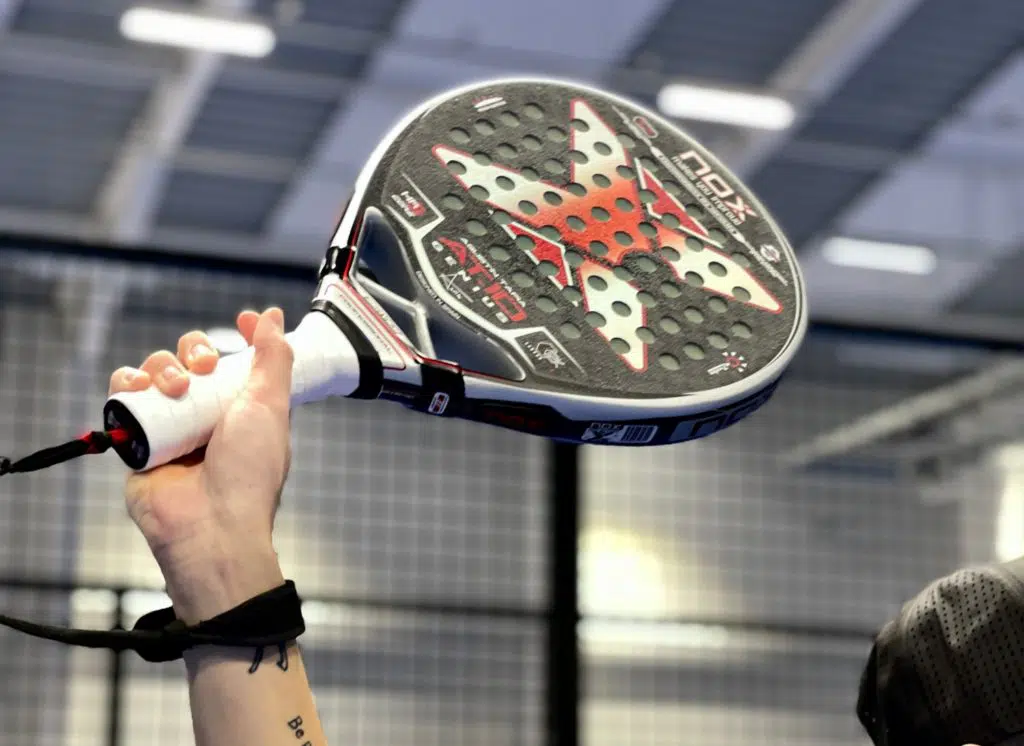 Player profile analysis
Are you wondering if the Nox AT10 Genius Arena is the right racket for you? Here is our analysis of the type of player and playing style this model is best suited to.
What player level is the Nox AT10 Genius Arena suitable for?
This racket is suitable for most levels of play, except for beginners with no previous racket experience. Both intermediate and top-level players can benefit from this racket, regardless of their level.
What style of play is the model suitable for?
As far as playing styles go, the AT10 is suitable for various players. Those who prioritize control and play defensively can use it, but so can those who play more aggressively and want to decide points, like Tapia.
Final review of the Nox AT10 Genius Arena 2022
Nox AT10 Genius Arena is a high-quality padel racket that boasts many smart innovations and quality materials. It caters to players of almost any skill level and any playing style.
This is one of our favorite Nox models, and we can see why it's a best seller. If you're an intermediate-level or above player looking for a racket that can elevate your game, we recommend taking a closer look at this model.