Head Graphene 360 Alpha Pro 2019/2020
Head Graphene 360 Alpha Pro is the racket choice of world's number one player on World Padel Tour, Sanyo Gutierrez's.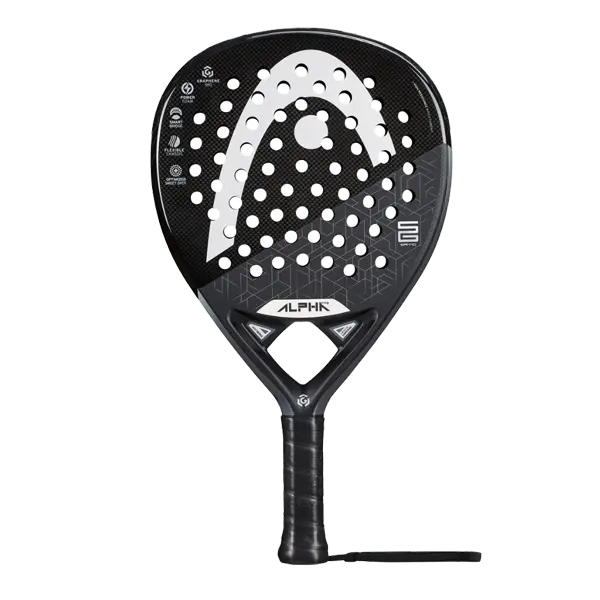 ---
Introduction
The racket has a teardrop shape, medium balance and a sweet spot located slightly above the center of the impact surface.

The difference with the predecessor is that Head now uses the new material Graphene 360. It reduces vibrations at the impact for a more forgiving and more comfortable feel. The new material also gives the racket better control than before.
REVIEW
Head Graphene 360 Alpha Pro 2019/2020 first impressions
The first impression is that this is a great looking padel racket with its sober and elegant design.

The first sensation on the padel court is that it's an easy-to-play and well-balanced racket that suits many different players.
Head Graphene 360 Alpha Pro 2019/2020 on the padel court
Graphene 360 Alpha Pro offers good control and speed in the defensive game. The relatively large sweet spot makes it forgiving to play with.

The teardrop shape in combination with the medium balance helps to generate good power in volleys, bandejas and smashes. Vibrations are reduced in an effective way, which makes it a relatively gentle racket to play with.
Head Graphene 360 Alpha Pro 2019/2020 overall impression
Overall, this racket offers an impressive combination of speed, precision, and feel. It's a great alternative for players looking for a racket that rewards all-court play.

However, we miss some kind of texture on the impact surface that helps to generate spin. Hopefully, we will see this in upcoming versions of this model.

The design spot on and the price a fair. Highly recommended.