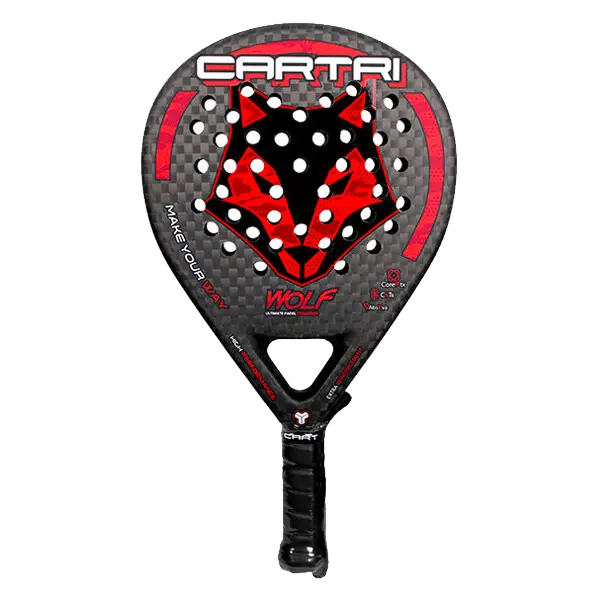 Cartri Wolf is a balanced padel racket that is easy to swing defensively and works well during the attack. Racket for players who prefer a harder ball touch.
---
---
---
Year: 2021
Brand: Cartri
Weight: 355-375 g
Level: Intermediate/Advanced
Shape: Round
Balance: Medium
Hardness: Medium
Type: Balance
---
The racket has a round shape, medium balance, and a sweet spot located centrally in the racket's face.

The frame is made of a mixture of 6K carbon fiber and Kevlar for maximum stability. The hitting surface consists of 12K and 3K carbon fiber. The core is white EVA Soft.
Wolf has a design that stands out like many other rackets from Cartri. Except for a small area of the impact surface that is semi-gloss, the racket is completely matt lacquered.

Including two overgrips, our test racket weighs about 369 grams. We measured the balance at 260 mm for this design. The grip measures 120 mm in length.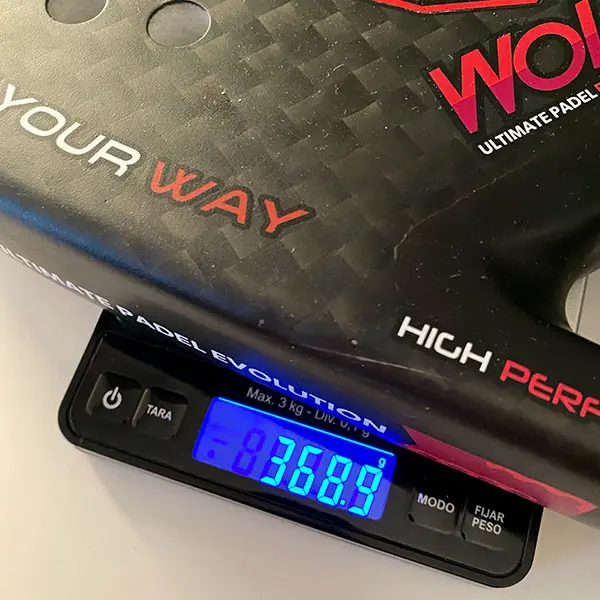 ---
Cartri Wolf i the defense
The Cartri Wolf is an easy-to-handle racket, which shows as soon as we put the ball in play. The racket delivers a hard and distinct hit with a responsive feel.

With the racket's easy maneuverability, we have time to get behind the ball in most defensive situations. As a result of the harder touch, we do not get much help creating speed, so it is essential to have good technique and be able to produce speed on our own.

Because of the stiffness, we have good control and can place the balls accurately. At the same time, it means a compromise for the size of the sweet spot, which makes this a racket for experienced players.
Cartri Wolf in the attack
From the net position, maneuverability remains excellent. Fast movements are possible before volleys due to its ease of movement.

A hard racket means we should be pushing hard in the overhead game. This is not a racket that will help you generate speed either in volleys, bandejas or smashes. Wolf is a racket for players who like a stiff touch and can create speed themselves.

In the offensive game, Wolf delivers consistent results. It is well balanced and combines manageability and power well. It is a technical racket, so players with good technique are needed for best results.
Cartri Wolf playability and comfort
It's a good racket for intermediate players with good technique and for advanced players.

Playability: Low-Medium
Comfort: Low-Medium
Wolf is a well-balanced racket that combines control and power well. In addition to being easy to defend, it is also easy to attack.

The racket has a dry feel to the hit and is therefore suitable for players who prefer a hard racket. If you prefer a softer touch and trampoline effect, this racket is not for you.

If you are looking for a rigid, well-balanced racket, we recommend you also look at Babolat Viper Air or Babolat Veron Air, which has a softer touch.