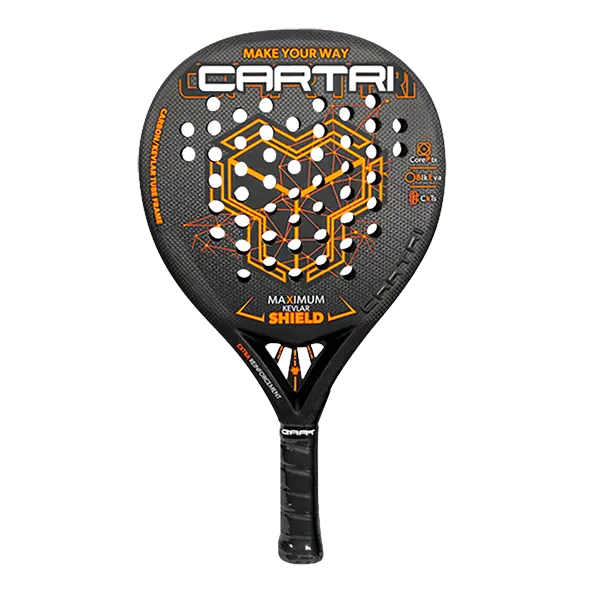 Shield is a good all-around racket that is equally effective on defense as on offense.
---
---
---
Year: 2021
Brand: Cartri
Weight: 355-375 g
Level: Intermediate/Advanced
Shape: Teardrop
Balance: Medium
Hardness: Soft-Medium
Type: Balanced
---
Cartri Shield is a versatile racket made of top material. It is teardrop-shaped and has a medium-high balance.

The surface consists of 3K carbon fiber, and the core is Black EVA Soft for increased comfort and easy speed access. The frame is made of 6K carbon fiber and kevlar for increased rigidity and durability.

Cartri Shield stands out with its rubber-coated surface that provides extra grip when hitting the ball, resulting in better effect.

The racket targets players at intermediate level and up looking for speed, control, and comfort.
This racket has a rubberized surface and is a well-designed racket. This surface gives the racket a cool look, and the manufacturer states that it will improve game feel and performance.

It has an embossed Cartri logo on the side. However, there is no structure on the impact surface itself.

Our test racket weighs 361 grams including one overgrip. We measured a balance of up to 275 mm. The length of the grip is 120 mm.
---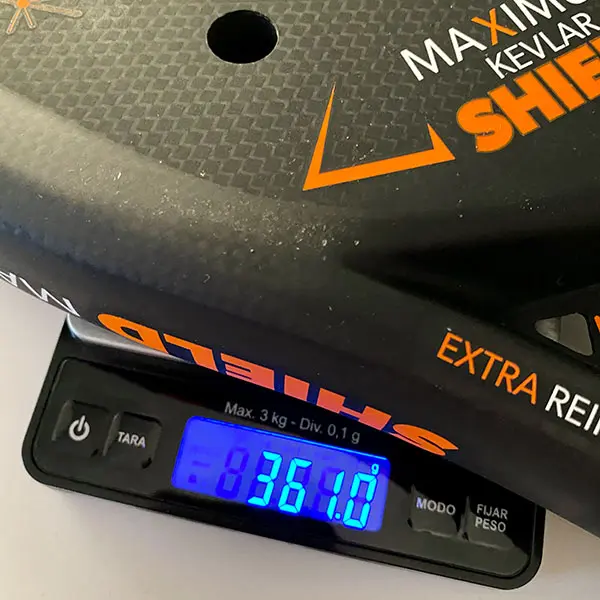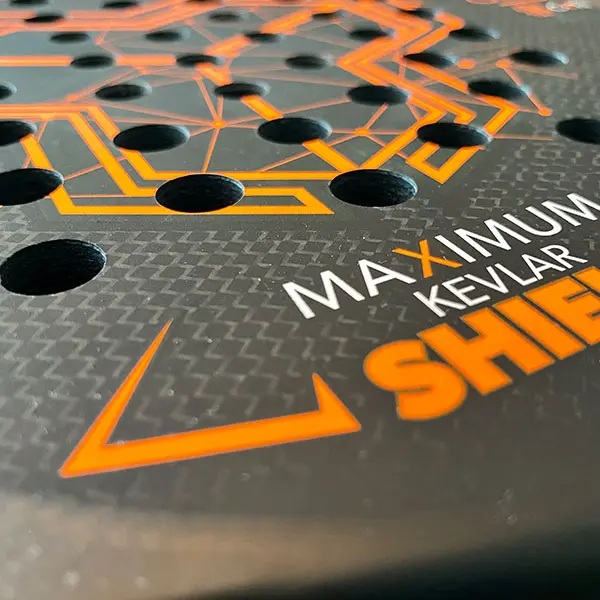 ---
Cartri Shield i the defense
Cartri Shield is a drop-shaped racket that should work well on both the offensive and defensive side. The racket's balance is on par with those of pure power rackets (275 mm), but it still maintains a good handling. Ball contact is comfortable and the racket absorbs vibrations well.

In defensive play, the core, which consists of several layers, responds well. In addition, the sweet spot of the racket is relatively large, which helps us generate speed.

The higher balance helps us to push in counter-attacks while maintaining control. In general, the racket offers a positive defensive experience.
Cartri Shield in the attack
Shield continues to be comfortable when playing around nets. It is easy to get it right in fast volley situations and the balance aids our ability to push forward.

The racket moves easily in the air at bandejas and viboras. A softer core and a higher balance help us create speed in our smashes. With the rubber-coated surface, we find that topped smashes have more spin.

In the offensive game, Shield consistently delivers stable results. There is a good balance between power and control.
Cartri Shield playability and comfort
Shield is a racket that can be used by both intermediate and advanced players.

Playability: Medium-High
Comfort: Medium-High
Shield is a good all-around racket that is equally effective on defense as on offense. Those who want help generating speed in different situations, both from the back of the court and the position of the net, may benefit from the softer core.

Overall, Shield has been a positive experience and we would recommend you to take a closer look if you are looking for a well-balanced racket that is not too difficult to play.

For a light racket with a nice balance, try Babolat Viper Air or Babolat Veron Air.