Bullpadel Vertex 03 2021
Bullpadel Vertex 03 2021 is WPT player Maxi Sánchez's racket of choice. It targets players looking for power without sacrificing control. It's a bestseller.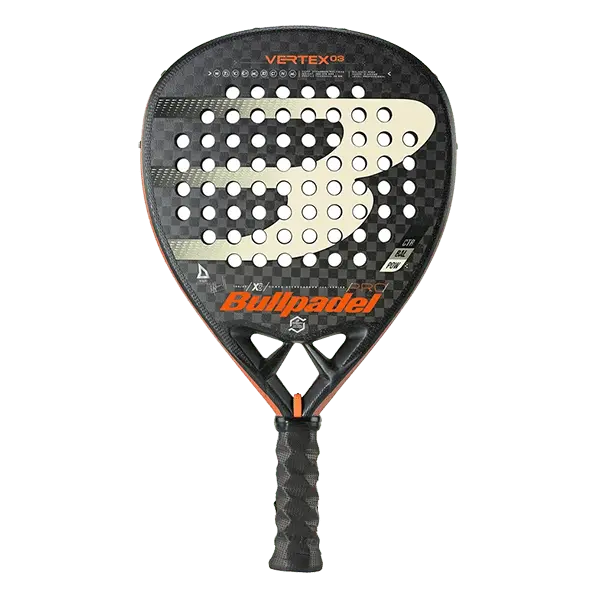 SPECIFICATION
Year: 2021
Brand: Bullpadel
Weight: 365-380 g
Level: Intermediate/Advanced
Shape: Diamond
Balance: High
Hardness: Medium-Hard
Type: Power
---
Introduction
Vertex is a successful model from Bullpadel that is loved by many padel players around the world. It is also the top player Maxi Sánchez's choice of racket. Because of its success, Bullpadel thinks twice before making any changes.

New for this year is the new Air React Channel technology. It is a construction around the racket neck that makes it more aerodynamic. This provides a lighter racket to increase the speed needed in the attacking game but, while at the same time improving control in the defense.

The racket is diamond-shaped and has a high balance. Like previous models, the core consists of Multi EVA with different layers that are adapted to benefit both hard and loose shots. The racket has a 12K carbon fiber surface that is faster and more responsive than the regular 3K. Vibradrive reduces vibrations.

Another feature is the possibility of attaching weights (Custom Weights) to the frame and the grip. It is possible to mount up to 3 weights x 3 grams on the frame to make the racket more top-heavy and thus generate more power. If you want increased control, you can easily mount a weight of 5 or 10 grams in the grip.

The impact surface has a special texture similar to sandpaper, which helps to generate spin.