If you are looking for a racket with excellent playing characteristics, then the best premium racket 2021 is for you. Here, there are no budget restrictions. Here are some of our personal favorites in the more expensive segment.

Read our complete racket guide for help selecting the right padel racket.
Choose a racket that has optimal playing characteristics and improve your game
When you have the right padel racket, your game will improve. A premium racket uses the best materials and the latest technologies, so it has better playing properties. Even if you purchase an expensive racket, it will not guarantee victory, but a quality racket designed for your playing style will increase your chances.

Our models will eliminate the excuse that you missed your shot, blaming the racket.
---
Best Premium Padel Rackets 2021
We have selected three top-quality models for players with high demands.
Browse our favorites by category by clicking here.
Adidas Metalbone 2021
Shape: Diamond
Level: Intermediate/Advanced

WPT star Ale Galán is using the Metalbone. It is a premium racket designed for attack players who prioritize power. The racket head has a diamond shape, high balance, and a sweet spot located in the upper part.
The racket has a low weight of 345-360 g which can be modified with the included weights. A top-class racket for players who want both power and comfort.
---
Bullpadel Vertex 3 Ctr 2021
Shape: Round
Level: Intermediate/Advanced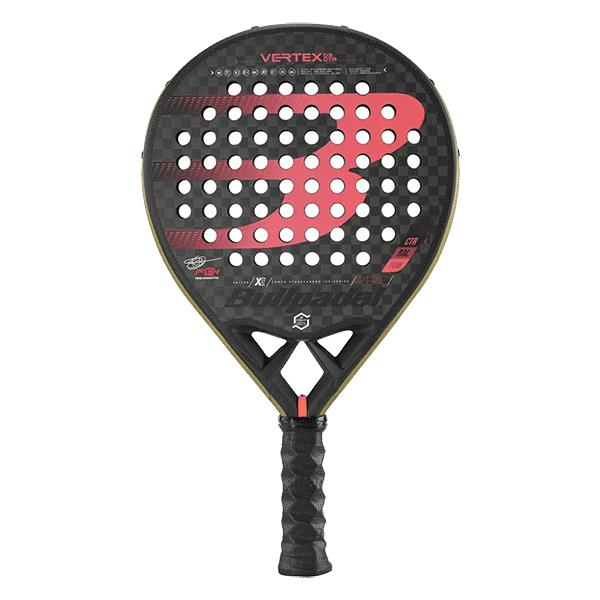 The Bullpadel Vertex 3 Ctr is an easy-to-play, premium racket that has excellent control. It is the racket of choice for WPT player Fede Chingotto.
The Air React Channel technology is new for this year. This is a construction around the racket neck that makes it more aerodynamic. Providing a lighter racket improves the speed needed for attacking, while at the same time improving the control when on defense.
---
Nox AT10 Luxury Genius Arena 2021
Shape: Teardrop
Level: Intermediate/Advanced
The racket of Augustin Tapia, the padel genius. A top seller from the Spanish brand Nox has been difficult to find due to its popularity. 
In both attacking and defending, the AT10 racket offers excellent results. It has a 12K carbon fiber surface and a silica sand finish for better effect. Highly recommended.


---
What to look for when buying a quality racket
Quality
Manufacturers often use the term premium. Make sure you are investing your money in a racket that is of good quality. There is no guarantee that a racket will be quality even if it is sold for a lot of money.
Playing characteristics
Though it is fun to own a super cool padel racket, the match is decided on the court. Winning is more fun than losing. Make sure to select a premium model that fits your style of play and elevates your game.
Change if needed
It is easy to start looking for benefits once you have purchased an expensive padel racket. If your new racket doesn't improve your game after a few matches, you may want to consider replacing it. Although it may be painful to dump your newfound love, it is necessary. 
---
Summary of the best premium padel rackets 2021
When it comes to material selection and innovation, a premium racket differs from simpler rackets. As a result, they often have good playing properties. People buy a premium racket to ensure they are playing with the best. 

For a model from one of the manufacturers' top collections, you can expect to pay over 300 Euro. It is important to do your homework and ensure that what you buy is good quality, as price and quality are not always connected.

It is on the court that the winnings are made, so invest in a racket that is suited to your game level and style of play. It should elevate your game, not just look good. If it doesn't feel right after a while, get rid of it and continue looking for the perfect racket.


The following models are included in the guide:
---
FAQ