Best premium padel rackets 2021 targets players looking for a top-class racket with excellent properties. There are no budget restrictions here. We present our current favorites in the premium segment. Enjoy!
Best premium padel rackets 2021 selection
---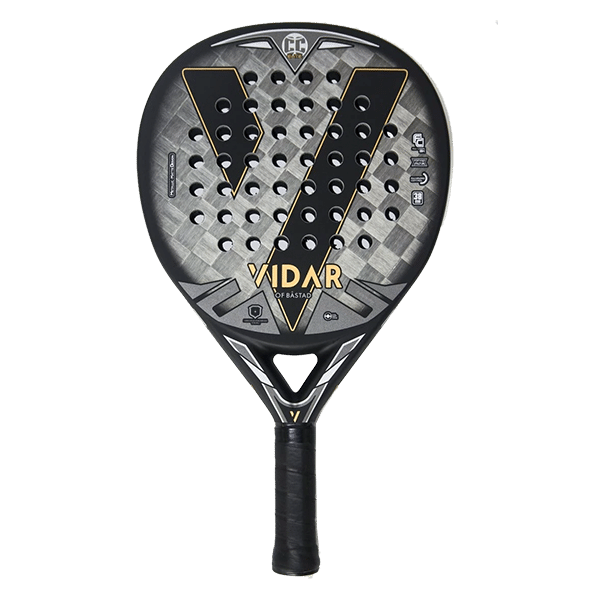 PADELJOY REVIEW
SUMMARY
Vidar of Båstad's most expensive model. A well-balanced padel racket leaning towards power. Nice feel and comfort. For intermediate level players and professionals.
PROS
Unique design and premium feel
Good for power without sacrificing control

CONS
No structure on the impact surface
---
PADELJOY REVIEW
SUMMARY
This is a top-quality premium racket from the Spanish brand Siux. It's a well-balanced and very comfortable racket. It delivers an impressive combination of power and playability. Highly recommended.
PROS
Premium design and quality
Very comfortable
Well-balanced in all parts of the game
Impressive combination of playability and power
CONS
Price is high
No structure on the impact surface
---
PADELJOY REVIEW
SUMMARY
Top-quality racket used by Matías "The Warrior" Días at World Padel Tour. It offers exceptional control and decent power. It's a technical padel racket aimed at experienced players.
PROS
Premium quality
Exceptional control
Decent power in the attack
CONS
Technical racket only for experienced players
Comfort below average. Not for injury-prone players
---
What is a premium racket?
Premium rackets use quality materials to create optimal playing properties. Manufacturers spend a lot of time and money finding new materials and technologies that can help further enhance the gaming experience.

In addition to generating better results on the padel court, durability is usually better as well. You do not always get what you pay for, so it's important to do your homework.
---
Vem behöver ett premiumracket?
The difference between quality rackets in the mid-price range and premium models is usually quite small. Choice of materials, technology, and sometimes a famous player's signature means can make the manufacturer charge a premium price. In reality, often it's difficult to notice any major difference in-game.

So why buy a premium racket? Mainly for personal reasons, because you know you are playing with the best materials, maybe the same racket as a WPT player. If you can afford it, why not. Having a racket you truly like can help boosting confidence resulting in a better experience on the court.

So who needs a premium racket? No one and everyone.
---
How much does a premium racket cost?
Premium racket as a term is widely used among padel brands. Prices thus vary a lot, but a general guideline is that you can expect to pay from 300 Euros and more for a premium racket.
---
Tips for buying a premium racket
Quality
The word premium doesn't mean that the racket is of top quality. Before investing a lot of money in a premium racket, make sure that it's a quality racket.
Properties
Sure, it's fun to own a super-duper racket, but don't forget that it's all decided on the court. It's more fun to win than to lose. Therefore, be sure to choose a premium model that suits your style of play and helps to raise your game.
Replace if necessary
Once you have invested in an expensive padel racket, it's easy to start looking for benefits with that particular racket. All rackets require a run-in period, but if you notice that your new racket does not raise your game after several matches, you should consider replacing it. It may be painful to let go of your newly found love but just do it.
---
Best premium padel rackets 2021 summary
Premium rackets differ from simpler rackets when it comes to the choice of materials and technology. Even though you might not need a premium racket to play great padel, many players get them for other reasons. To have a racket to be proud of, to play with a racket from your favorite brand.

Expect to spend over 300 Euros on a top-quality racket. It's important to do your homework and ensure you buy quality, as price and quality are not always linked.

Don't forget that a match is won on the court, so make sure to get a premium racket that is suited for your playing style and level. The racket should up your game, not just look cool. Don't be afraid to replace it after several games if it's not delivering the results you were expecting.