The best padel racket for offensive play in 2021 is a guide for those of you looking for power in your play. Listed below are a few of our favorites, all focusing on power. 

Would you like information before choosing a racket? For helpful racket tips, please refer to our racket guide.


Top 3 rackets for power
Put the opponents under pressure and decide the points on your own
The smash is considered by many to be the coolest shot in padel, and everyone wants to be able to smash the ball out of the court. Although technique is a huge part of it, power rackets can also be helpful.

Rackets for offensive play are distinguished by their drop or diamond shapes, which feature high balance points. As a result of a top-heavy racket, the ball is more likely to travel faster as the swing generates more power.

It is true that power rackets place certain demands on players, so not everyone is suitable for them. We have three recommendations for those of you who are convinced you need a power racket. Let's go!
---
Best Padel Rackets For Power 2021
For all Lebróns around the world who love to smash, we have three favorites for you.
See our favorites in a number of other categories here.
BEST BUDGET RACKET FOR POWER
Bullpadel K2 Power
Shape: Diamond
Level: Intermediate/Advanced
Bullpadel K2 Power is a power racket designed for beginners and intermediate players seeking playability and comfort.
With a soft core and a diamond shape with high balance, this model will help you generate speed when attacking.
If you need power, this is a great budget-friendly option.
---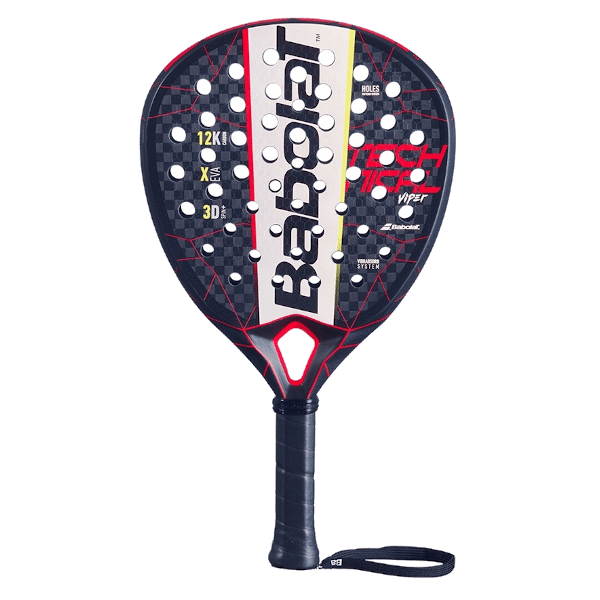 Juan Lebrón probably has the best smash on the entire World Padel Tour. His new weapon on the court is the Viper Technical. A top-heavy racket with a sweet spot that sits far above the hitting surface, promoting a ball strike at its highest point.

Core X-Eva is made up of three layers. Two outer layers are hard for maximum recoil and an inner layer that is softer for increased comfort for softer shots. The surface layer consists of 12k carbon fiber and a pattern called 3D Spin +, which gives the ball a good bite when it comes to topspin smashes.

The Babolat Viper Technical racket should be considered if you are looking for a power racket.
---
WPT player Paquito Navarro is known for his spectacular playing style. As well as his magic lob, he builds much of his game in the attack. Hack 02 is designed to suit his attacking style of play.

This racket has a hybrid shape that lies between a drop shape and a diamond shape. In order to increase the leverage effect in offensive strokes, the sweet spot is located in the upper part of the hitting surface. MultiEva is the core, with different layers to adapt to different types. For maximum response, the impact surface is made of TriCarbon.

The Hack 02 racket is a stiff racket with a lot of power for those with good technique that want to push their opponents in all situations, just like Paquito.
---
How to choose a power racket
Skill level
Everyone seems to appreciate a good smash, and it can be tempting to buy the most powerful option available. To begin with, ask yourself if you are at a level where you can benefit from a pure power racket. A pure hit with an easy-to-play racket generates more speed than a wrong hit with a power racket.
Hardness
Make sure that the racket has a hardness that suits your technique and playing style. For example, hard-hitting players have the advantage of using a racket with a harder core that recovers more quickly while softer rackets absorb part of the force. On the other hand, if you are a player who needs help generating power, a softer alternative may be preferable. Find out what suits you best by testing yourself.
Injuries
Power rackets are more difficult to handle and can cause injuries such as tennis elbow. If you want to play with a power racket but are worried about injury, we recommend a model with a softer core. Vibrations are lessened, and injury is less likely with a soft ball hit. In case of injury, replace the racket immediately.
---
Summary of the best padel rackets for power 2021
Power rackets typically have a diamond shape and a high balance, i.e., the weight is in the upper part. Rackets with this kind of profile are more difficult to manipulate, so they place higher demands on a player.

The only player who can use this racket effectively has good technique. Unfortunately, power rackets are generally not very forgiving. Price-wise, you can expect to pay 250 Euro or more for a racket that holds the measure.

Choose a racket whose hardness is appropriate for your playing style and technique. Choosing a hard or soft racket also depends on whether you hit hard or not. If you are prone to injuries, you should opt for a softer alternative that minimizes vibrations.
---
FAQ