When you want to control the game
The best padel rack for control 2021 is intended for players who are looking for a racket that allows them to place balls accurately. Here are some of our favorites at the moment.

Not sure if a control racket is right for you? You may want to check out our racket guide.
Control the game with precision
Control rackets are typically preferred by those who play defensively and prioritize safety before power. With a control racket, the risk of making mistakes and losing points is reduced.

Control rackets are characterized by their ability to manage the defense and to place the ball exactly where you want it. Control rackets are generally round and have a low or medium balance point.
---
Best Padel Rackets For Control 2021
In the following we list our three favorite models for control.
Browse our favorites by category by clicking here.
Anyone who has seen Matías "The Warrior" Días on the WPT knows how good he is at playing defense. A world-class defensive player, without a doubt.

The primary purpose of Meteora is control, so it responds immediately and enables ball placement with fine precision. The sweet spot in StarVie's model is placed centrally in the hit area at the same time as the balance has been slightly shifted more in the offensive direction.

For technically skilled players who base their games on control, this model is a must-try.
---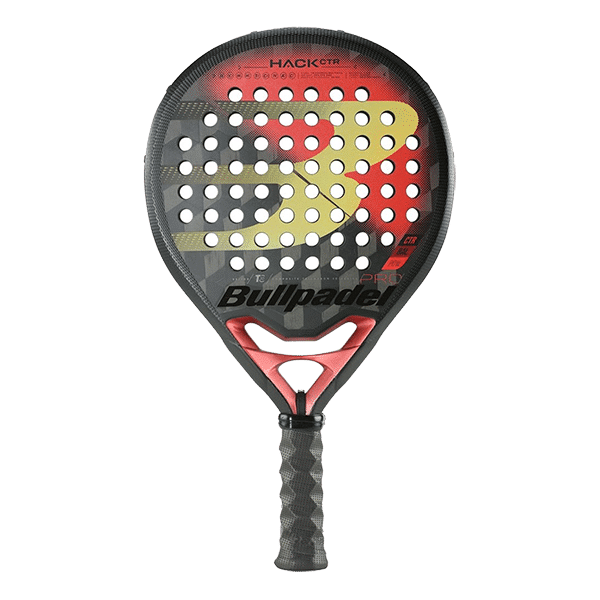 Hack Control is Paquito Navarro's racket in a control version which is easier to play. A good racket for advanced players, it offers precision in every shot.

The racket's low balance and round shape make it easy to swing, and the sweet spot is in the middle of the hitting surface. TriCarbon forms the impact surface, while MultiEva offers different densities in the core. By combining the different layers, the racket adapts to how hard the shot is.

If you are a player of intermediate level or higher and seek a racket with excellent control properties, take a closer look at Bullpadel Hack Control.
---
Siux Raven Control 3K 2021
Shape: Round
Level: Intermediate/Advanced
In general, Siux uses top-quality materials in their rackets, and Raven 3K Control is no exception. Carbon fiber is used for the frame and 3K carbon fiber for the impact surface for a good response while maintaining comfort.

EVA Soft High Recovery, the material used for the core, provides a soft hit and good rebound. There is a triple bridge in the form of a prism in the neck, which increases stability and speed. The ShockOut system minimizes vibrations and reduces tennis elbow risk.

Take a closer look at this model if you want a quality racket with a focus on control.
---
Tips for choosing the right control racket for padel
Skill level
Although control rackets are generally easier to play than offensive alternatives, the playability varies greatly between different models. Therefore, choose a racket that is not too difficult to play when comparing different options.
Goal
To choose a control racket, you need to determine why you want one. For example, do you want the greatest control in your game, or do you want to minimize the risk of injury?

Consider a racket with a softer core and one with a well-functioning technology for absorbing vibrations if you want to avoid injuries. On the other hand, a harder core can often help you gain maximum control.
Not just control
No player bases his entire game on control alone. Therefore, consider which parts of your game need strengthening and choose the racket accordingly. The more control you choose, the less power you will have. Control-oriented models with a medium balance and a core that benefits speed can be tested if you prioritize control but lack a little offensive weight.
---
Summary of the best padel rackets for control 2021
A control racket is distinguished by its ability to place balls accurately. In addition, the low balance of control rackets makes them easy to handle and move. Therefore, they are suitable for beginners and players who wish to avoid injuries.

You can find control rackets from all brands and at all price levels. When choosing a racket, consider your game level and the purpose for which you will use it. For example, do you want to reduce the risk of injury, or do you want to be in control of your game?

There is a wide variety of control-oriented rackets available, depending on your game goals. If you don't want to compromise on power, you can look for rackets with a medium balance and a core that generates speed.


We have recommended the following rackets:
---
FAQ