When you need both control and power
This guide is for you looking for a padel racket with a good balance between power and control. Padel rackets with a lot of power have less control and vice versa. We present a few of our favorites between these two categories and offer great gameplay features throughout.

Before choosing a racket, there are many things to consider. Learn more about choosing the right racket by reading our racket guide.
Balanced padel rackets for offensive and defensive play
Control involves a compromise on power and vice versa. A balanced racket, or all-around racket, is located somewhere in the middle. They do not provide the same level of control or power as the more pure alternatives but instead deliver a more even gaming experience across the entire court.

All-round rackets are good if you need a racket that works in all areas of the game. Here are a few of our favorites.
---
Best All-Around Padel Rackets 2021
Here are our recommendations for those of you who want both control and power.
Browse our favorites by category by clicking here.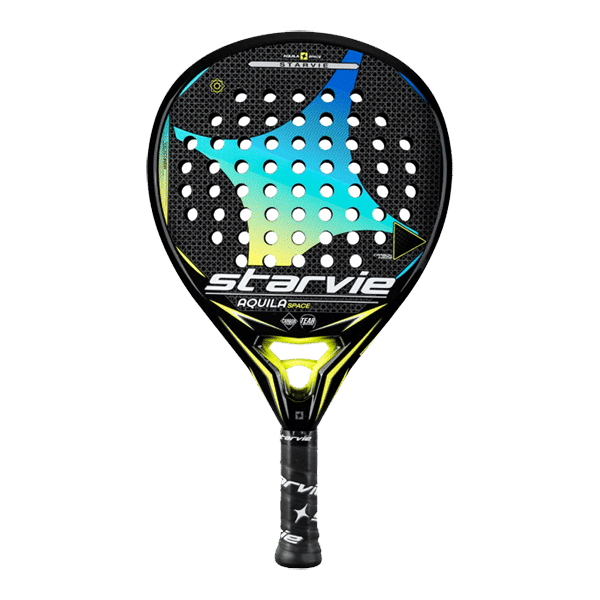 With Aquila Space Pro, you get a manageable racket on the defensive while being powerful in attack. This is a popular model that has been upgraded this year.

The core is medium-hard, which gives it a good mix of control and speed. For those of you who need help generating more speed, there is a softer version available. Then check out StarVie Aquila Space. In addition to the carbon fiber hitting surface, the racket neck is constructed to create balance and stability.

All in all, this is an affordable racket for most levels of players. Check it out!
---
Head Graphene 360+ Alpha Motion 2021
Shape: Teardrop
Level: Intermediate/Advanced
Head is known for making well-balanced padel rackets, and this is no exception.

You probably know Sanyo Guitierrez if you are involved in padel. He plays with Alpha Pro, and this is the easier-to-play version used by WPT player Ari Sánchez.

This racket is drop-shaped and has a medium balance. The frame is made of lightweight graphene, which makes it easy to swing and reduces vibrations.

This racket is nice in all aspects of the game—worth a closer look.
---
Dunlop Galactica 2021
Shape: Teardrop
Level: Intermediate/Advanced
Juani Mieres uses the Dunlop Galactica model in the WPT. It is a drop format in an oversize format with a high balance. Dunlop uses super-premium 6K carbon fiber on the impact surface, and the core is medium-hard Pro EVA.

The racket is designed to work well both defensively and offensively. The slightly higher balance and weight help you get more power.

Dunlop offers an interesting and well-balanced alternative for those looking for power and control.
---
Tips on choosing the right all-round racket for padel
Skill level
You should choose the racket according to your playing level and ability. For example, you might want to consider drop-shaped alternatives with a smaller sweet spot if you're an experienced player. On the other hand, if you're at the beginning of your paddle trip, a round-shaped alternative may be preferable.
Purpose
What part of your game do you want to improve? Different all-round rackets have different playing characteristics. Consider a more control-oriented all-round alternative if you want to strengthen your defensive game, and vice versa.
Set the right expectations
Just as control rackets compromise on power, and power rackets compromise on control, so do all-round rackets. All-round rackets possess fine properties in all parts of the game, but the compromise is that they do not excel in any part. For maximum control and power, you should instead consider niche models.
---
Summary of the best all-around padel rackets 2021
All-round rackets deliver control and power in a balanced manner. Different types of all-around rackets deliver different amounts of power and control.
All-round rackets go well with a wide variety of players of all levels due to their balanced playing characteristics. Prices for all-around rackets depend on the materials used and the level of play the model is intended for.
Some rackets are more difficult to play than others, you should choose an all-around racket based on your game level. You should also consider your racket selection's purpose. Do you have a particular area of focus when choosing your racket? Lastly, set realistic expectations for an all-around racket. Although it has great features in all areas of the game, it doesn't shine in any.


The following rackets are included in the guide:
---
FAQ