Increase your level of play with a racket designed specifically for advanced players and competition
If you are a high level player and looking for a new racket, we have selected the best ones for you. With the right racket, you will be able to lift your game further and challenge even stronger opponents.

For in-depth information about racket shapes, balance, weight and much more, read our racket guide.
Consider the details when choosing a racket
The matches become tighter as the level of play increases. In order to win, you must play with precision and there is no room for errors. A racket must give you confidence in order for you to do that. At this level, it's about picking a padel racket that suits your personal style of play.

The three models we have selected offer top features, and hopefully some of them will suit your style of play. Here we go!
---
Best Padel Rackets For Advanced Players
We have compiled a selection of rackets with top materials and properties that meet the demands of skilled players.
Browse our favorites by category by clicking here.
Padel players with good technique and who move quickly across the court will find Veron Air a good alternative. With the drop shape and medium balance, you can deliver the precision you need in defense and attack. However, we recommend checking out Viper Air instead to get the same feature but a harder feeling when hitting the ball.

It consists of EVA filling and a fiberglass/carbon fiber hitting surface to provide a forgiving feel. In addition, it increases the margin for error. This frame is constructed from 100% carbon fiber. In addition, Babolat has used 3D-Spin on the hitting surface to give the ball more effect.

You may want to look closer at Veron Air if you seek a racket that works well at top levels without being too complicated.
---
Bullpadel Vertex 3 2021
Shape: Diamond
Level: Intermediate/Advanced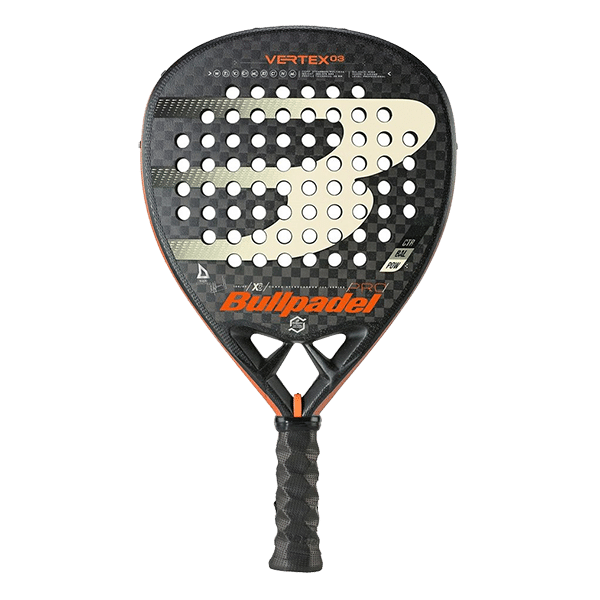 A successful model from Bullpadel that Maxi Sánchez used at the WPT. This year's novelty is an aerodynamic frame that enhances response and swing speed.

Power is a priority feature of the racket, and it has a diamond shape and high balance. It consists of 12k carbon fibers that are responsive and help generate speed. The core is composed of several layers with different hardnesses to handle both looser and harder blows equally well. In addition, Vibradrive reduces the chance of injury by absorbing vibrations.

It is a good option if you are looking for power to push your opponents.
---
Head Graphene 360+ Alpha Pro 2021
Shape: Teardrop
Level: Intermediate/Advanced
This is Sanyo Guitierrez's weapon on the court, and few players can play such a beautiful padel as he can. A new version is back, and it's better than ever.

The racket has a drop shape and a medium-high balance. It works equally well on defense as it does on offense. The core material is Power Foam, while the frame is Graphene 360+ for stability and durability. Moreover, Alpha Pro uses Optimized Sweet Spot, meaning that the holes are drilled to match the shape of the rack to maximize the size of the sweet spot.

It won't be easy to reach Sanyo level, but this racket can at least inspire you to try. Worth testing if you want a good balance between control and power.
---
How to choose a padel racket for an advanced player
Analyze your game
Are you strong and weak in certain aspects of the game? Consider how you want your new racket to improve your game. Would you like to enhance your strengths or improve your weaknesses?

If you are a player who smashes a lot, a racket optimized for smashing would be ideal—providing you with the right reaction and feeling in smash situations. Perhaps you should have a racket with more control if you have good pressure in the smash but have problems on defense. You will always have to compromise in some way, so consider what is most important to you.
Backup racket
When you find the right racket, you may want to purchase another one. Rotating between two rackets reduces wear, and you always have a backup racket in case something should go wrong. You may also want to switch to a racket with a dry grip if you sweat a lot on your hands during a match. You should make sure that the weight of both rackets is the same when you buy an extra racket.
What matters most is how you feel about it
You can go on and on analyzing materials and game properties, but what is most important is whether you enjoy the racket. With the right racket, you can pick it up with confidence. Brand and design play a major role here. Thus, you will be more comfortable on the padel court with a racket you enjoy in every way.
---
Summary of the best padel racket for advanced players
To perform at a high level, you need a racket that fits your specific playstyle and preferences. In addition, when you play at a higher level, you need the best materials and playing properties.

For advanced level players, there is no better or worse shape, it is all a matter of preference. At the highest level, there are round, teardrop-shaped, and diamond-shaped rackets.

A quality racket will cost around 250 Euros to 500 Euros, but You should prioritize the properties. Expensive does not always mean better.

Choosing a new padel racket means taking the time to analyze your game and how you want the new racket to affect your game. For example, is it better to strengthen your already strong sides or improve your weaknesses? You may want to buy an extra racket of the same model if you play a lot to reduce wear and have a backup if something happens during a match.

Choosing a racket that you like 100 percent is the most important factor.


Recommended models:
Check out our buying guides for a complete list of recommendations in every category.
---
FAQ