The best cheap padel racket for 2021 is a guide for you who are looking for an affordable padel racket. Rackets that are cheaper can provide a less enjoyable experience, but that is not the case always. We present some alternatives that offer good quality at a good price.

Are you a beginner that recently started playing padel and needs help finding the right racket for you? We recommend you read our racket guide.
Get a better gaming experience by buying the right racket
You are probably going to start playing padel and buying your first racket. You may have played some padel and rented racquets at the padel club so far. A racket can make a big difference to your experience on the padel court. Keeping the ball in play is the most important aspect of fun padel, so it is important for beginners to choose a racket that is forgiving and kind to play with.

Here are three rackets that have nice playing properties without breaking the bank. Let's go!
---
Best Cheap Padel Rackets 2021
Below are three affordable models.
Click here to see our favorites in a variety of other categories.
Head Evo Sanyo 2021
Shape: Teardrop
Level: Beginner/Intermediate
Thanks to its softer materials and forgiving properties, the Evo Sanyo is a great racket for beginners. The racket's drop shape and medium balance make it easy to swing in defense, while supporting you in offensive positions as well. It offers both power and control.

The racket is composed of a soft foam core making it comfortable to use. It reduces vibrations that reach the arm and thus reduces the risk of tennis elbow.

It is a very popular model that is well worth a closer look at if you are looking for your first racket.
---
Adidas RX30 2021
Shape: Round
Level: Beginner/Intermediate
Adidas RX30 is a novelty for 2021, aimed at beginners and middle-level players. With its round shape and medium balance, it is ideal for players who prefer control over speed.

The hitting surface has a large sweet spot in the middle, so even poorly struck balls travel fast. EVA Soft Performance is the core, which absorbs vibrations well and improves playability. The racket's surface layer and frame are made from fiberglass, contributing to the rack's forgiving nature.

The RX30 is a good alternative for you who are looking for a cheap racket.
---
Babolat Vertuo Air 2021
Shape: Teardrop
Level: Beginner/Intermediate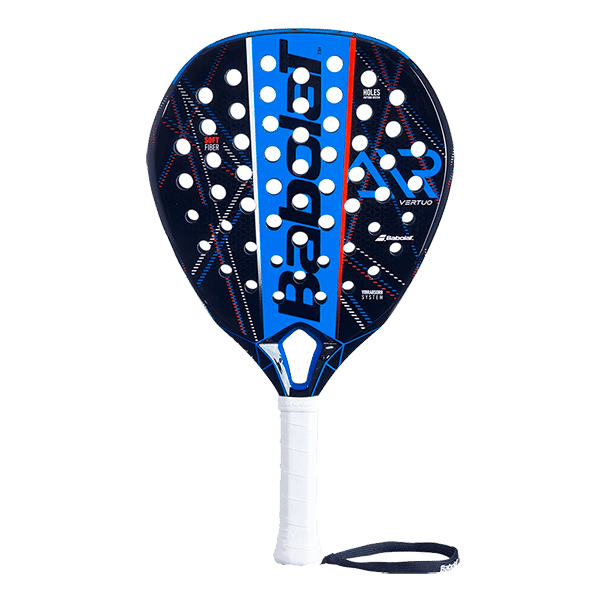 Formerly, Babolat released the Viper series, aimed at players looking for offensive power at an advanced level. Afterward, the Veron series was slightly softer, and they recently released the Vertuo series, aimed at players who want an easy-to-play alternative.

With the Vertuo Air, you can move quickly in different situations on the paddle court. The racket is easy to swing and has a soft impact surface that is efficient at absorbing vibrations. An average balance point and a drop shape characterize it. For good comfort, the core is made from Black EVA with a lower density.

Beginners but also intermediate players can benefit from this racket since it can help them improve their game.
---
What to consider when buying a cheap padel racket
Frequency
Consider how often you plan to play. If you only play occasionally, a cheap padel racket is ideal. However, if you plan to play regularly, it might be worth spending a little more on a better racket. Then, when you improve, you don't need to change your racket.
Playability
Even if a padel racket is cheap and marketed toward beginners, it doesn't mean it is easy to play. Manufacturing a racket with good playing properties requires knowledge. Whenever you buy a racket, make sure it is playable to ensure a good gaming experience.
Service life
Padel racquets have a limited lifespan, and cheaper racquets run out sooner when simpler materials are used. You should choose a racket that is made of good enough material to last a long time.
---
Summary of best cheap padel rackets 2021
Cheap padel rackets use simpler materials than more expensive ones. However, it may not be negative for new players, as it often makes the racket easier to play and more forgiving.

If you are going to play padel for the first time, there is no need to buy an expensive racket.

The price of a good budget racket with good gameplay features will be around 100 Euros. Cheap rackets are often low-quality and less comfortable to play with than their more expensive counterparts. If you plan to play regularly, you may want to step up one level so that you will not have to change rackets as you improve.

In the guide best cheap padel racquets 2021, these models appeared:
FAQ