Babolat Viper Carbon 2019
Babolat Viper Carbon 2019 is the racket choice of World Padel Tour player Juan Lebróns. One of the more powerful padel rackets on the market.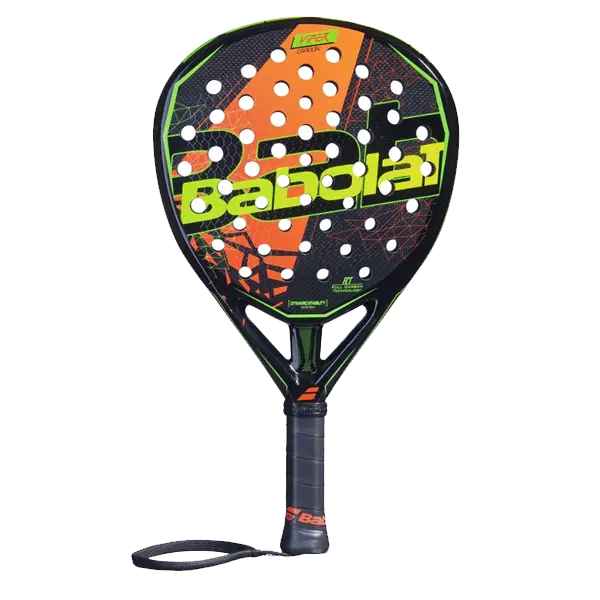 ---
Introduction
The racket has a diamond shape, high balance, and a sweet spot located in the upper part of the racket. FcT-technology (Full Carbon Construction) means that both frame and surface has a carbon fiber construction.

The surface is designed with 3D Spin-technology to give it a structure, helping the player to add spin to the ball in certain situations.

Dynamic Stability System reduces vibrations to increase comfort and help minimize injuries.
REVIEW
Babolat Viper Carbon 2019 first impressions
Babolat is a strong brand among padel players in Spain. Viper Carbon is the first choice of many attacking-oriented backhand players.

The quality feel is there, and the design looks great.
Babolat Viper Carbon 2019 on the padel court
We need to point out immediately that this racket is not for beginners. You need experience and the correct technique to make the most out of this powerful racket, as this model has a relatively small sweet spot.

This is one of the most powerful padel rackets on the market. It offers amazing power in the attacking play, resulting in volleys, bandejas, and smashes with great speed.

The pattern on the surface works great to generate spin when needed.
Babolat Viper Carbon 2019 overall impression
This racket is aimed at the attacking-oriented player, offering great power in offensive shots.

If you're an experienced padel player with good technique looking for a new powerful racket to take your game to the next level, this could be a perfect choice.