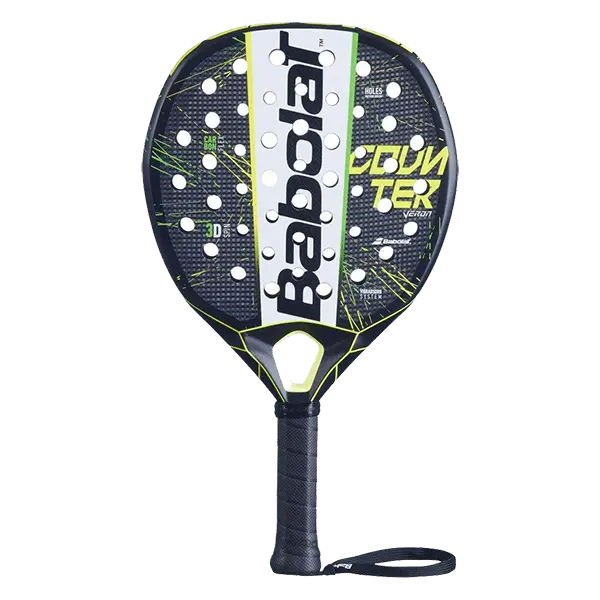 Babolat Veron Counter is a racket with a round shape and high balance. Delivers good results both in defense and attack. The Veron Counter is the cheaper and easier to play version of Viper Counter. We prefer this one. We have published an updated review of the 2022 version here and a complete guide to the 2022 Babolat collection.
---
---
---
Specification
Year: 2021
Brand: Babolat
Weight: 355-375 g
Level: Intermediate/Advanced
Shape: Round
Balance: High
Hardness: Medium
Type: Power
---
---
Introduction
The racket has a round shape, high balance, and a sweet spot located in the center of the racket head.

Veron Counter has a core made of Black EVA and the surface is made of the new material Carbon Flex. It combines carbon fiber for explosivity with glass fiber to make it easier to generate speed.

The frame consists of carbon fiber and Babolat has implemented 3D-Spin on the surface to help generate effect when needed. The new Vibrasorb system reduces vibrations and the risk of injuries.

Like previous models, the Viper Air uses HPS-technology. The placement of the drilled holes is adjusted according to the racket shape to provide a better grip.
---
First impression
Veron Counter looks practically identical to the Viper Counter, sharing the same shape and design. We like the matte finish and the color combination is ok, even though we prefer the design of Viper Air and Viper Technical.

A great feature is the longer grip, perfect for players using two-handed backhands. Our test racket weighs about 369 grams with two overgrips and the balance measured 275 mm.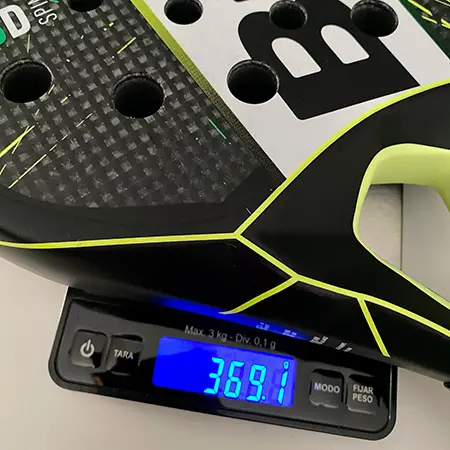 ---
Babolat Veron Counter 2021 in the defense
The first impression on the court is that the Veron Counter delivers what's promised which is higher playability, and more comfort. This version suits a larger group of players being less technical and more forgiving.

The Veron Counter has a softer touch thanks to the glass fiber components. It offers good control in the defensive game and the higher balance helps when counter-attacking. The size of the sweet spot is decent which is helpful when playing under pressure and it's sometimes hard to hit clean. It's more forgiving than the Viper Counter.
---
Babolat Veron Counter 2021 in the attack
It provides decent power in volleys and bandejas. In the more aggressive over-head shots like smashes, it provides decent power but can't compete with the purely attacking-oriented rackets.
---
Babolat Veron Counter 2021 playability & comfort
Playability and comfort are important factors when choosing a padel racket. Beginners and intermediate-level players generally benefit from a racket with good playability. A comfortable racket reduces the risk of injuries.

Playability: Good
Comfort: Good
---
Overall impression
We are a bit surprised that the Veron-series was released shortly after the Viper-series. Identical looking rackets with materials making them more playable. Maybe the Veron-series is what the Vipers should have been from the start?