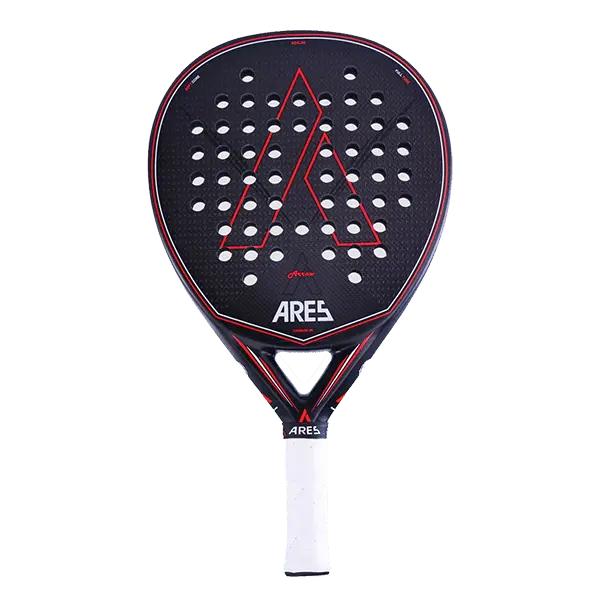 Ares Arrow is a great looking padel racket manufactured by the Spanish brand Vibor-A. The price-quality ratio is good. Unfortunately, it doesn't provide the playability needed for the intermediate player.
---
---
---
Year: 2021
Brand: Ares
Weight: 355-375 g
Level: Intermediate
Shape: Teardrop
Balance: Medium-High
Hardness: Medium
Type: Power
---
---
Introduction
Ares is manufactured in the same factory as the Spanish brand Vibor-A. The rackets from Ares are produced using cheaper materials, making them more affordable. According to Ares themselves, their rackets have the best price-quality ratio on the market.

This model has a teardrop shape, medium balance, and a sweet spot located slightly above the center. The core consists of Soft Core and the impact surface is made of 3K carbon fiber. The surface has an embossed structure that consists of small arrows to help generate spin.
---
First impression
Ares Arrow is a nice-looking racket and considering the price point, it has a high-quality feel. It's matte black with red details.

Picking the racket up for the first time, it feels heavy. Our test racket weighs 387 grams and we measure the balance to 270 mm. Ares rackets can be ordered in different weight classes, from 355 grams and up.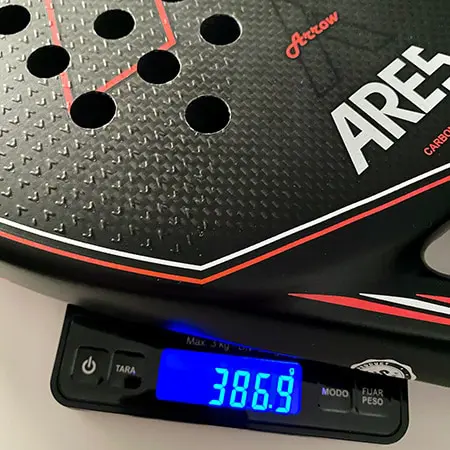 ---
Ares Arrow 2021 in the defense
Ares Arrow is a teardrop-shaped padel racket with a relatively high balance and after hitting some balls, we can confirm that it's more suited for power than control.
High balance in combination with high weight means less maneuverability in defense. It's ok in slower situations but becomes a disadvantage in situations where we need to get in the right position quickly. It provides decent control, but overall it doesn't impress in the game from the back of the court.
---
Ares Arrow 2021 in the attack
Moving up the court, the Ares Arrow delivers better results. It's responsive in volleys with a nice touch. The higher balance and weight helps us generate power in smashes. The softer core will help the intermediate player who needs access to easy power.
---
Ares Arrow 2021 playability & comfort
Playability and comfort are important factors when choosing a padel racket. Beginners and intermediate-level players generally benefit from a racket with good playability. A comfortable racket reduces the risk of injuries.

Playability: Poor
Comfort: Fair
---
Overall impression
Ares Arrow is a padel racket that delivers a good price-quality ratio. It delivers decent control and performs well in the attack. Unfortunately, it's hard to maneuver and lacks the playability of a great intermediate level racket. If you're interested in this specific model, we would advise you to get a lighter copy.