Adidas AdiPower CTRL 3.0 padel racket is the latest version of the model that has been a bestseller for several years. The racket has been tested extensively by us and we have written a review. The Adidas Metalbone CTRL was launched this year, a model that is full of innovation and has been difficult to obtain since its release. PadelJoy has also reviewed this model.
Adidas AdiPower CTRL vs Adidas Metalbone CTRL in a nutshell
While the Adidas AdiPower CTRL is a well-proven concept and a versatile racket, the Metalbone CTRL offers an opportunity to adjust the weight. As a result, the price is slightly higher.
If you're weighing up Adidas AdiPower CTRL vs Adidas Metalbone CTRL, we're guessing it's because of one or more of the following:
After playing with AdiPower CTRL for a while, you feel it's time for a change
You have not tested any of the models and would like to know which is the best
Adidas Metalbone caught your eye, but you are not sure if you should go with innovation before a proven concept
With this comparison, we break down all you need to know about the two models so you can choose the one that's best for you. Let's go!
| | Adidas AdiPower CTRL 3.0 | Adidas Metalbone CTRL |
| --- | --- | --- |
| Year | 2021 | 2021 |
| Weight | 360-375 g | 345-360 g |
| Player level | Intermediate-Advanced | Intermediate-Advanced |
| Shape | Round | Round |
| Balance | Medium | Low |
| Hardness | Medium-Hard | Medium |
| Style | Control | Control |
| Price | 340€ | 360€ |
Design
The Adidas AdiPower CTRL has had a more or less the same design for several years. Black and orange are combined with a carbon fiber pattern on the face. The blue accent color on this year's model adds a bit of dynamism to the color scheme. The frame is matte lacquered, while the face has a glossy finish, and we think it is a good combination.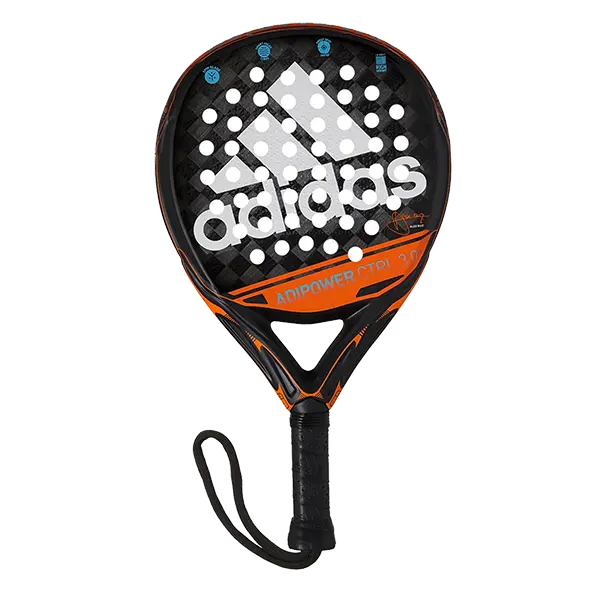 With a gray, black, and blue base color, the Adidas Metalbone CTRL has a more discrete look. The whole racket is matt lacquered. There are removable metal weights on the sides and an octagonal reinforcement on top of the frame. The racket has a futuristic look as a result. Our overall impression is that the racket is very sober and nice, but doesn't seem to have a lot of luster and is a bit boring.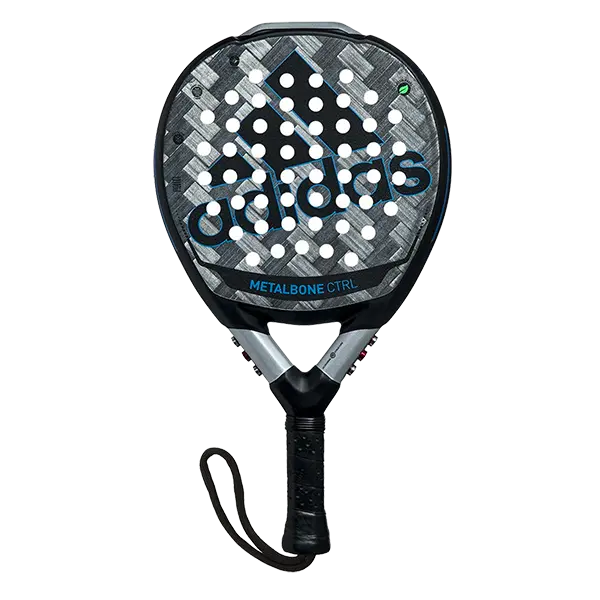 Winner: This round is awarded points to Adidas AdiPower CTRL, due to its dynamic and bright design.
Defensive play
The surface of the AdiPower CTRL is made of aluminum-reinforced carbon fiber, while the core is also hard. As a result, the racket is stiff and has a distinct feel when contacting the ball. Its medium balance and relative ease of handling give us time to reach the ball right away in pressured situations. It allows us to control the game with great precision. When faced with counterattack situations, the racket has good weight to respond.

Due to its stiffness, the racket can sometimes punish us in defensive play if we make mistakes. A racket like this is not for beginners.

Metalbone CTRL also has a hard surface in the form of aluminum-reinforced carbon fiber, but unlike AdiPower CTRL, it has a soft core. Therefore, the ball contacts the rack in a more pleasant way, without the rack being perceived as soft. With Metalbone CTRL, we can easily get to the ball while defending due to its low balance and easy swing.

We can generate good speed from the rear of the padel court because of a softer core with a trampoline effect. Furthermore, it is more forgiving and provides a larger sweet spot than AdiPower CTRL.

Winner: Having better maneuverability and more forgiving qualities combined with good control, we nominate Adidas Metalbone CTRL as the defensive winner.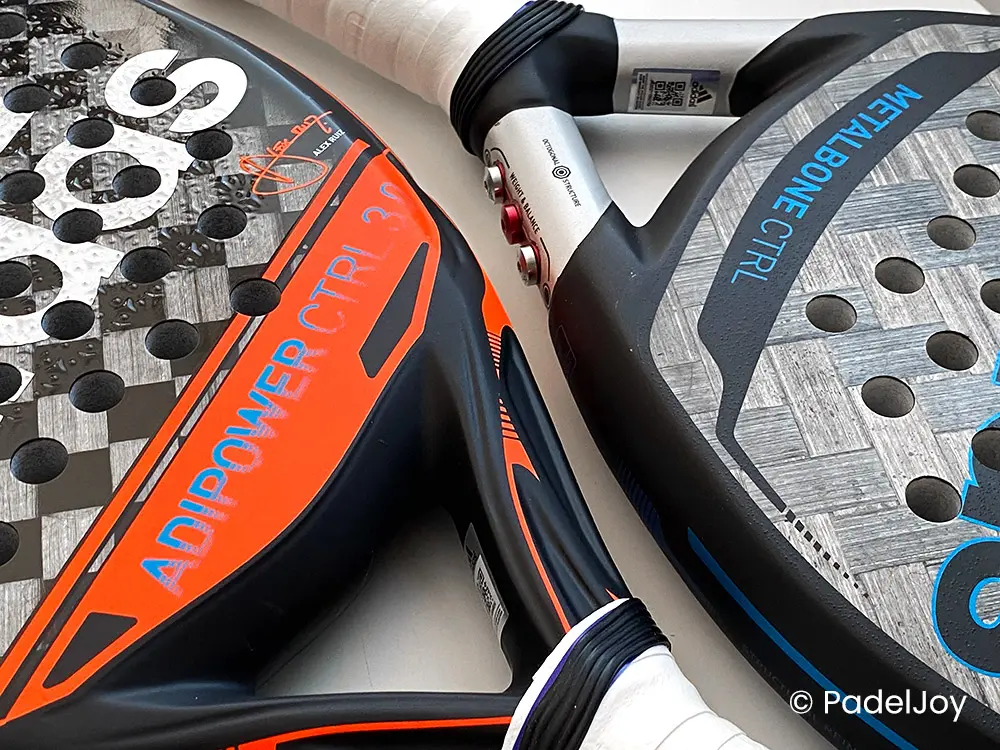 AdiPower CTRL offers both power and control in offensive play around the net. In volleys, the response is great. In the overhead game, the racket responds instantly when we press due to its balance and good recoil. Contact with the ball feels distinct.
Despite being a racket focused on control, AdiPower CTRL delivers good results in smashes. It has enough weight to help us generate power in our smashes, and its rough surface adds spin to kick smashes.
In situations at the net, Metalbone CTRL offers great control and response. It is easy to move, which is helpful in fast volley duels. As with the AdiPower CTRL, the results are stable, and we are able to place volleys with fine precision.
Metalbone CTRL loses some ground in the overhead game. While it handles the air at bandejas, the swing could be a little heavier. We have good recoil in the smashes, but even here we lack weight. With a slightly softer hit, the person who doesn't hit as hard can get more help with speed.
Winner: With nice response and weight in the offensive game combined with a surface that provides excellent bite, we give AdiPower CTRL our points in the offensive game.
No news for the AdiPower CTRL other than the design for 2021. The material is the same as previous models. The well-proven Dual Xoskeleton is used for maximum torsional rigidity, while Smart Holes Curve places the holes for the best result. Adidas uses the technology Spin Blade in the face, which is a rough pattern in the face that gives the ball a better bite. It works well, and the benefit is that it doesn't wear out over time.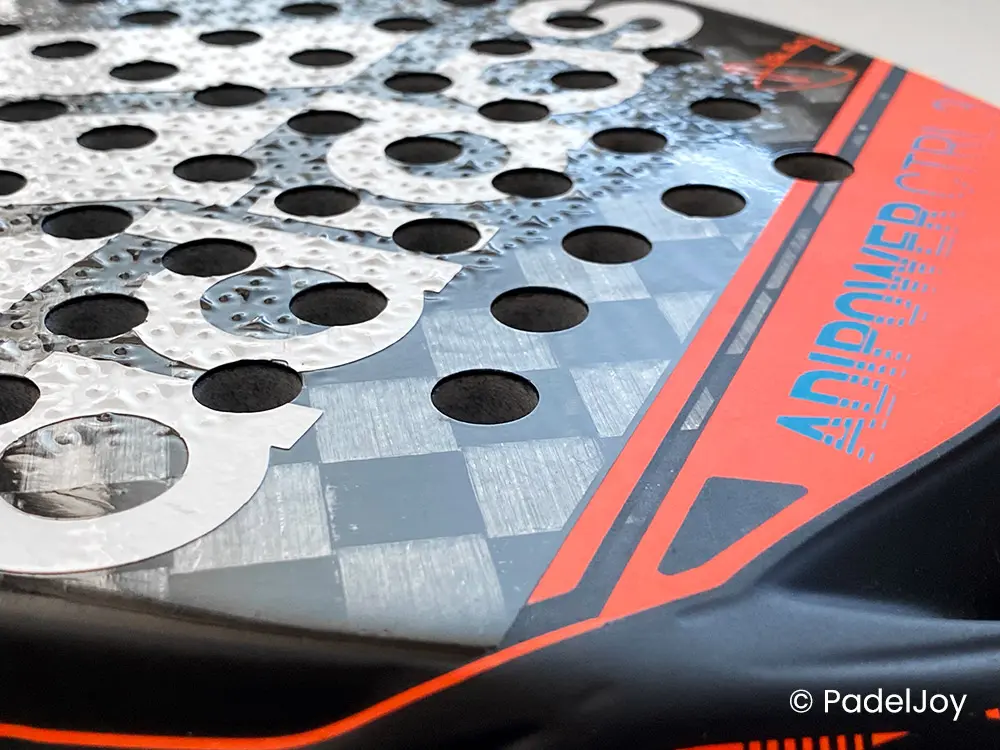 Metalbone CTRL is a new model for 2021 that comes with several innovations not seen before at Adidas. With the included weights, you can modify weight and balance. It comes with two red weights weighing 1 gram each and four metallic weights weighing 2.5 grams each.

In addition, Metalbone CTRL uses an Octogonal Structure in the frame to generate more power during hard shots. The hitting surface has a sandpaper-like structure for better results when you top and cut the balls. Over time, this type of finish tends to wear away.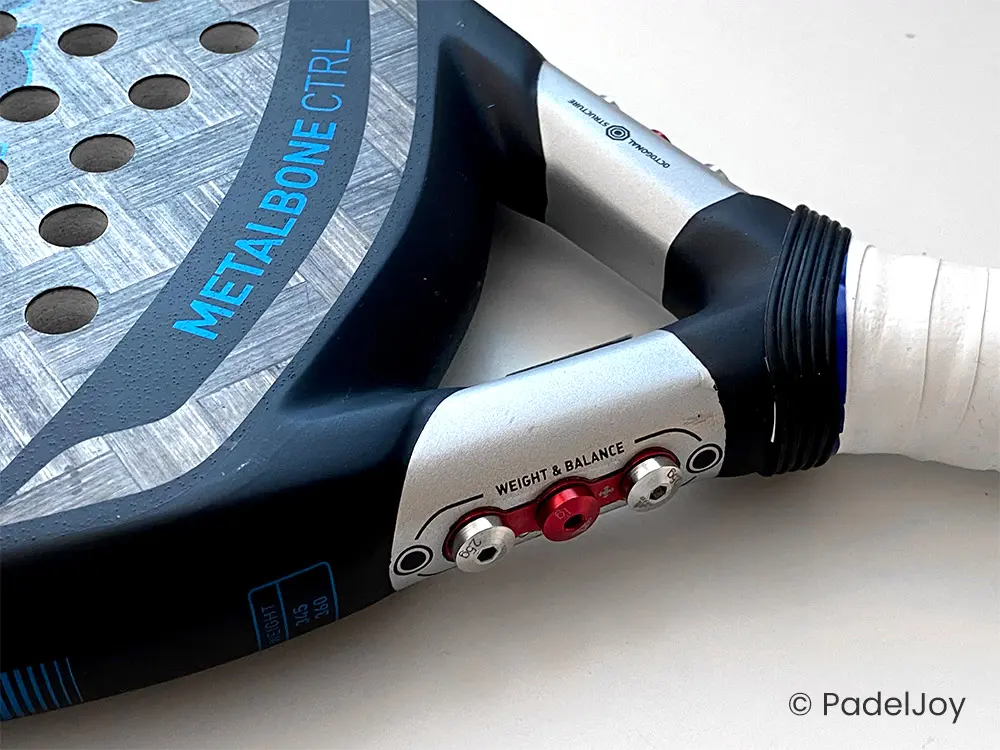 Winner: With the new Weight & Balance system and the new frame, Metalbone CTRL must receive points for best innovation.
Both models are expensive rackets in the premium category. AdiPower CTRL is recommended at 340€ and Metalbone CTRL at 360€.
Winner: The winner is AdiPower CTRL, even though there's no big price difference.
Although it has a hard core, the AdiPower CTRL racket absorbs vibrations well, so it does not feel uncomfortable to play with. Even when hitting further out towards the frame, the racket remains stable. The racket is well balanced and relatively easy to swing.
For players with experience, AdiPower CTRL is a good choice. You will get a good result from this model if you are a player of intermediate level and above. However, we do not recommend it if you are a beginner without previous experience of, for example, tennis at a higher level.
The Metalbone CTRL is very comfortable due to its low balance and easy swing. You can play with this racket for a long time without getting tired in your shoulder or arm. Ball hits also feel nice, and we have not noticed any disturbing vibrations during games.
In conclusion, Metalbone CTRL is slightly more playable than AdiPower CTRL. As for level, the same applies here, we do not recommend this racket for beginners who have never played racquet sports. You will get the most out of Metalbone CTRL if you are an intermediate player or better.
Winner: Both rackets have good playability, but Metalbone CTRL has better comfort, so it wins this round.
Adidas AdiPower CTRL vs Adidas Metalbone CTRL: Final thoughts
Adidas' AdidasPower CTRL is a proven concept and has long been at the top of its category. It provides good defensive control and works great when you want to press on offense. While it lacks the latest innovation, why change a winning concept?
Metalbone CTRL is the control version of Alé Galan's Metalbone and offers several great improvements. The racket's softer core makes it easy to generate speed on the defensive.
We can't pick a clear winner, these are two really good rackets with nice playing characteristics. The model that suits you best depends on your playing style and preferences. AdiPower CTRL is a good choice if you are looking for a rigid control racket that also gives weight on the offensive. The Metalbone CTRL may be better for you if you prioritize comfort.
We recommend that you test both rackets to find out which one best suits your game.